Oggi vi parlo delle ultime novità in fatto di profumi di Guerlain: difatti, desidero presentarvi il profumo Mon Guerlain e la nuova fragranza La Petit Robe Noire nata in occasione del lancio del nuovo mascara di questa edizione limitata.
Today I am talking about the latest news fragrance by Guerlain: in fact, I want to introduce the fragrance Mon Guerlain and La Petit Robe Noire born with the launch of the new mascara in limited edition La Petit Robe Noire. 
La Petit Robe Noire Guerlain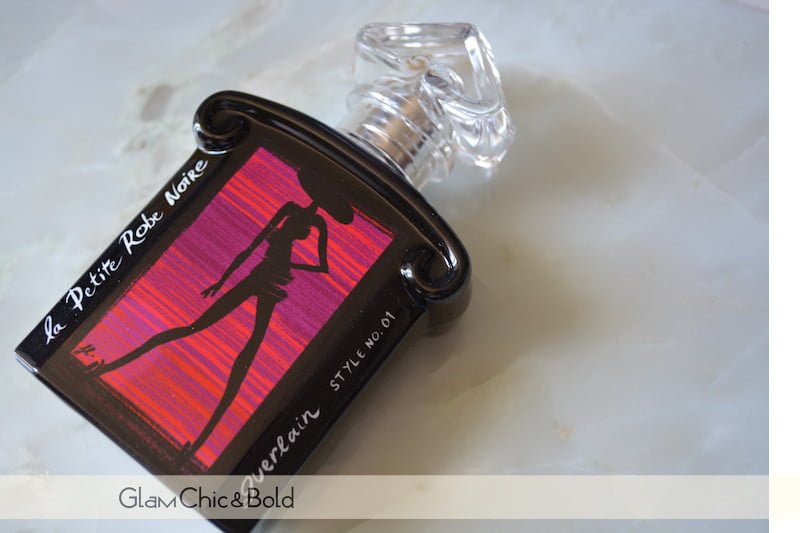 Come ho già accennato, in occasione del lancio del mascara La petit Robe Noire, è stata realizzata una collezione compleata di 15 abiti immaginari per la più elegante delle donne parigine. In tal caso, nel packaging del profumo possiamo notare per l'appunto lo splendido abito nero.
L'Eau de parfum o Eau de Toilette  nel formato da 50 ml sarà per voi una grande sorpresa: oltre ad avere una profumazione forte e sensuale, adatta per la donna che desidera osare anche con la bella stagione, troverete un packaging davvero splendido per la bottiglietta.
La firma degli abiti immaginari per Guerlain è degli artisti Kuntzel+Deygas!
With the launch of the La petit Robe Noire mascara by Guerlain, there is a collection of 15 imaginative dresses was created for the most elegant of Parisian women. In this case, in the perfume packaging, we can see the beautiful black dresses.
Eau de parfum or Eau de Toilette in the size of 50 ml will be a great surprise to you: in addition to having a strong and sensual scent, suitable for the woman who likes to have strong scent for the beautiful season, you will find a really wonderful packaging for the bottle.
The signature of Guerlain's imaginary clothes is by Kuntzel + Deygas!
Mon Guerlain
La proposta di Mon Guerlain, lanciata già da qualche mese sul mercato, è davvero molto interessante, specie per chi vuole qualcosa di veramente speciale. Il nuovo profumo di Guerlain, rappresentato dall'attrice Angelina Jolie, rappresenta la femminilità in persona.
All'interno si trovano elementi come la lavanda Carla, il gelsomino sambac, il legno di sandalo e la vaniglia tahitensis. Il flacone, invece, è propone ancora una volta il quadrifoglio, elemento che ha caratterizzato la maison francese per diverso tempo.
E tu hai già provato uno dei due nuovi profumi di Guerlain?
Mon Guerlain, launched few months ago on the market, is really very interesting, especially for those who want something really special. The new perfume by Guerlain, represented by actress Angelina Jolie, represents femininity. 
Inside there are items such as lavender Carla, sambac jasmine, sandalwood and vanilla tahitensis. The bottle, on the other hand, is once again the four-leaf clover, an element that has characterized the French mansion for a long time.
Have you already tried one of Guerlain's new fragrances?
Comments
comments