Chi ama le maschere alzi la mano!  Oggi sono qui per parlarvi proprio delle nuove maschere presentate da L'Oréal all'argilla pura: per la realizzazione di queste maschere l'argilla è stata associata insieme al caolino, montmorillonite e ghassoul ottenendo tre perfette alleate per eliminare le tossine dal nostro viso.
If you love masks you are in the right page! Today I'm going to speak about the new masks by L'Oreal: for the realization of these masks clay associated with the kaolin, montmorillonite and ghassoul for the perfect removing toxins from our face.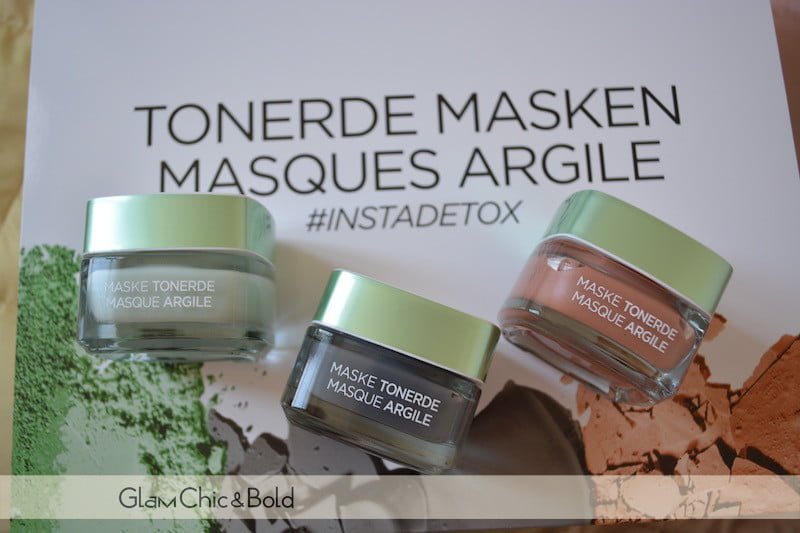 Il caolino, difatti, è in grado di assorbire le impurità e l'eccesso di sebo, il montmorillonite, invece, contiene molto silicio che è in grado di purificare e riequilibrare la pelle, riducendo anche le imperfezioni e, per finire, il ghassoul ha un'elevata concentrazione di oligominerali che aiuta ad illuminare la pelle. Quindi, l'azione anti-tossina e la capacità di donare nuova brillantezza alla pelle sono caratteristiche importanti per una maschera detox come questa.
The kaolin, in fact, is able to absorb impurities and excess sebum, the montmorillonite contains much silicon that is able to purify and rebalance the skin, while also reducing the imperfections and the mask with ghassoul helps to brighten the skin. So, the anti-toxin action give a new shine to the skin and this the important features for a detox mask by L'Oréal.
Identificandole, potete notare che abbiamo la maschera verde che è stata arricchita con estratto di eucalipto che ha proprietà purificanti, poi quella rosso mattone che è arricchita con alga rossa dalle proprietà esfolianti e, per finire, quella con il carbone che ha proprietà magnetiche, per un effetto detox.
You can see that we have the green mask that has been enriched with eucalyptus extract has purifying properties, then the red brick that is enriched with red seaweed from exfoliating properties and, finally, the one with the coal that has magnetic properties, for an effect detox.
Potrete applicare la vostra maschera direttamente con le mani – in alternativa potrete anche utilizzare un pennello piatto per non sporcare le mani – e poi lasciarla in posa per 10-15 minuti.
Successivamente, la maschera sarà da rimuovere con un po' di acqua calda e potrete subito notare che la pelle sarà più liscia al tatto e luminosa.
Come potete vedere io e Davide abbiamo provato tutte le maschere su di no – siamo belli vero? 😀 – ed abbiamo potuto constatare queste sensazioni. Durante la posa la maschera tenderà ad indurire e vi ritroverete un po' bloccate nei movimenti della faccia. Niente paura però potrete comunque parlare e fare qualunque cosa desiderate nell'attesa che termini la posa!
E voi le avete già provate le nuove maschere all'argilla pura di L'Oréal? Qual é la vostra preferita?
You can apply your mask with your hands – or you can also use a flat brush not to dirty his hands – and then leave it on for 10-15 minutes. Subsequently, the mask will be removed with a little of warm water and you will immediately notice that the skin will be smooth to the touch and light.
As you can see me and David have tried all the masks of no – we are beautiful, right? 😀 – And we have seen these feelings. When laying the mask will tend to harden and you'll find yourself a bit 'stuck in the face movements. But do not worry you can still talk and do whatever you want waiting for the terms pose!
And you, have already tried the new pure clay masks by L'Oreal? What is your favorite?
Comments
comments