Finalmente oggi vi parlo della collezione estiva di Guerlain, quella dedicata proprio ad un must-have: sto parlando di Terracotta di Guerlain che anche quest'anno ci fa immergere in un deserto con polveri che racchiudono mille riflessi per ottenere uno splendido incarnato.
Finally, I'm going to talk about Guerlain's summer collection, the one dedicated to a must-have: I'm talking about Guerlain's Terracotta that this year makes us immerse ourselves in a desert with poudre that contains a thousand reflexes to get a gorgeous skin finish.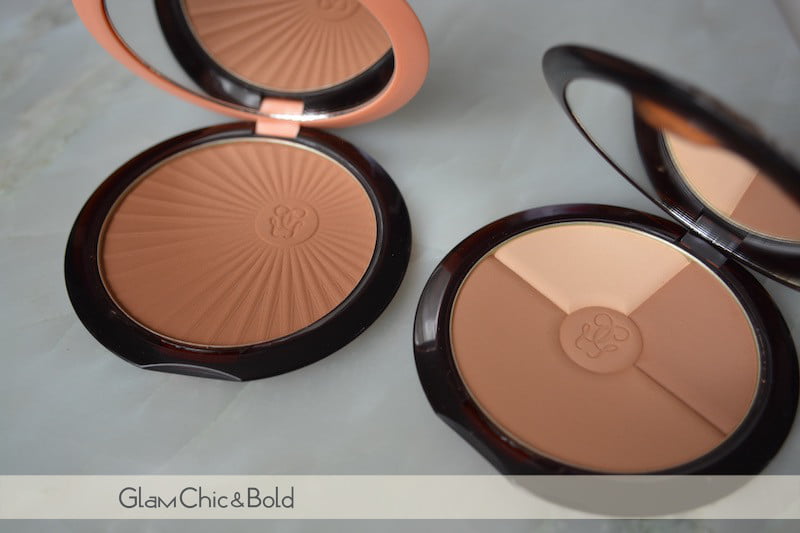 A tal proposito, vi presento alcuni dei prodotti che appartengono proprio alla collezione Terracotta: iniziamo parlando della Poudre Bronzante Sun Tonic: per la prima volta abbiamo una polvere bronzante in questa versione estiva con formula waterproof; quest'ultima, peraltro, è arricchita con il complesso Tan Booster che consente di mettere in maggiore risalto l'abbronzatura, prolungando il suo effetto. Non mancano neppure principi attivi idratanti e non secca la pelle. La sua profumazione è splendida con note di fresia e fiore d'arancio. Il colore disponibile è 03 Naturel – Brunettes.
For this reason, I would like to show you some of the products that belong to the Terracotta collection: I'm talking about the Poudre Bronzante Sun Tonic by Guerlain: for the first time we have a summer bronze powder in this summer with a waterproof  formula; it is enriched with the Tan Booster complex, which allows to emphasize the tanning, prolonging its effect. There are also moisturizing active ingredients! Its scent is gorgeous with notes of freshness and orange blossom. It's available color is 03 Naturel – Brunettes.
Il secondo prodotto che vedete in foto, invece, è la Terracotta Sun Trio ovvero un prodotto che al suo interno ha ben tre polveri utili per scolpire ed illuminare la pelle del viso. In questo modo si ottiene un effetto naturale e baciata dal sole. I colori disponibili sono tre: Naturel, Clair e Foncé. Anche il profumo di questo prodotto è assai bello!
The second product you can see in the picture, on the other hand, is the Terracotta Sun Trio, a product that has three powders for sculpting and highlighting the skin. In this way you get a natural effect sun-kissed. The available colors are three: Naturel, Clair and Foncé. Even the scent of this product is very beautiful!
L'Huile Sous Le vent Terracotta di Guerlain è un olio secco che potrete utilizzare per viso, corpo e capelli. La sua formula è leggera e riesce a nutri a fondo la pelle ed i capelli. Anche in questo caso, la formula è stata arricchita con il complesso Tan Booster  che va ad enfatizzare l'effetto dell'abbronzatura. Il profumo di questo prodotto è davvero molto buono e la bottiglietta subito lascia pensare alle vacanze esotiche!
The Huile Sous Leaves Terracotta by Guerlain is a dry oil that you can use for your face, body and hair. Its formula is light and can nourish the skin and hair deeply. Even in this case, the formula has been enriched with the Tan Booster complex, which emphasizes the effect of tan. The scent of this product is really very good and its bottle lets you think of exotic vacations!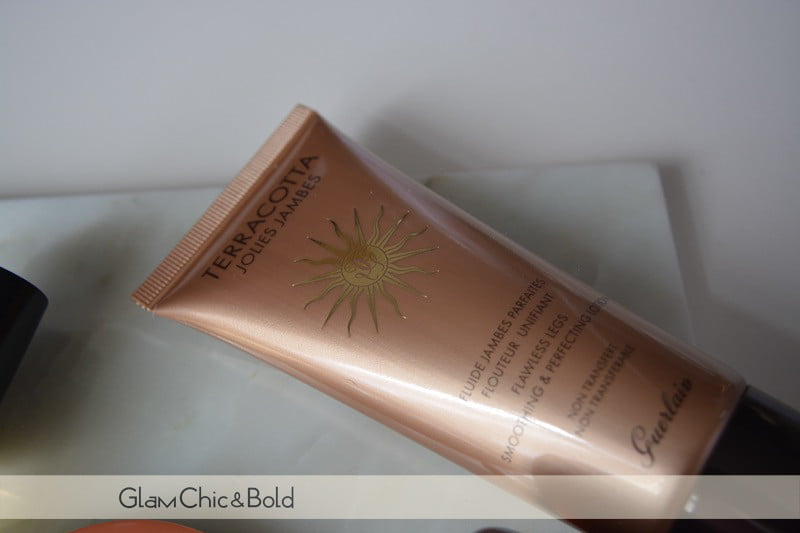 Questo prodotto è un vero alleato per coloro che sono alla ricerca di un prodotto in grado di uniformare ed illuminare il proprio incarnato delle gambe in occasione dei primi raggi dei sole. Visto che sicuramente molte di voi avranno trascorso la propria vacanza al mare, non lo consiglio a queste persone, ma solo a quelle che – come me – anche se prendono il sole tendono a non abbronzarsi molto. La formula no transfer consente di avere un bel risultato che non va ad intaccare i tessuti. I colori disponibili sono due: Moyen e Clair.
This product is a true ally for those who are looking for a product that can uniformize and lighten your own incarnate legs during the first rays of the sun. Since surely many of you have spent their holiday at the sea, I do not recommend these people, but only those who – like me – even if they sunbathe tend not to tanning a lot. The no transfer formula allows you to have a good result that does not hurt the tissues. The available colors are two: Moyen and Clair.
Ne approfitto pure per mostrarvi questi due splendide nuance di rossetti Kiss Kiss: 567 Pink Sunrise e 542 Orange Peps, perfetto sulla pelle abbronzata visto che vira verso l'arancio. Se state cercando un colore più sul rosso, allora Pink Sunrise fa al caso vostro. Io amo particolarmente questo colore!
I would like to show you also these two beautiful lipstick Kiss Kiss by Guerlain: 567 Pink Sunrise and 542 Orange Peps, perfect on tanned skin with its orange color. If you are looking for a more red color then Pink Sunrise is yours. I fall in love with this color!
Comments
comments