Nel mese di febbraio ho potuto partecipare all'evento Estèe Lauder a Lugano in hotel Dante, dove sono state presentate tutte le novità della primavera estate 2015, di cui vi parlerò brevemente, per poi analizzare singolarmente ogni prodotto che ho potuto avere proprio per l'evento.
In the February 2015 I participated to the blogger event of Estèe Lauder in Lugano at Hotel Dante, where I saw all the new products for this Spring/Summer 2015. I show you all new product in this article, but in the future I'm going to do a complete review about every sample that I try it. 
Sono tantissimi sono i prodotti che hanno attirato la mia attenzione e questo per diversi motivi: il packaging è sempre superbo ed i prodotti sono sempre impeccabili.  Diamo un'occhiata ai prodotti da vicino!
There are much products that attractive my attention for different reason: packaging and quality are some of reasons. Let's go to discover all products!
Estée Lauder – Resilience Lift Restorative Radiance Oil
Iniziamo parlando dell'olio viso rigenerante ed illuminante: si tratta di un prodotto che si presenta all'interno di una bottiglietta con pompetta da 30 ml a 100 CHF. Questo prodotto è ideale da utilizzare se pelle secca, così da idratarla a fondo, ha una texture leggera e peraltro si assorbe abbastanza velocemente. Questo prodotto è ideale non solo per le donne, ma pure per i maschietti, quindi fate attenzione ai vostri uomini che potrebbero rubarvi il vostro Resilience Lift Restorative Radiance Oil!
Let's start to speak about the esilience Lift Restorative Radiance Oil, products perfect to women and men, available in a bottle of 30 ml of product at the cost of 100 CHF. This product by Estée Lauder is perfect to the dry skin, have a ligh texture and it absorbs quickly on the skin. 
Estée Lauder – Revitalizing Supreme Global Anti-Aging Mask Boost
Questo nuovo prodotto, disponibile in un  flacone da 75 ml al costo di 108 CHF, vi permetterà di prendervi cura della pelle in un modo unico e interessante. Anche questo prodotto sarà in grado di cancellare i segni della stanchezza, dando così sembianza più giovanile, luminosa e sano.
This new product, available in a 75 ml bottle at a cost of 108 CHF, will allow you to take care of the skin in a unique and interesting. Although this product will be able to erase the signs of fatigue, thus giving more youthful appearance, bright and healthy.
Estée Lauder – Pure Color Envy Shine Lipstick
Passiamo alla parte makeup e parliamo dei meravigliosi rossetti Estèe Lauder: i due che sto testando sono il numero 130 Innocent e 250 Blossom Bright, due splendide tinte idratanti e dalla texture morbida e colore intenso e brillante. Il packaging, poi, è straordinario poiché è dotato di una calamita che permette di tener chiuso saldamente il rossetto. Questi rossetti disponibili in 16 tinte, costano 44 CHF.
Let's start to speak about the makeup: now it's the right time for the wonderful lipsticks Estée Lauder. The two that I'm testing are the number 130 and 250 Innocent Blossom Bright, two beautiful shades moisturizing and soft texture and intense color and bright. The packaging, then, is extraordinary since it is equipped with a magnet so that they take to securely close the lipstick. These lipsticks ate available in 16 colors at the cost 44 CHF.
Estée Lauder – Double Wear Stay-in-place Eye Pencil
È arrivata la volta delle matite per occhi e questa volta si tratta di una selezione davvero splendida: ben 10 tinte super resistenti che garantiscono fino a 12 ore. La formulazione di questo prodotto contiene alcune componenti preziosi come l'olio di jojoba ed anti-ossidanti come la provitamina A e la vitamina E. Inoltre, come potete ben vedere la matita è stata dotata di un pratico sfumino che vi aiuterà a rendere il vostro look ancora più prezioso. Il costo di questo prodotto è di 30 CHF.
It's the right time for the eye pencils and this time it's a really beautiful selection: there are 10 super resistant shades that provide up to 12 hours. The formulation of this product contains some valuable components such as jojoba oil and anti-oxidants such as pro-vitamin A and vitamin E. In addition, as you can see, the pencil has been equipped with a practical smudge that will help you make your look even more valuable. The cost of this product is of 30 CHF.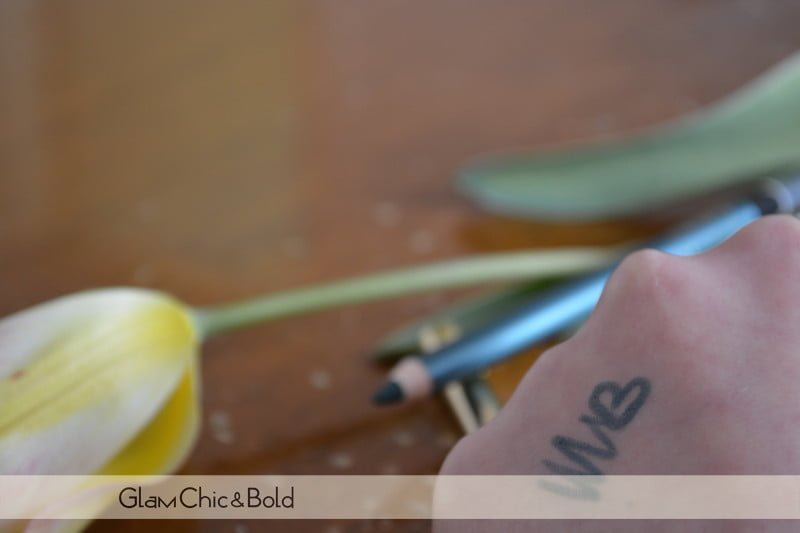 Estée Lauder – Little Black Primer
Terminiamo parlano di un prodotto davvero rivoluzionario ovvero un primer per il mascara che potrete utilizzare non solo con i mascara Estée Lauder, ma pure con quelli di altri brand o da solo. Questo è in grado di amplificare lo sguardo, fissare e tingere di colore nero. All'interno del flacone ci sono 6 ml di prodotto ed è venduto al costo di 35 CHF.
The last products that I want show you it's the little Black Primer by Estée Lauder: it's a product 3-in-1 because fix, amplify and color your eyelashes with a dark black.  You find 6 ml of product in bottle and you can buy it at the cost of 35 CHF.
In questa splendida giornata, oltre a conoscere le novità di Estée Lauder, ho incontrato di persona Nicole di FashionPupa e Chiara di Mint & Beauty; naturalmente non mancava neppure la mia cara Milena con la sua piccola 😉
During this beautiful day I meet for the first time Nicole of Fashion Pupa and Chiara of Mint & Beauty; there are also my dear Milena of Diemmemakup with her little baby 🙂
Comments
comments