Lo scorso fine settimana ho trascorso una giornata intera presso l'hotel Royal Savoy di Losanna, città che si trova nella Svizzera francese, poco distante da Ginevra. In questa occasione ho potuto scoprire pure la nuova SPA du Royal, aperta proprio il 1° giugno 2016! Ma andiamo per ordine 😉
Today I would like to speak about my experience at hotel Royal Savoy in Lausanne, a Swiss French city, near Geneve. During this occasion, I discovered the new SPA du Royal, launched on first June 2016. Now let's go to speak about my experience! 
Dopo il viaggio in treno, siamo giunti nella città di Losanna e dalla stazione ci siamo diretti a piedi verso l'hotel, che rimane davvero molto vicino. Ad ogni modo, se siete delle grandi pigrone potrete prendere la metro e fermarvi alla fermata "Délices". Troverete due ingressi, uno per le auto ed uno per chi si trova a piedi e potrete notare subito quanto sia grande e bello questo edificio che sembra un vero e proprio castello per principesse!
Non appena arrivati all'interno siamo stati accolti dal gentilissimo staff che ci ha fatto accomodare nell'area esterna del bar: qui ci sono tantissimi tavolini dove sedersi a bere qualcosa. Noi, visto l'ora (le 14:00 circa) ed il caldo, abbiamo preso due freschi té. In questo splendido spazio avvolti dal verde, abbiamo poi atteso il ritorno della signora che ci aveva accolti e che successivamente ci ha accompagnato in stanza, mostrandoci ogni sua singola cosa.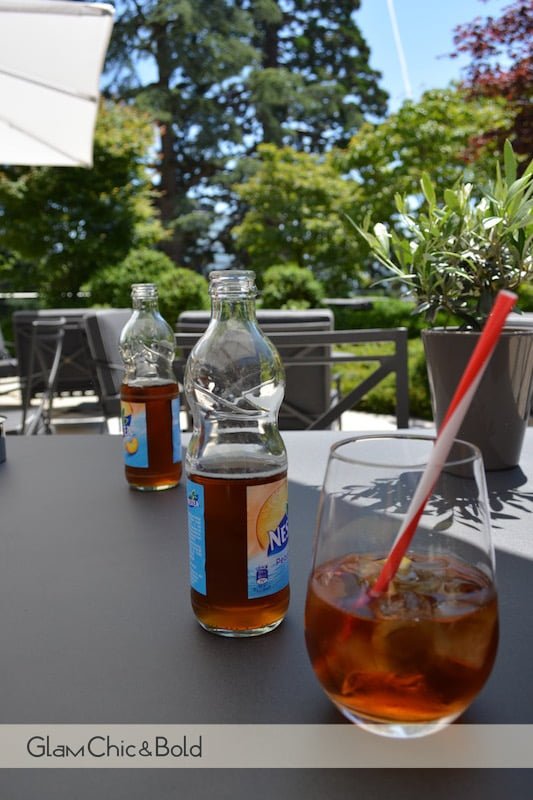 After the trip on the train, we arrived in Lausanne and from the station we gone on foot to the hotel, which it remains very near to the station. However, if you are the big lazy you can take the metro and stop at the "Délices" metro stop. There are two entrances, one for cars and one for those who are walking, and you will notice immediately how big and beautiful this building that looks like a real castle for princesses!
As soon as we got inside we were greeted by friendly staff who made us sit in the outside area of the bar: here there are plenty of tables to sit and have a drink. We arrived at 2:00 p.m. and we drunk two peach ice tea. In this beautiful space, surrounded by many trees, we then waited for the return of the lady who had greeted us and then accompanied us in the room, showing us every single thing.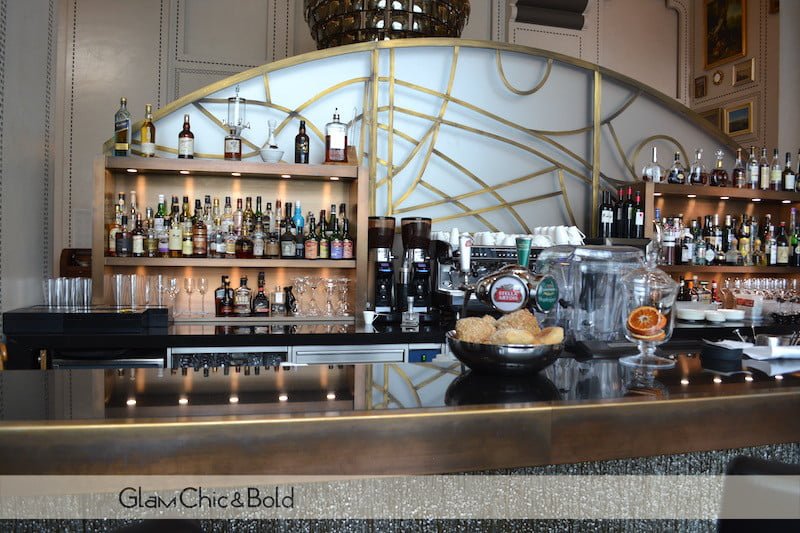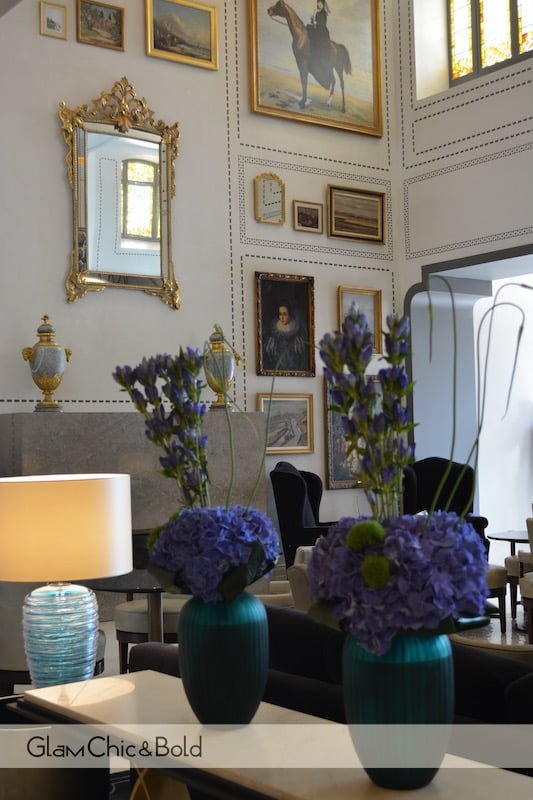 La camera del Royal Savoy/
My room at Royal Savoy
La camera in cui siamo stati ospitati era la 119, al primo piano, con vista predominante sull'ingresso dell'hotel ed un piccolo balcone che guardava sulla strada, verso il lago Lemano. L'ambiente era veramente molto grande, ma soprattutto ho apprezzato che il letto non era piazzato proprio davanti alla porta d'ingresso: la camera, difatti, aveva un piccolo corridoio – con tanto di armadio a muro con cassaforte – che portava all'area notte, dove peraltro vi era anche una poltroncina ed una scrivania.
La cosa che mi ha di più colpito è sicuramente la luce: in ogni camera, così come all'ingresso e nel ristorante, c'erano tantissime finestre che permettevano di illuminare gli ambienti con luce naturale. Nella camera, poi, c'era anche un pratico tablet, un angolo bar per bere un té o caffé, frigo bar e un bagno molto bello con doccia (il soffione di questa doccia è meraviglioso…sembra di essere sotto la pioggia) e non manca neppure l'asciugacapelli. All'interno del bagno, peraltro, si potevano utilizzare i prodotti Hermès messi gentilmente a disposizione dall'hotel.
My room  was the 119, on the first floor, with predominant view of the hotel entrance and a small balcony overlooking the street, towards Lake Lemano. The atmosphere was really great, but I especially liked that the bed was not placed in the front of the door: the room, in fact, had a small hall – complete with a built-in closet with safety deposit box – that led to the night area, where however there was also a chair and a desk.
The thing that most impressed me is definitely the light in every room, as well as the entrance and in the restaurant, there were lots of windows that allowed to illuminate the rooms with natural light (I like it!). In the room, then, there was also a practical tablet, a corner bar to drink tea or coffee, mini bar and a very nice bathroom with shower (the shower head is wonderful … it seems to be in the rain) and hair dryver. Inside the bathroom, however, they could use the Hermès products offered  by the hotel Royal Savoy! 
Nel complesso, posso dire che la camera era veramente molto bella e curata nei dettagli, con quadri e fotografie storiche che mostravano nel dettaglio che questa struttura ha una lunga storia alle spalle, tant'è vero che è stato aperto nel 1909. L'accoglienza in camera, poi, è stata veramente molto piacevole, poiché dopo il nostro giro in città di pomeriggio e la cena, ci siamo ritrovati con il letto pronto, ciabattine ed una bottiglietta di acqua su ogni comodino.
Overall, I can say that the room was very beautiful and there are a great attention for the detail, with historic paintings and photographs that showed the long history behind this hotel, that it was opened in 1909. The hospitality in our room was really very nice, because after our tour of the city in the afternoon and dinner, we ended up with the ready bed, slippers and a bottle of water on each bedside table.
SPA du Royal  – Lausanne
Spostiamoci ora nella SPA du Royal di Losanna, l'area che è stata proprio inaugurata i primi di giugno. Il centro benessere dell'hotel Royal Savoy si espande su una superficie di 1500 metri quadrati e mette a disposizione un'area interna ed una esterna dove vi sono piscina, idromassaggio, hammam, sauna, bagno turco, una Spa per sole donne, 2 camere per il relax (ci sono dei meravigliosi lettini ad acqua, che invogliano proprio a rilassarsi ed addormentarsi 😀 ), 8 camere per i trattamenti, un'area SPA privata – dove siamo stati accolti io ed il mio compagno – un centro fitness con apparecchi super tecnologici per allenarsi, un hair studio ed una boutique SPA, dove acquistare i prodotti per la bellezza ed alcuni capi d'abbigliamento.
Nel nostro tour nella SPA siamo stati accompagnati dalla gentilissima Jocelyn e Stephany che, prima ancora, ci hanno permesso di fare un bellissimo massaggio corpo in compagnia di due professioniste eccezionali. Il massaggio è durato all'incirca 50 minuti, ma credo che potevo rimanere un'eternità su quel lettino a farmi massaggiare con la luce soffusa e la musica di sottofondo. L'ambiente era decisamente rilassante, raffinato e la SPA privata è perfetta per un lungo week-end romantico!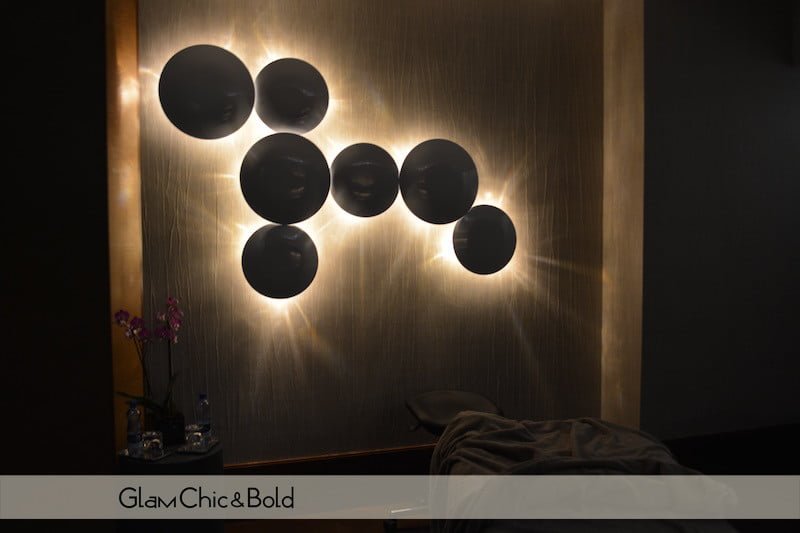 Now let's move into the SPA du Royal in Lausanne, the area that was just inaugurated in June. The Royal Savoy hotel spa spans across an area of 1,500 square meters and features an indoor and an outdoor area where there are pool, Jacuzzi, hammam, sauna, steam rooms, a spa only for women, 2 rooms for relaxation (there are some wonderful water beds, that invite you to relax and fall asleep right :-D), 8 treatment rooms, a private spa – where we were greeted me and my partner for the message – a fitness center with super technological equipment to train, hair studio and a boutique spa, where buy the products for the beauty and some clothing.
In our tour in the SPA we were accompanied by Jocelyn and Stephany that, before that, we were allowed to make a beautiful body massage in the company of two exceptional professionals. The massage lasted about 50 minutes, but I think I could stay forever on that bed to get me to massage with soft lighting and background music. The atmosphere was very relaxed, refined and private spa is perfect for a long romantic weekend!
Brasserie Du Royal Lausanne
Terminiamo parlando della Brasserie Du Royal, ristorante dal design contemporaneo, dove é possibile gustare piatti tradizionali con un tocco moderno. Il menù di questo ristorante è stato pensato dallo chef alsaziano con tripla stella, Michelin Marc Haeberlin, e viene proposto dall'Executive Chef Julien Krauss. Come potrete vedere sul sito ufficiale della Brasserie Du Royal di Losanna, vi sono veramente tantissime proposte e, inoltre, potrete pure organizzare il vostro pranzo/cena scegliendo di accomodarvi in una delle quattro luminose sale.
La mattina, poi, potrete recarvi a fare colazione nella sala principale, dove peraltro vi è la cucina a vista! Non dimenticatevi, pure, che la Brasserie Du Royal ha un vasto assortimento di vini e prodotti locali, da gustare in qualunque momento dell'anno. Io ed il mio compagno abbiamo potuto gustare una deliziosa colazione europea con pane e brioches, marmellate e burro, té ed acqua, ma troverete pure la colazione americana con uova, bacon, frutta e tanto altro ancora. Le colazione, poi, se lo desiderate potrà essere consegnata anche in camera, a patto però che mettiate fuori dalla stanza il cartello entro le 2:00 di notte!
É stata un'esperienza meravigliosa, ma soprattutto rilassante! Se anche voi desiderate trascorrere un breve ma rilassante fine settimana in Svizzera, a Losanna, vi consiglio di scoprire l'ospitalità dell'hotel Royal Savoy. Ringrazio ancora tutto lo staff dell'hotel, Jocelyn e Stephany per la visita nella SPA, Lucy e Morgane di Pr-Ticular per l'esperienza!
Let's end talking about the Brasserie Du Royal, designer and contemporary restaurant, where you can enjoy traditional dishes with a modern twist. The menù of this restaurant is designed by the chef from Alsace with triple star Michelin, Marc Haeberlin, and is proposed by Executive Chef Julien Krauss. As you can see on the official website of Brasserie Du Royal Lausanne, there are very many dishes and, in addition, you can also organize your lunch / dinner choosing to sit in one of four bright rooms.
In the morning, then, you can head to breakfast in the main room, where there is the open kitchen! Don't forget, too, that the Brasserie Du Royal has a variety of wines and local produce, to be enjoyed at any time of the year. Me and my partner enjoyed a delicious European breakfast with bread and croissants, jam and butter, tea and water, but you find also the American breakfast with eggs, bacon, fruits and more. If you wish the breakfast can be delivered in your room, but on condition that you put the breakfast signboard out of the room until 2:00 am!
It was a wonderful and relaxing experience! If you want to spend a short but relaxing weekend in Switzerland, in Lausanne, I suggest you to discover the hospitality of the hotel Royal Savoy. Once again, I thank all the hotel staff, Jocelyn and Stephany for visiting the SPA, Lucy and Morgane of Pr-Ticular for the experience!
Hotel Royal Savoy Lausanne
Avenue d'Ouchy 40
1006 Lausanne
+ 41 21 614 88 88
http://www.royalsavoy.ch
Comments
comments