La collezione natalizia Essence Come to Town
Sì, avete capito bene, vi mostro in anteprima la splendida trend edition Essence Come to town, collezione natalizia che troverete nei negozi tra novembre e dicembre. Qui di seguito trovate in dettaglio tutti gli elementi che compongono questa nuova collezione trucco!
Yes, it's the right time to preview by Essence: today I'm going to show you the preview about the trend edition  Essence Come to Town, makeup collection that you'll find in November and December in the best shop in Switzerland and Italy.
 Essence Come To Town – ombretto occhi quattro/
 quattro eyeshadow
Questa piccola palette makeup di Essence si compone di quattro colori di cui due comuni ad entrambe (oro ed argento) e rispettivamente verde e menta oppure rosa e bordeaux.  La texture è a lunga durata ed i colori sono metallici. 3,59 €
This little palette by Essence composed by two common colors (gold and silver) and in one there is green and mint and in the other pink and bordeaux. The texture is long lasting and the colors are metallic. 3,59 €
Eye Pencil Essence
Le nuove matite occhi oro, bordeaux e verde scuro sono perfette per realizzare linee precise sugli occhi, dal finish metallico ed a lunga durata. Si possono utilizzare sia lungo la rima degli occhi che nell'angolo interno. 2,49 €
The new gold, bordeaux and dark green eye pencils are perfect to create a perfect line on eyes, with metallic finish and long-lasting. You can use them on your eyes and inside it. 2,49 €
Essence Trend Edition Natale 2014 – Lipstick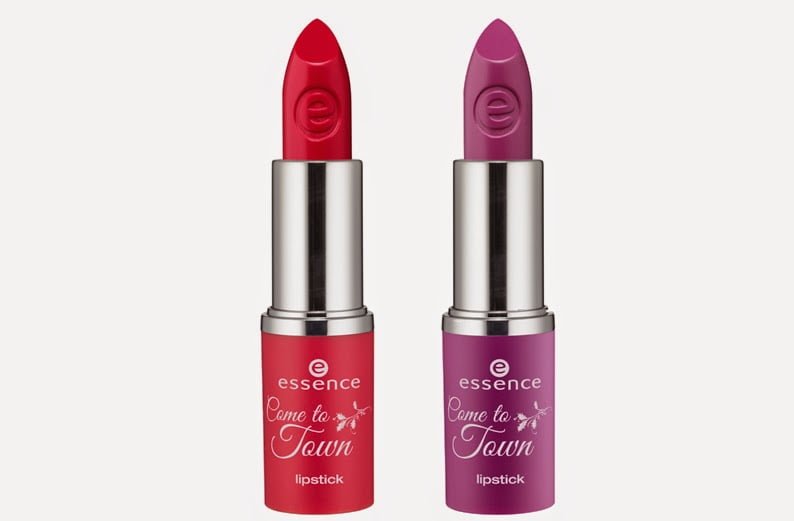 Essence presenta due rossetti nei colori rosso e rosa scuro per tutte le labbra che desiderano un tocco di colore, senza seccare la pelle. La texture di questo prodotto è cremosa e leggera. 2,89 €
Essence show you the new two lipstick in red and dark pink colors. These lipstick help you to maintain your lips for more hours moisture. The texture of these lipstick is creamy and light. 2,89 €
Blush viso in crema – Cream Blush Essence
Illumina il tuo volto con questi due blush dalla texture cremosa, che si adatta velocemente alla tua pelle e che puoi sfumare a tuo piacere. Sono disponibili nel tradizionale rosa e rosso di Natale. 2,89 €
Light up your face with these two creamy texture blushes, which quickly adapts to your skin and that you can blend to your skin. They are available in traditional pink and red Christmas. 2.89 €
Shimmering body powder – Essence Come to Town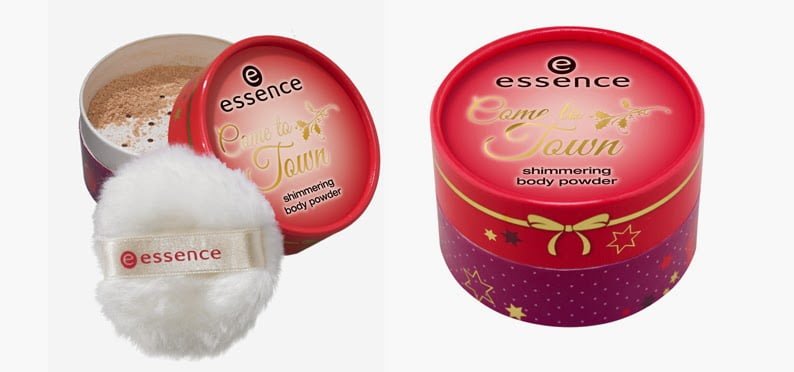 Questa cipria da corpo ti aiuterà a dare un tocco brillante alla tua pelle ed un piacevole profumo alla vaniglia. 4,19 €
This shimmering body powder help you to give a touch of shimmer on your skin and a pretty scent of vanilla. 4,19 €
Set smalti Essence
Un simpatico trio di smalti, perfetto da regalare o regalarsi, con due smalti ed un topper glitterato, con colori adatti al periodo natalizio. 4,49 €
These funny nail polish set composed by two nail polishes and one glitter top coat, perfect for Christmas time. These gifts are perfect as gift for friends!  4,49 €
Smalti e Top Coat effetto fili argentati
Con questo top coat, caratterizzato da fili argentati, potrai dare un tocco di originalità al tuo smalto rendendolo ancor di più natalizio. 2,49 €
These top coat is perfect for Christmas time: you can apply it on your nail polish for a shimmer effect. 2,49€
Set Card Essence Come to town
Queste cartoline le potrai utilizzare come bigliettino personale da attaccare ai tuoi pacchetti regali oppure le potrai spedire ai tuoi cari amici per fare gli auguri di buon Natale. Il set contiene ben 5 cartoline. 2,49 €
You can use these cards to write your "Happy Christmas" to your friends. In the set you can find 5 Christmas cards! 2,49€