Sicuramente avrete già sentito parlare dell'ultima novità di L'Oréal, in fatto di tinte per capelli e spray, ed oggi ho deciso di mostrarvi qualcosa anche io: sto parlando della linea Colorista di L'Oréal, disponibile in 4 varianti cioé di L'Oréal è l'ultima novità lanciata dal brand: Spray, Washout, Paint e Effects.
Surely you've seen the new colors for hair by L'Oréal's and for this reason I've decided to show you something about it. I'm talking about L'Oréal's Colorist collection, available in four variants that are Spray, Washout, Paint and Effects.
Opinione Colorista Spray L'Oréal
Questo è il primissimo prodotto che ho testato di questa nuova linea, lanciata già da qualche mese. Si tratta di spray colorati che si possono applicare direttamente sui capelli puliti ed asciutti, che vi consentono di ottenere una nuance impeccabile per 1 giorno (ed anche più). In realtà, io l'ho tenuta in dosso due giorni – visto che ero tornata a casa tardi e non avevo voglia di rilavare nuovamente i capelli – e dunque l'ho rimossa il giorno seguente senza alcun problema. Ho solo notato che il colore è rimasto leggermente, ma forse perché non ho usato lo shampoo specifico. Da quello che ho capito, però, più è chiaro il capello e più dura, quindi non preoccupatevi, perché andrà via con i lavaggi succesivi.
This is the first product I've tested, launched few months ago! These are colored sprays that can be applied directly on clean and dry hair, allowing you to get a perfect shade for 1 day (and even more). In fact, I kept it off for two days – since I was back home late and did not want to wash again my hair – so I removed it the next day with no problem. I just noticed the color remained on my hair, but maybe because I did not use the specific shampoo. I understand, however, for the clearer hair the color is on them also after shampoo, so do not worry, because it will go away with the next wash.
Lo spray si applica con facilità e per precauzione vi consiglio di mettere un asciugamano sulle spalle, così da non macchiare i capi che avete sotto. I capelli non sono crespi dopo averla utilizzata ed il colore è davvero molto intenso e bello. Come potete notare i colori sono diversi!
You can apply easily your spray and for precaution I recommend you putting a towel on your shoulders so you do not stain your dress. The hair is not creased after using it and the color is really very intense and beautiful (I love this blue!). As you can see the colors are different!
Colorista Washout L'Oréal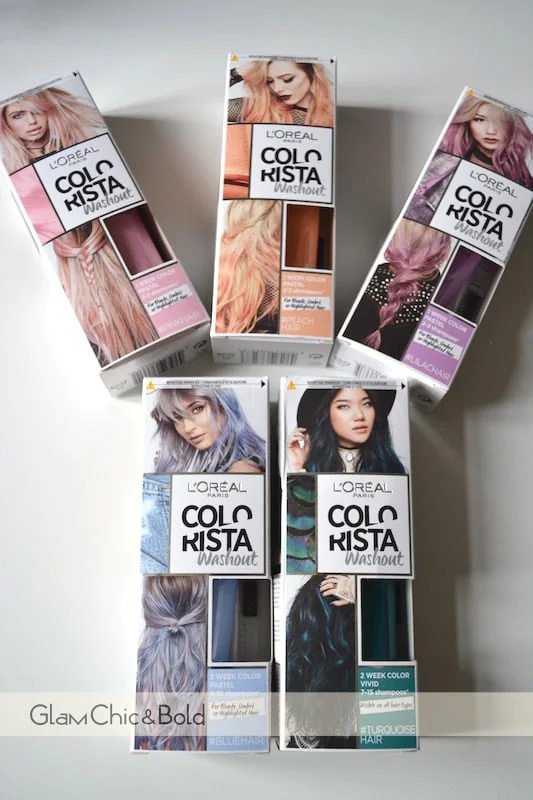 Queste sono delle colorazione temporanee (durano da 2 a 15 shampoo) in base al colore che si decide di applicare ed alla base dei propri capelli. La sua formula consente, oltre che colore il capello, anche di nutrirlo grazie alla tecnologia Chroma-Cream. I colori che vi sto mostrando in foto sono per lo più perfetti per quelle ragazze che hanno i capelli biondi o comunque schiariti, mentre l'ultima è perfetta anche per i capelli castani o bruni. Ad ogni modo, in negozio troverete un'infinità di colori! Chi ha capelli neri o molto scuri è meglio che eviti di acquistare questo prodotto perché non otterrà alcun effetto colorato!
These are temporary hair coloring (you can see on your hair from 2 to 15 shampoo) depending to the color you decide to apply and the base of your hair. Its formula allows, in addition to color you hair, to nourish it thanks to the Chroma-Cream technology. The colors that I am showing you in the pic are mostly perfect for those girls who have blond hair or even lightened, while the last one is perfect for brown hair. Anyway, in the shop you will find lots of colors!  I suggest to the girls with black or very dark hair to don't buy it because it will not get any color!
Colorista Paint L'Oréal
Anche in questo caso abbiamo diversi colori per i capelli, ma in tal caso si tratta di una colorazione permanente, con poca ammoniaca. Potrete applicare la vostra tinta per capelli sfruttando il pennello che trovate all'interno, così da stendere il colore con maggiore precisione oppure come più vi piace, creando un look personalizzato.
Again in this case we have different colors for hair, but in this case it is a permanent hair coloring, with little bit of ammonia. You can apply it on your hair by using the brush that you find inside the box, so you can stretch the color more accurately or as you like, creating a custom look.
Colorista Effect L'Oréal
Terminiamo con gli effetti che sono ben tre: #Bleach per decolorare ad olio i capelli, #ombré per schiarire le punte dando colpi di luce e, per finire, #Balayage per realizzare dei colpi di sole con un effetto naturale. Anche in questo caso, in due confezioni trovate dei pratici strumenti con i quali potrete sistemare i vostri capelli.
E voi quali di questi colori avete già provato?
Let's end with the effects for hair  that are three: #Bleach to discolor the hair, #Ombré to lighten the tips giving light shots and #Balayage to make shots of the sun with a natural effect. Even in this case, in two boxes you will find some practical tools with which you can fix your hair.
And you, did you already try one of these products?
Vi ricordo, inoltre, per quanto riguarda gli shampoo che è disponibile anche Colorista Fader Shampoo di L'Oreal Paris per velocizzare la scomparsa del colore e la nuova linea Low Shampoo per un lavaggio ultra dolce e senza mousse, sulfati e parabeni!
I remind you about the shampoo that is available also Colorista Fader Shampoo by L'Oreal Paris to speed up the disappearance of color and the new Low Shampoo collection for ultra-sweet and no mousse, sulphate and parabens shampoo!