Anche Estée Lauder ci delizia con una nuova collezione dedicata completamente alla stagione estiva: si tratta della linea Bronze Goddess Summer Glow Makeup collection 2016, che trovate disponibile già da aprile in Svizzera, mentre in Italia saranno disponibili da Maggio!
Estée Lauder for this Summer offers us a new beautiful collection makeup: it's called Bronze Goddess Makeup collection 2016, that you find in the best boutique in Switzerland and May 2016 in Italy.
Summer Glow Eyeshadow Palette (60 CHF)
I colori dell'estate e della seduzione contraddistinguono la nuova palette di Estée Lauder con sei ombretti luminosi, utili per illuminare i nostri occhi ed esaltare la nostra abbronzatura. All'interno di questa palette troviamo colori sui toni del corallo fino ad uno splendido verde smeraldo. La palette è stata equipaggiata con un pennello a doppia punta.
The colors of Summer and seduction characterize the new palette by Estée Lauder with six bright eye shadows, useful to illuminate our eyes and enhance our tan. Inside this palette are the colors of the coral tones up to a beautiful emerald green. The palette has been equipped with a double pointed brush!
Summer Glow Multi-Palette (64 CHF)
Summer Glow Illuminator (52 CHF)
Passiamo alla palette per il viso Summer Glow Illuminator, in grado di illuminare, fa risplendere e colorare. Questa proposta è stata equipaggiata con un illuminante, un blush ed una terra abbronzante, con pattern d'ispirazione geometrica. I tre prodotti, dalla texture vellutata, permettono di ottenere un look impeccabile. Si tratta di un prodotto 3-in-1 di cui non potrete fare a meno quest'estate 2016!
Moving on to the palette for the face, Summer Glow Illuminator, able to light, shine and color our face. This prodict has been equipped with an illuminating, a blush and a bronzer, with geometric inspiration pattern. The three products, with a velvety texture, allow you to get a flawless look. It is a 3-in-1 product for this summer 2016!
Gelée Bronzer (52 CHF)
Questo prodotto donerà luminosità alla pelle, ma a differenza del tradizionale bronzer, si presenta sotto forma di gelée, cremosa che scivola sulla pelle e dona splendore. La texture è morbida e forma sulla pelle un velo sottile di abbronzatura naturale. La sua nuova formula innovativa é assorbita facilmente dalla pelle per  un'applicazione omogenea e permette di essere applicata su una base.
This product will give you radiance to the skin, but unlike the traditional bronzer, comes in the form of jelly, creamy that glides over the skin and gives shine. The texture is soft on the skin and forms a thin layer of a natural tan. Its new innovative formula is easily absorbed by the skin and allows for even application to be applied on a base.
Lip and Cheek Summer Glow (44 CHF)
Un altro prodotto Estée Lauder di cui non potrete proprio fare a meno sono i nuovi rossetti che, in realtà, hanno una triplice funzione. Infatti, questi stick colorati li potrete utilizzare non solo per le vostre labbra, ma pure per le guance. Gli stick, peraltro, si possono utilizzare da entrambe le estremità: nella prima, troviamo lo stick colorato che oltre a tingere le nostre labbra o gote idrata ed rivitalizza l'area in questione, nell'altra, invece, vi è un lipgloss liquido per un finish glossy delle labbra. Disponibili in tre tinte: Fuchsia Lights, Peach Glow e Sunburst.
Another products by Estée Lauder for this Summer 2016 are the new lipsticks that have a threefold function. In fact, these colorful sticks you can use them not only for your lips, but also for your cheeks. The sticks, moreover, can be used from both ends: in the first, you find in addition to stick the colored dye our lips or cheeks hydrates and revitalize the area in question, in the other, instead, there is a liquid for lipgloss a glossy finish of the lips. Available in three colors: Fuchsia Lights, Peach Glow and Sunburst.
Bronze Goddess Powder Bronzer (60 CHF)
Passiamo al bronzer Estée Lauder che sarà perfetto per avere un aspetto abbronzato, anche se l'incarnato ancora non si presenta scuro. Estée Lauder ci propone tre tonalità per le pelli – chiaro, medio e medio scuro – così da soddisfare le necessità di chiunque!
Let's talk about the bronzer Estée Lauder that will be perfect to have a tanned look, even if the complexion is not yet dark features. Estée Lauder offers us three shades for skins – light, medium and medium dark – so as to meet the needs of everyone!
Bronze Goddess Eau Fraîche SkinScent (82 CHF)
Bronze Goddess Shimmering Body Oil Spray (55 CHF)
L'olio corpo illuminante di Estée Lauder si prende cura della nostra pelle con olii emollienti e la rivitalizza in seguito all'esposizione al sole. Si stende facilmente sulla pelle, grazie al pratico erogatore a spray, e lascia la pelle morbida e nutrita a fondo.
The luminaire oil by Estée Lauder takes care of our skin with moisturizing oils and revitalizes after exposure to the sun. It spreads easily on the skin, due to the practical spray dispenser, and leaves the skin soft and nourished in depth.
Bronze Goddess Whipped Body Creme (52 CHF)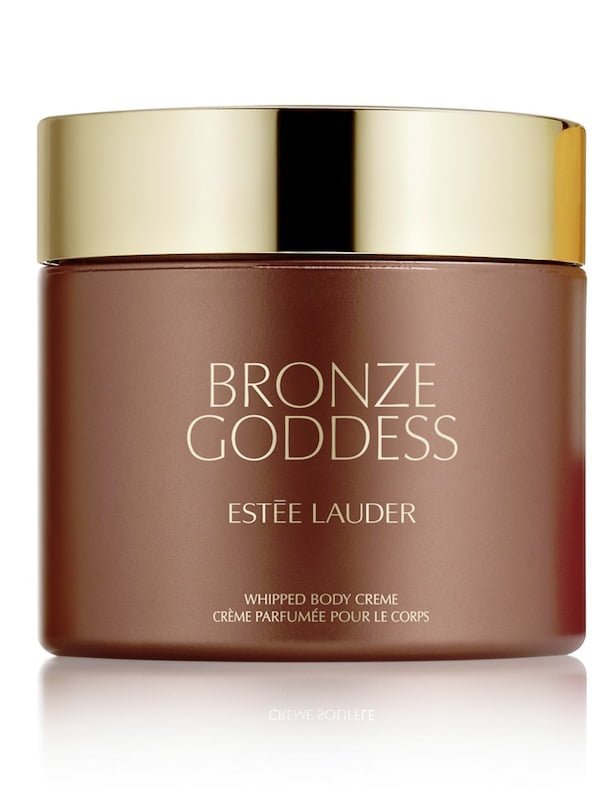 Questa crema per il corpo ammorbidisce, rivitalizza ed idrata la pelle. La sua formula arricchita con un mix di oli naturali – crusca di riso, nocciolo di albicocche, vinacciolo e frutto d'oliva- nutre ed idrata la pelle arida, lasciandola avvolta in una piacevole profumazione.
This body cream softens, revitalizes and moisturizes the skin. Its formula enriched with a blend of natural oils – rice bran, apricot kernel, grape seed and fruit of oil- nourishes and moisturizes dry skin, leaving it enveloped in a pleasant scent.
Bronze Goddess Exfoliating Body Cleanser (46 CHF)
Questo gel esfoliante per il corpo contiene al suo interno perle di jojoba che aiutano ad eliminare la pelle morta sotto la doccia e, intanto, lasciano la pelle fresca e profumata nella tipica fragranza della collezione Bronze Goddess.
This exfoliating body gel contains inside jojoba beads that help to eliminate the dead skin in the shower and in the meantime, let the fresh and fragrant in the typical fragrance of the Bronze Goddess collection.
Limited Edition Bronze Goddess Travel Spray  (72 CHF)
Per questa estate 2016, Estée Lauder ci propone anche una pratica confezione da viaggio, da portare sempre con noi durante le nostre vacanze estive!
For this summer 2016, Estée Lauder offers us a practical package travel, to take with us during our holiday for Summer 2016!