Finalmente il Natale è alle porte e, quindi, perché non approfittarne per regalare ai nostri amici o parenti qualcosa di Lush? Oggi vi mostro un paio di prodotti che potrete acquistare in negozio singolarmente oppure con i set di Natale. Andiamo a vedere che cosa c'è per il Natale 2017!
Are you ready to enjoy your Christmas 2017? For this Christmas 2017 Lush launched a lots of products and kit to gift to our friends and family. Let's go to discover all new products by Lush!
Golden Pear & Twilight Lush
Il primo prodotto che vi presento è Golden Pear e si presenta come la combinazione di olio essenziale di cardamomo, burro di murumuru, sciroppo di agave per rendere morbida la pelle durante il vostro bagno. Il costo di questa pera – che potrete dividere a metà – è di 15 CHF!
Il secondo prodotto che vi mostro assume la forma di una luna e si chiama, per l'appunto, Twilight: si tratta di un olio da massaggiare sulla pelle e poi potrete aggiungere la polvere magica al ylang ylang e lavanda per ottenere una pelle ancor di più morbida. Il costo di questo prodotto è di 16.50 CHF ed è disponibile anche nella versione Snow Fairy, a forma di stellina rosa, con amido di mais.
The first product that I'm going to show you is Golden Pera and it's a combination of essential oil of cardamom, murumuru butter, agave syrup that help you to make the skin more soft during your bath. The cost of this pear – which is split in half – is 15 CHF!
The second product is called Twilight: it is an oil to be massaged on the skin and then close to add the magic powder to the ylang ylang and lavender to get skin more softer. The cost of this product is 16.50 CHF and is also available in the Snow Fairy version, with a form of pink star, with corn starch.
Gel doccia solido/
Solid Shower Gel

Twilight & Bubbly Lush
I prossimi prodotti che vi mostro sono queste due gel doccia solidi che riprendono le sembianze di due classiche confezioni di gel doccia. Quello viola, Twilight, è stato arricchito di tonka e lavanda e potrà aiutarti a rilassarti durante la tua doccia; mentre ti laverai, inoltre, sarai avvolto dalle piacevoli note di vaniglia ed ylang ylang. Il costo di questo prodotto è di 24 CHF (240 g) e naturalmente potrai acquistare anche la versione classica in bottiglietta nelle confezioni da 250 g e 500 g per 25 CHF e 45 CHF.
Il gel doccia Bubbly, invece, contiene al suo interno agrumi, burro di karité ed olio di jojoba per lasciare una pelle morbida e luminosa. Il costo di questo prodotto è sempre di 24 CHF e, anche in questo caso, troverete in negozio la versione tradizionale con confezioni da 250 g e 500 g per 25 CHF e 45 CHF.
The next products that I show you are these two solid shower gel that seem two classic shower gel packs. The purple one, Twilight, has been enriched with tonka and lavender and will help you relax during your shower; while you wash your skin, you will also be enveloped by the pleasant notes of vanilla and ylang ylang. The cost of this product is 24 CHF (240 g) and of course you can also buy the classic version in a small bottle in 250 g and 500 g packs for 25 CHF and 45 CHF.
The Bubbly shower gel, the red one, contains citrus, shea butter and jojoba oil to leave a soft and luminous skin. The cost of this product is always CHF 24 and even in this case, you will find in the shop the traditional version with 250g and 500g packs for 25 CHF and 45 CHF.
Lo spumante da bagno/
bubble bar

Plum Snow Lush

Passiamo allo spumante da bagno – quello che vedete sempre nella foto precedente – che ha riportato come disegno un fiocco di neve. Come di consueto, vi basterà sbriciolare nella vasca da bagno il prodotto per ottenere una profumatissima schiuma in cui potrete sentire le note di mandarino e susine. Il costo di questo prodotto è di 14.50 CHF!

Let's move on to the bubble bar Plum Snow- you can see in the previous photo – that has shown as a drawing a snowflake. As usual, you just have to crumble the product in the bathtub to get a fragrant foam in which you can feel the tangerine and plum notes. The cost of this product is 14.50 CHF!
Gel doccia/
Shower gel

Berry Berry Christmas & Snow Fairy Lush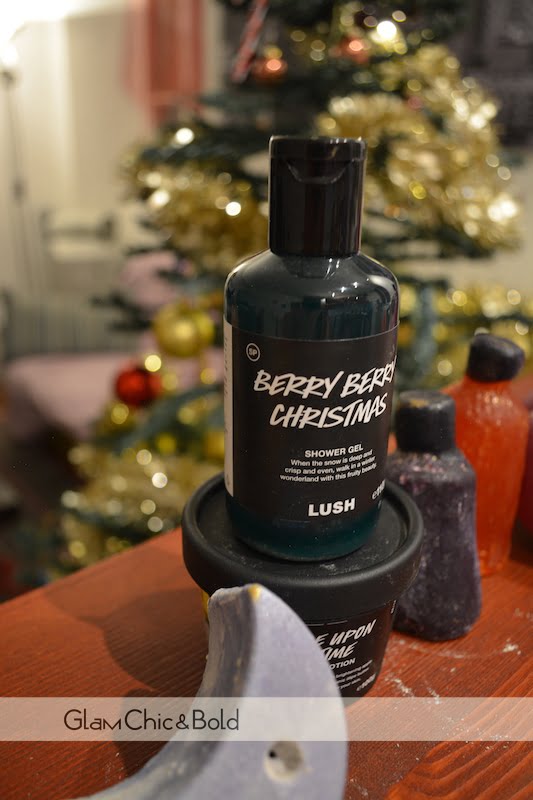 Per immergerci completamente nel mondo dei gel da doccia non poteva mancare una proposta così: Berry Berry Christmas al suo interno ci propone il bergamotto e l'arancia dolce selvatica, per una doccia davvero indimenticabile. Il costo di questo prodotto è di 28 CHF per la versione da 275 g e 49 CHF per 550 g.  Come potrete notare, con gli stessi prezzi è disponibile anche la variante Snow Fairy!
If you want to  immerse ourselves completely in the world of shower gels for this Christmas Lush launched Berry Berry Christmas: inside there are bergamot and wild sweet orange, for a truly unforgettable shower. The cost of this product is 28 CHF for the 275 g version and 49 CHF for 550 g. As you can see there is also Snow Fairy shower gel!
Solid Long Drink – Buck's Fizz Lush
Desiderate pelle morbida e luminosa? Allora questo prodotto può fare per voi: questo prodotto è stato arricchito con burro di karité ed olio di jojoba per un risultato impeccabile. In alternativa, se preferite la variante liquida, è disponibile pure quella. La versione solida è proposta al costo di 21.50 CHF, mentre l'altra liquida è disponibile a 23 CHF (100 g) e 44 CHF (225 g).
If you want a softer skin, I suggest you the solid long drink Buck's Drink, a fruity cocktail with shea butter, jojoba oil. You can buy the same product in liquid version! The cost for the solid version is 21.50 CHF, wile the other is available in two size for 23 CHF (100 g) e 44 CHF (225 g).
Spumante da bagno/
Bubble Bar

Christmas Eve

Questo spumante da bagno ha un disegno che ricorda proprio la notte con la sua stella e luna e, in particolare, quella prima di Natale. La sua fragranza è di ylang ylang e gelsomino. Il costo di questo prodotto è di 9.80 CHF!

The bubble bar Christmas Eve is perfect for the night before Christmas with its beautiful scent: inside there are ylang ylang and jasmine. You can buy this products at the cost of 9.80 CHF!
Celebrate & Once Upon a time Lush
Celebrate è un crema per il corpo che potrete trovare ugualmente quest'anno, ma che già era presente lo scorso: si tratta di un prodotto di colore arancio, che è stato arricchito proprio con arancia, olio di mandorla e lime. Il  balsamo corpo Once Upon a time è splendida: non parlo semplicemente del colore, ma anche della sua profumazione. Infatti, all'interno troviamo un infuso di mela e burro di murumuru che consentono di ottenere una pelle davvero super morbida. Il costo di entrambi i prodotti è di  21 CHF (100 g) e 42 CHF (225 g).
Celebrate is a body cream that you can find equally this year, but that was already present last: it is an orange cream, which has been enriched with orange, almond oil and lime. Once Upon a Time is a wonderful: I do not speak simply about the color, but also its fragrance. In fact, inside we find an infusion of apple and murumuru butter that allow you to get a really super soft skin. The cost of both products is 21 CHF (100 g) and 42 CHF (225 g).
Tutti i prodotti che vi ho presentato oggi li trovate nel negozio Lush oppure sul sito ufficiale:
You can buy all these new products by Lush in boutique or on the official web site: