Festeggiamo Pasqua 2018 con le proposte di Lush
Oramai Pasqua di avvicina a grandi passi e proprio per questo ho deciso di mostrarvi i prodotti Lush di cui sono in possesso e che potrete trovare in negozio oppure online. Andiamo a scoprire l'assortimento di questa Pasqua 2018!
Today I'm going to show you the new products for this Easter 2018 by Lush: there are much new scent products for your bath. Let's discover all products by Lush!
April Shower – Bomba da bagno/
bath bomb

(9.50 CHF)
Iniziamo parlando di una bomba da bagno che potrebbe essere in tema con le attuali condizioni meteo – anche se non siamo ancora in aprile – e che potrete utilizzare per impreziosire il vostro bagno. Questa nuova frizzante si dissolve in acqua sprigionando profumo di cedro e cipresso, ma anche di essenza di tonka e foglie viola di mammola, che lasceranno la pelle morbida.
Let's start talking about a bath bomb that could be in theme with the current weather conditions and that you can use for your next bath. This bath bomb dissolves in the water, giving off the scent of cedar and cypress, but also tonka essence and violet, which will leave the skin soft.
Free Rangers – bomba da bagno/
bath bomb

(14.50 CHF)
Parliamo di un'altra simpatica bomba da bagno, disponibile in tre varianti dalla stessa fragranza: al suo interno, questo pulcino contiene olio essenziale di bergamotto, di ribes nero e di cipresso. In questa maniera, l'acqua si colorerà tantissimo e sarete inondati da un piacevole profumo inteso.
Let's talk about another nice bath bomb, available in three variants of the same fragrance: inside, this bath bomb contains essential oil of bergamot, blackcurrant and cypress. In this way, the water will be colored a lot and you will be flooded with a pleasant fragrance.
Which came first? – bomba da bagno/
bath bomb

(14.50 CHF)

Anche quest'anno troviamo la bomba da bagno "Which came first?" , con il suo profumo agrumato, in grado di trasformare il nostro bagno in una tinozza piena di olio essenziale di limone e pompelmo.

Also for this year we find the bath bomb "Which came first?" , with its citrus scent, able to transform our bath into a tub full of essential oil of lemon and grapefruit.
Golden Egg – bomba e olio da bagno/
bomb and oil bath

(12 CHF)

Ancora acqua color oro con questa bomba da bagno che al suo interno contiene miele, arancia brasiliana, olio di mandorle dolci, bergamotto, burro di cacao biologico equosolidale e tanti brillantini.

Still gold water with this bath bomb that contains honey, Brazilian orange, sweet almond oil, bergamot, organic fair-trade cocoa butter and lots of glitter.
Cream Egg Bubbleroon – spumante da bagno/
bubble bar

(9.50 CHF)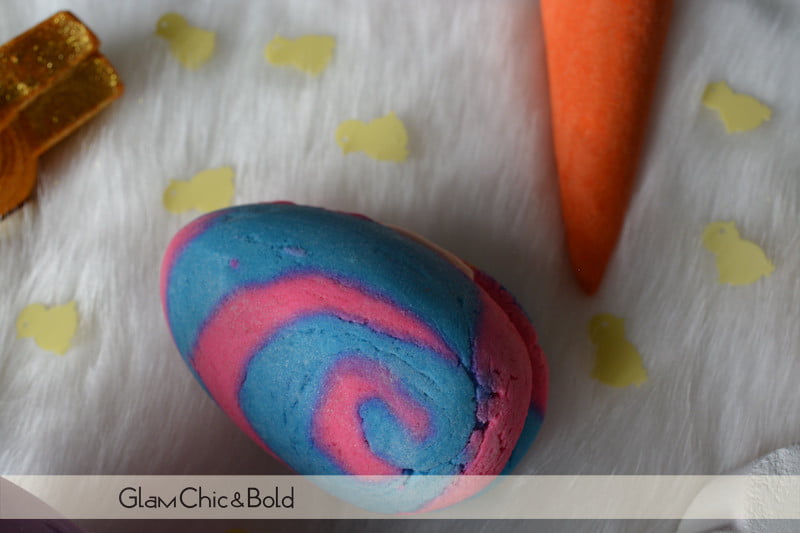 Passiamo allo spumante da bagno Cream Egg che sembra un sandwich di uovo con una cremina bianca nel suo centro. Mettendo questo prodotto sotto il getto dell'acqua, potrete far sciogliere il prodotto a base di burri di cacao e karité e far sprigionare un profumo di menta e cioccolato. La vostra pelle sarà morbida e tonificata!
Let's go to Cream Egg sparkling wine that looks like an egg sandwich with a white cream in its center. By putting this product under the water stream, you can melt the product based on cocoa and shea butters and release a mint and chocolate scent. Your skin will be soft and toned!
Bunch of Carrots – spumante da bagno/
bubble bar

(13.90 CHF)
Qualcuno vuole una carota? Lush anche quest'anno ci propone tre carote colorate – arancio, rosa e viola – come spumante da bagno da utilizzare sotto le feste di Pasqua. Il suo profumo è contraddistinto da limone siciliano, bergamotto e bucco.
Does anyone want a carrot? This year Lush also offers us three colored carrots – orange, pink and purple – as a sparkling wine to be used under the Easter holidays. Its scent is characterized by Sicilian lemon, bergamot and bucco.
Carrot – sapone/
soap

(100 g)
Anche il sapone è a tema carota ed è stato preparato con infuso fresco di carota, polvere di carota che deterge la pelle, lasciandola più luminosa.
There is also a soap as carrot theme and was prepared with fresh carrot infusion, carrot powder that cleanses the skin, leaving it brighter.
Seven Deadly Spins –
bubble spinner

(12.50 CHF)
Ancora una volta Lush ci propone uno spinner: questa volta si tratta di uno spinner con ali color oro che daranno un tocco colorato e profumato all'acqua con bergamotto, litsea cubeba e benzoino.
Once again Lush offers us a spinner: this time it is a spinner with gold colored wings that will give a colorful and scented touch to the water with bergamot, litsea cubeba and benzoin.
Wash behind your ears – shampoo solido/
solid shampoo

(13.50 CHF)
Questa shampoo solido è davvero divertente perché riprende la forma di un coniglietto e, anche il suo nome, è davvero divertente! Al suo interno vi sono carota e limone che renderanno i capelli luminosi, ma anche olio essenziale di mirto ed aceto di sidro che detergono e riequilibrano i capelli. Potrete utilizzare lo shampoo direttamente sui capelli oppure fare la schiuma tra le mani!
This solid shampoo is really fun because it takes the form of a bunny and, even its name, it's really fun! Inside there are carrot and lemon that will make the hair bright, but also essential oil of myrtle and cider vinegar that cleanse and rebalance the hair. You can use the shampoo directly on the hair or make the foam in your hands!
Here comes the sun – gel doccia/
shower gel

(24 CHF)
Ancora un altro prodotto per la doccia e si tratta di un prodotto privo di packaging che potrete utilizzare sotto l'acqua. Al suo interno vi sono olio essenziale di bergamotto, succo fresco di arancia, olio di avocado per idratare la pelle e champignon.
Another product for the shower and it is a product without packaging that you can use under water. Inside there are essential oil of bergamot, fresh orange juice, avocado oil to moisturize the skin and mushrooms.
Poisson d'Avril – Spumante da bagno/
bubble bar

(13.50 CHF)
Quest'anno Pasqua si festeggia proprio il 1° aprile e, dunque, perché non festeggiare con un pesce d'aprile? Lush ci propone uno spumante da bagno dalle sembianze di un pesciolino rosso che contiene foglie di cannella, pepe nero e profumi tipici del bosco con essenza di muschio di quercia.
For this year, Easter is celebrated on 1st April, so why not celebrate with an April Fool? Lush offers us a sparkling bath in the shape of a little goldfish that contains cinnamon leaves, black pepper and aromas typical of the forest with oak musk essence.