Siete pronte per festeggiare questo San Valentino 2017 con Lush? Lasciatevi trasportare nel mondo dell'amore con tutte le nuove proposte del marchio, disponibile in edizione limitata. Quest'anno ci sono numerose novità, ma anche alcuni prodotti che ritornano a far parte di questa proposta dell'anno. Naturalmente, non mancano neppure tante confezioni regalo di Lush per San Valentino 2017!
Are you ready to celebrate this Valentine's Day 2017 with Lush? There is a new limited edition by Lush for this day with many new products, but also with some products that come back again. Of course, there are also the Lush gift boxes for Valentine's Day 2017!
Cupid – Bomba da bagno/
Bath Bomb
Pronte a scoccare la vostra freccia dell'amore? Con Lush quest'anno potrete farlo grazie alla bomba da bagno Cupid che potrete far sciogliere nella vostra vasca da bagno. La profumazione è floreale con un tocco di rosa, bergamotto e violetta.
Are you ready to shoot your arrow of love? With Lush you can do it thanks to Cupid, the new bath bomb that will melt in your bathtub. The fragrance is floral with a touch of rose, bergamot and violet.
Love Spell – olio da massaggio/
Massage body oil
Se vi piace l'olio da massaggio questo è un prodotto cremoso e ricco di burro di cacao equosolidale. All'interno troviamo un tocco speziato di rosa, ma anche garofano ed aloe vera del commercio equosolidale che è in grado di eliminare i rossori presenti sulla pelle. E se non dovesse bastare, ricordatevi che all'interno si trova anche neroli, mirto e limone.
If you enjoy the massage oil that's creamy and rich product of fair trade cocoa butter. Inside is a spicy touch of pink, but pink and aloe vera fair trade that is capable of eliminating the redness on the skin. And if that's not enough, remember that inside there is neroli, myrtle and lemon.
Prince Charming – Doccia crema/
Shower cream
Perché il principe azzurro deve essere azzurro? Lush ci propone un principe rosa,adatto per chi vuole qualcosa di intenso e deciso. Tra gli ingredienti presenti troviamo la vaniglia equosolidale, radici di altea, olio di mandorle e succo di melograno. Non dimentichiamo neppure l'olio essenziale di pompelmo, sandalo e geranio.
Why the prince should be blue? Lush offers us a pink prince, suitable for those who want something intense and determined. Among the ingredients we find the fair trade vanilla, marshmallow root, almond oil and pomegranate juice. Don't forget the essential oil of grapefruit, sandalwood and geranium!
Lovestruck – spumante da bagno/
Reusable Bubble Bar
Il packaging di questo programma è davvero molto divertente visto che si presenta come uno smile con gli occhi a forma di cuore e la bocca rosa. Sbriciolando un po' di questo nell'acqua avrete una bellissima schiuma al limone e geranio. Questo è sicuramente il mio preferito visto che al suo interno si sentono note agrumate!
The packaging of this program is really funny as it looks like a smile with eyes in heart shape and pink mouth. Crumbling a bit 'of this water will have a beautiful foam lemon and geranium. This is my favorite product for Valentine's Day 2017!
Two Hearts beating ad one – Coccola del bagno/
Luxury bath melt
Volete fare uno splendido bagno? Questa coccola da bagno al ylang ylang ed oli essenziale di rosa vi aiuterà a rilassarvi. I due cuori intrecciati sono stati fatti con burro biologico, olio di mandorle per lasciare la pelle morbida e liscia.
Do you want to make a beautiful bath? This pampering bath at ylang ylang and essential oils of rose will help you to relax. There are also organic butter and almond oil to leave the skin soft and smooth.
Unicorn Horn – spumante da bagno/
Reusable Bubble Bar
Questo prodotto ritorna tra le proposte di San Valentino 2017 ed è composto da una serie di ingredienti davvero molto interessante: parliamo di neroli, lavanda e stelline colorate che daranno un tocco di rosa con strisce argento all'acqua!
This product returns between the products for Valentine's Day in 2017 and consists of a very interesting series of ingredients: we're speak of neroli, lavender and colored stars that will give a touch of pink with silver stripes to your water!
Rose bombshell – bomba da bagno/ Bath bomb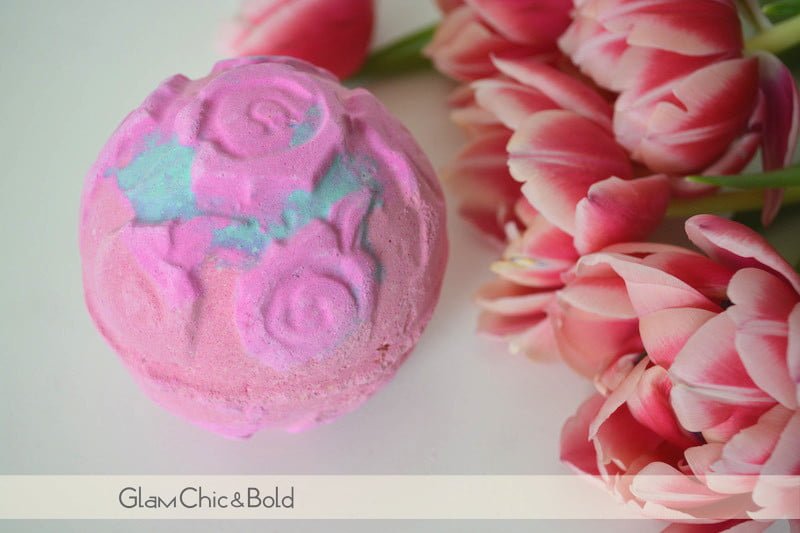 Questa bomba da bagno floreale trasformerà la vostra vasca da bagno in un tripudio di rose gialle, essenza assoluta di rosa e olio essenziale di rosa. Mentre si scioglie la bomba da bagno usciranno anche dei petali di rose gialle ed una nota di limone e geranio.
This bomb floral bath will turn your bath into a riot of yellow roses, absolute essence of rose and rose essential oil. While melting the bath bomb also come out of the petals of yellow roses and a note of lemon and geranium.
Naturalmente, non possono mancare neppure le splendide confezioni regalo di Lush per San Valentino 2017. Ecco quelli che potrete donare!
Of course, there are also the new box for Valentine's Day 2017. Here you can see them!