È disponibile online, sul sito Manor per Sephora dalla giornata del 3 agosto 2017, il nuovo marchio Huda Beauty! Ebbene sì, la famosa blogger Huda Kattan è approdata anche in Svizzera – di recente è arrivata con il suo marchio anche da Sephora Italia – e ci propone tantissimi interessanti prodotti per il nostro make up.
Vi avviso anche che la nuova collezione sarà disponibile esclusivamente presso i Sephora di Zurigo, Losanna e Ginevra a partire da metà agosto. Ora diamo un'occhiata a tutti i prodotti che potrete acquistare!
It is available online, on the Manor website for Sephora from the day of 3th August  2017, the new make up brand Huda Beauty! Well, the famous blogger Huda Kattan has landed in Switzerland – recently also with at Sephora Italy – and offers us a lot of interesting products for our make up.
I would like to advise you also that the new collection will be only available at Sephora in Zurich, Lausanne and Geneva from mid-August. Now let's take a look at all the products you can buy!
Le ciglia finte di Huda Beauty
Huda, insieme alle sue sorelle Alya e Mona Kattan, ha lanciato nel febbraio 2013 la nuova collezione di ciglia finte e da allora ha raggiunto grande successo. La usa collezione è davvero ampia! La collezione Eazy Lash propone ciglia studiate proprio per tutte quelle donne che sono principianti e desiderano una soluzione facile per creare un bel look. Harmony #17 – 20 CHF
Huda with her sisters Alya and Mona Kattan launched in February 2013 the new collection of false lashes and she has achieved great success with her products. The collection of false lashes is really large! The Eazy Lash collection offers lashes designed for all those women who are beginners and want an easy solution to create a beautiful look. Harmony # 17 – 20 CHF
Classic False Lash Collection
Queste ciglia sono state realizzate con fibre naturali, sono molto leggere e facili da indossare tutto il giorno. Possono essere utilizzate più volte, a patto di prendersene cura.
These lashes are made of natural fibers, they are very lightweight and easy to wear all day. They can be used several times, but you must take care of it.
Giselle #1 – 23 CHF
Samantha #7 – 23 CHF
Scarlett #8 – 23 CHF
Mink False Lash Collection
Queste sopracciglia sono fatte a mano con un triplo strato e contengono fibre sottili che emulano i peli del visone. Sono molto morbidi e risultano naturali. Trovate anche la colla di Huda da utilizzare per il loro fissaggio!
These lashes are hand made with a triple layer and contain thin fibers emulating mink hair. They are very soft and are natural. There are also the lash glue to use for fixing it!
Jade – 25.90 CHF
Farah – 25.90 CHF
Huda Beauty Lash Glue – 19.50 CHF
Mink False Lash Collection
Naomi – 45 CHF: Queste ciglia sono nate come tributo per l'icona della moda Naomi Campbell e permettono di ottenere uno sguardo naturale con ciglia più lunghe e voluminose.
Naomi – 45 CHF: These false lashes are born as a tribute to the fashion icon Naomi Campbell  and allow you to get a natural look with longer and larger lashes.
Bridget – 45 CHF: Queste ciglia rievocano il nome di Brigitte Bardot e permettono di ottenere uno sguardo da pin-up degli anni '60.
Bridget – 45 CHF: These false lashes recall the name of Brigitte Bardot and allow you to get a pin-up look of the '60s.
Raquel – 45 CHF: Questo altro modello di ciglia, invece, si inspirano al personaggio sexy di Raquel Gallois, per ottenere un look dallo sguardo intendo. Peraltro, si tratta del modello preferito da Huda!
Raquel – 45 CHF: This other false lashes is inspired by the sexy character of Raquel Gallois to get a look with intense eyes. This is the favorite Huda false lashes!
Lip Contour Collection Huda Beauty
Oltre alle ciglia, non possono mancare neppure i prodotti per le labbra: in particolare vi sono delle splendide matite labbra che potrete utilizzare per realizzare il contorno. Sono matite a lunga durata, ma naturalmente con cibo oleoso possono scomparire lentamente. Sono disponibili 16 colori a 23 CHF!
In addition to false lashes, there are products for lips: in particular, there are beautiful pencil lips that you can use to make the contour of lips. They are long lasting pencils, but of course with oily food they can slowly disappear. There are 16 colors at 23 CHF!
Rouge A Levres Liquid Matte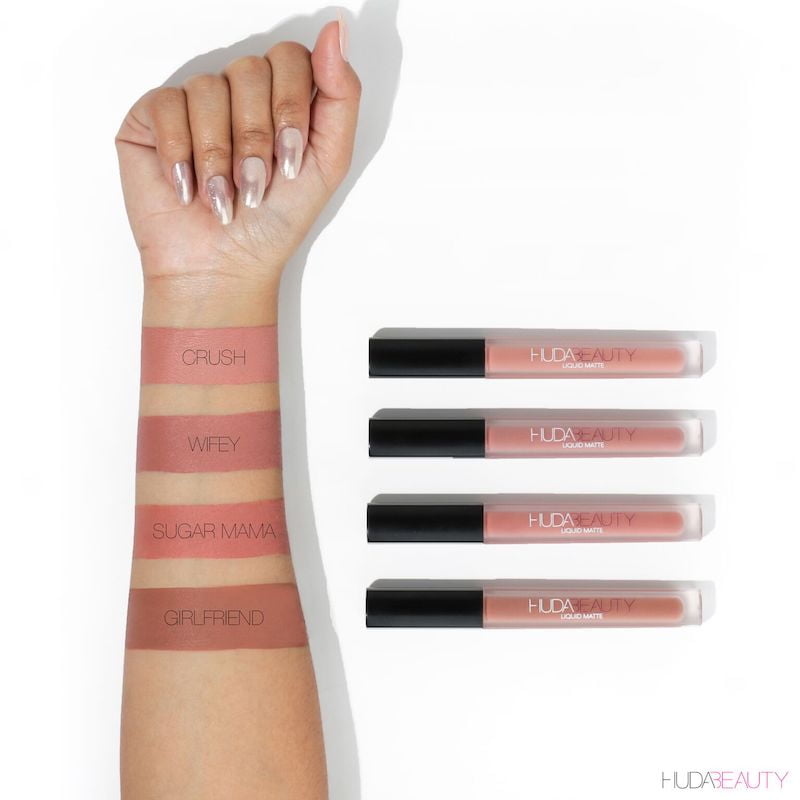 Anche in questo caso, parliamo di labbra, e di 16 meravigliose tinte labbra che potrete abbinare con le rispettive matite. Naturalmente, sono disponibile anche i Nude in quattro nuance: io ho proprio provato Sugar Mama insieme alla matita Bomb Shell che, in un certo senso, si può abbinare. La tinta labbra dura abbastanza, ma naturalmente non dovrete mangiare nulla di unto, altrimenti tenderà a scomparire (specie nel caso del colore nude). Come potrete ben immaginare, essendo un colore opaco, è meglio effettuare uno scrub e idratare le labbra!
Again, let's talk about lips and there are 16 wonderful lips that you can match with the pencils. Of course, Nude is available in four shades: I've just tried Sugar Mama with the Bomb Shell pencil, which you can be combined. The lipstick is long lasting, but of course you will not have to eat anything with oily ingredients, otherwise it will tend to disappear (especially in the case of nude color). As you can imagine, it's a matte color and it's a good idea to do a scrub and moisturize your lips!
Palette Huda Beauty
Parliamo poi di un altro gioiello di questo marchio, la Rose Gold Palette di Huda Beauty: questa palette composta da 18 tinte con 10 nuance opache altamente pigmentate, 2 satinato e 5 con finish metallico. Come potete vedere sono colori intensi che si possono adattare al meglio per uno smokey leggero oppure dai toni più intensi.  Il suo costo è di 78 CHF.
Rimanendo in argomento palette, vi ricordo pure che è disponibile la 3D Highligter Palette – Gold e Pink edition, una palette che consente di illuminare l'incarnato grazie quattro tonalità colore da usare per ottenere uno splendido incarnato. Il suo costo è di 55.50 CHF.
Let's talk of another jewel of this brand, the Rose Gold Palette by Huda Beauty: this palette consists of 18 colors with 10 highly pigmented, 2 satin finish and 5 metallic finishes. As you can see, there are intense colors that can be best adapted to a light smokey or intense make up look. Its cost is 78 CHF.
I also remember you that the 3D Highligter Palette – Gold and Pink edition is available, a palette that you can use to illuminate the incarnate thanks to four color shades to be used to achieve a beautiful skin color. Its cost is 55.50 CHF.