Kiko celebra i suoi 20 anni con la collezione Less is Better
Kiko Milano festeggia i suoi 20 anni con una nuova collezione make up soprannominata "Less is better", questa capsule collection è stata realizzata grazie alla collaborazione con i designer SuperDuper Handmade Hats, marchio premiato più volte per il design e per la qualità dei suoi meravigliosi cappelli.
Il mood di questa nuova collezione è il "No make up-make up" ovvero il trucco che aiuta ad enfatizzare la bellezza naturale senza utilizzare nuance aggressive o troppo intense. Con questa collezione, dunque, troviamo diversi prodotti utili a realizzare il make up, ma anche una pochette ed una spugna in Konjac utile per la pulizia della pelle. Come potrete immaginare i colori prescelti per questa collezione sono nude , naturali e perfetti per coloro che cercano dei prodotti economici ma buoni.
Kiko celebrates its 20th anniversary with a new make-up collection "Less is better", capsule collection created in collaboration with designers SuperDuper Handmade Hats, brand won numerous awards for design and for the quality of its wonderful hats.
The mood of this new collection is the "no make-up make-up", makeup that helps emphasize the natural beauty without using aggressive nuance or too intense colors. With this collection, we find several useful products to make your make up, but also a pochette and a sponge Konjac useful for cleansing the skin. As you might select colors for this collection they are naked, natural and perfect for those looking for cheap, but good products.
Qui di seguito ecco come si compone la splendida collezione Kiko Less is Better/Here you can find all products of the new collection by Kiko Milano Less is Better:
Fluid Hightliter – 15.90 CHF
Si tratta di un illuminante fluido disponibile nelle nuance 01 Gentle Champagne e 02 Mild Golden Sand che vi consentirà di ottenere un meraviglioso effetto strobing delicato e naturale. La sua formula è assai leggera ed il grado di comprenza è anch'esso leggero; potrete sfumare con semplicità il prodotto nei punti chiavi del volto. Potrete applicare il prodotto con le dita oppure, per essere più precisi (come preferisco io) con un pennello.
It is an illuminating fluid available in the shade 01 Gentle Champagne and 02 Mild Golden Sand allowing you to get a wonderful strobing effect gentle and natural. Its formula is very slight and the degree of comprenza is also lightweight; You will fade simply the product in key points of the face. You can apply it with your finger or brush (my favorite application).
Cream Blush – 11.90 CHF
Se c'è una cosa che mi affascina sempre molto sono proprio i blush cremosi, poiché si possono utilizzare anche in altri modi. Questo prodotto, disponibile nei colori 01 Impalpable Rose e 02 Tenuous Mauve (il mio preferito) vi consentirà di applicare sulle gote una texture estremamente leggera e simile ad una polvere, che potrete modulare come desiderate. In questo caso vi suggerisco di utilizzare i polpastrelli delle dita per l'applicazione.
If there's one thing I always fascinates it is the creamy blush, since you can also use it in other ways. This product, available in  01impalpable Rose and 02 Tenuous Mauve (my favorite) will allow you to apply on the cheeks an extremely light and texture similar to a powder, which can modulate as you wish. In this case I suggest you use your fingertips to apply.
Eyeshadow Palette – 15.90 CHF
Questa meravigliosa palette costituita da 9 piccole cialde di ombretto è veramente molto versatile: all'interno vi sono colori opachi, ma anche satin e metallici che vi consentiranno di creare un look occhi irresistibile. I colori si possono modulare con facilità e, soprattutto, vi consiglio di utilizzarli in combinazione con i tre meravigliosi Long Lasting Stick Eyeshadow. Il make up occhi nella foto l'ho creato proprio utilizzando questi prodotti!
This wonderful palette consists of 9 small pods of eye shadow  with nuance very versatile: there are matte colors, but also satin and metal colors that will allow you to create an irresistible eyes look. The colors can be modular with ease and I recommend you to use them in combination with three wonderful Long Lasting Stick Eyeshadow. I created the make up for my eyes in the photos using these products!
Long Lasting Stick Eyeshadow – 6.95 CHF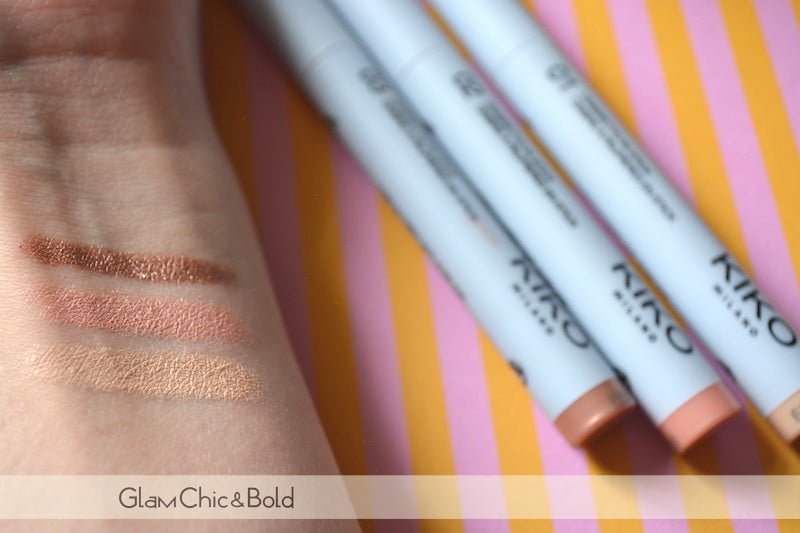 Anche in tal caso, troviamo ben tre colori per questi ombretti in stick: 01 Pearly Golden Ivory (perfetto come base), 02 Pearly Quartz e 03 Metallic Rosy Copper. I colori in questione si sfumano con facilità – io ho usato le dita per praticità – e sono veramente molto belli; peraltro, sono anche a lunga tenuta! Io non ho un preferito ma posso assolutamente dirvi che unendo questi tre colori si può ottenere un make up occhi nude con un pizzico di brillantezza.
Here again, we find these three colors for eye shadows in stick: 01 Pearly Golden Ivory (perfect as a base), 02 Pearly Quartz and 03 Metallic Copper Rosy. The colors are easily blend – I used my fingers  – and they are very beautiful; however, they are also long-lasting! I don't have a favorite color, but I can tell you that by combining these three colors you can get a make up nude eyes with a touch of sparkle.
Matte Lipstick – 9.90 CHF
Un'altra vera e propria chicca di questa collezione sono i rossetti che vi consentiranno di avere una nuance opaca sulle labbra. Come al solito, se decidete di utilizzare questo tipo di colori, fate uno scrub labbra ed idratate bene prima di applicare i colori, dato che si tratta di un rossetto fluido con finish ultra opaco. Come potete notare i colori sono veramente molto belli: 01 Silky Cashmere, 02 Sensitive Beige, 03 Essential Rose e 04 Impeccable Rosewood. Qual é il vostro preferito?
Another real gem of this collection are the lipsticks that will allow you to have a matte shade on the lips. As usual, if you decide to use this type of color, I suggest you to make a lip scrub and moisturized before applying the colors. It is a liquid lipstick with ultra matte finish! As you can see the colors are really beautiful: 01 Silky Cashmere, 02 Sensitive Beige, 03 Essential Rose and 04 Impeccable Rosewood. What is your favorite color?
Konjac Sponge & Pochette (19.90 CHF – 7.90 CHF)
Completano la collezione Less is Better la pochette porta trucco (sul fondo è stato creato un simpatico effetto d'acqua colorata che richiamano la fluidità dei colori usati per i cappelli SuperDuper) e la spugnetta naturale konjac per la detersione del viso.
Completing the Less is Better collection by Kiko the pochette (it was created a nice colorful water effects that recall the color flow used for SuperDuper hats) and natural konjac sponge for washing the face.