Lo sapete che domenica 12 maggio 2019 si festeggia la festa della mamma? A tal proposito, voglio mostrarvi da vicino la nuova collezione che trovate già in negozio e sull'e-commerce.
Did you know that on 12th May 2019 will celebrate the Mother's Day? In this regard, I want to show you up close the new collection that you already find in the store and on e-commerce.
Floating Flower – bomba da bagno/
bath bomb

(11.50 CHF)
Iniziamo parlando di questa splendida bomba da bagno che trasformerà la vasca da bagno in una pozza d'acqua azzurra con tanto di burro di cacao equosolidale ed olio di mandorle idratante per la pelle. All'interno è stato inserito anche l'olio essenziale di lavanda che ha un potere calmante e riequilibrante.
Let's start talking about this wonderful bath bomb that will transform your bathtub into a puddle of blue water with fair trade cocoa butter and almond oil moisturizing for the skin. Inside, the essential oil of lavender has also been added, which has a calming and balancing power.
More Tea and Sympathy – bomba da bagno/
bath bomb

(16.50 CHF)
Qualcuno vuole del té? Con questa bomba da bagno a foglia di teiera potrete colorare l'acqua di rosa e rilassarvi tra i petali di fiori di fiordaliso, con un profumo di neroli e bergamotto. Nel cuore della bomba da bagno, poi, è racchiuso il té Earl Grey, che si prende cura della detersione della pelle e, allo stesso tempo, la purifica.
Does anyone want tea? With this bath bomb you can color the rose water and relax among the flower petals, with a scent of neroli and bergamot. The Earl Gray tea is enclosed in the heart of the bath bomb, which takes care of skin cleansing and, at the same time, purifies it.
Chamomile Flower – bomba da bagno/
bath bomb

(11.50 CHF)
Un vero e proprio bouquet da regalare alle nostre mamme con una selezione di fiore delicati e perfetti per un bagno rilassante: all'interno della bomba da bagno, infatti, troviamo camomilla, fior d'arancio ed ylang ylang. Una volta che la bomba da bagno si sarà sciolta in acqua, uscirà dai petali un messaggio personalizzato che poi in acqua si dissolverà tra la schiuma.
A real bouquet to give to our mothers with a selection of delicate and perfect flowers for a relaxing bath: inside the bath bomb, in fact, we find chamomile, orange blossom and ylang ylang. Once the bath bomb has dissolved in water, a personalized message will come out of the petals which will then dissolve in the foam in the water.
Iris Flower – bomba da bagno/
bath bomb

(11.50 CHF)
Lime iraniano ed il bergamotto si uniscono insieme al neroli ed alla radice di iris bianco in polvere per trasformare il tuo momento di relax in un bagno fresco e floreale. Anche in questo caso, è possibile personalizzare il messaggio posto nel cuore della bomba da bagno che poi si scioglierà in acqua.
Iranian lime and bergamot are combined together with neroli and powdered white iris root to transform your moment of relaxation into a fresh and floral bath. Also in this case, it is possible to personalize the message placed in the heart of the bath bomb that will then melt in the water.
Jasmine Flower – bomba da bagno/
bath bomb

(11.50 CHF)
La rilassante camomilla blu, la lavanda ed il gelsomino creeranno l'ambiente giusto per il tuo bagno rilassante. Tra i petali c'è spazio per un messaggio personalizzato da lasciare alla mamma in occasione della sua festa!
The relaxing blue chamomile, lavender and jasmine will create the right relaxing bath. Between the petals there is space for a personalized message to give to the mother during her party!
Marigold Flower – bomba da bagno/
bath bomb

(11.50 CHF)
Questa bomba da bagno è utile per preparare un bagno fresco e che dona buonumore: all'interno, ci sono calendula calmante ed energia con il pompelmo. Anche in questo caso c'è un messaggio d'amore nel cuore della bomba da bagno che poi si scoglierà in acqua.
This bath bomb is useful for preparing a fresh bath that gives good humor: inside, there are calming marigold and energy with grapefruit. Also in this case there is a message of love in the heart of the bath bomb that will blend in the water.
Rose Butterfly, Lemon Butterfly & Wild Butterfly – bomba da bagno/
bath bomb

(10.50 CHF)
Se vi piacciono le farfalle, questa bomba da bagno è perfetta! Oltre ad essere caratterizzate da tre colori differenti (rosa/viola, verde/giallo e giallo/arancio), troviamo una selezione di ingredienti preziosi che coloreranno e profumeranno la vostra vasca con arancia dolce selvatica, rosa turca e limone siciliano.
If you like butterflies, these bath bombs are perfect! In addition to the three different colors (pink/purple, green/yellow and yellow/orange), we find a selection of precious ingredients that will color and perfume your water with wild sweet orange, Turkish rose and Sicilian lemon.
Mamma Mia – gel doccia scrub/shower gel peeling (19.50 CHF)
Amanti del rosa, unitevi! Questo gel doccia scrub vi consentirà di pulire la pelle accuratamente, eliminando la pelle morta e ritrovando così la gusta morbidezza. Al suo interno sono stati inseriti pompelmo rinfrescante, sale rosa dell'Himalaya ed argilla rosa con un tocco profumato di vaniglia e palissandro.
Are there lovers of pink? This scrub shower gel will allow you to clean the skin thoroughly, eliminating dead skin and thus finding the smoothness again. Inside it has been inserted refreshing grapefruit, pink Himalayan salt and pink clay with a fragrant touch of vanilla and rosewood.
Straberry Hill – bomba da doccia/
shower bomb

(6.50 CHF)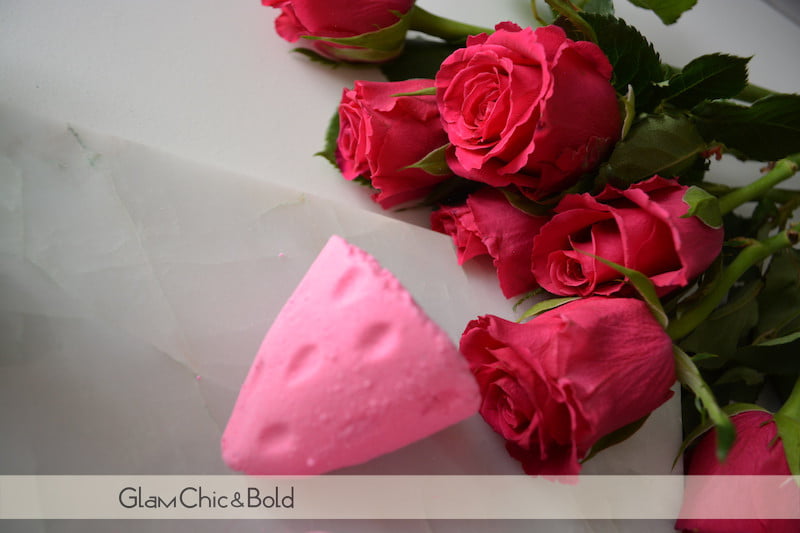 Vaniglia ed olio essenziale di arancia dolce renderanno più dolce la vostra doccia. Vi basterà tenerlo sotto l'acqua nella mano per ottenere una mousse da passare sulla pelle. Il latte di soia e l'essenza assoluta di rosa di Damasco lasceranno morbida la vostra pelle!
Vanilla and sweet orange essential oil will make your shower sweeter. Just hold it under the water in your hand to get a mousse to pass over the skin. Soy milk and the absolute essence of Damascus rose will leave your skin soft!
Raspberry Milkshake – Sapone/
soap

(9.50 CHF)
Si tratta di un sapone succoso ai lamponi e latte di mandorle che si prenderà cura della pelle, lasciandola morbida e profumata. Potrete usarlo per il corpo lasciandovi coccolare dalla schiuma al profumo di benzoino. Al suo interno c'è l'olio extravergine di cocco, olio essenziale di tagete e di davana.
It is a juicy soap with raspberry and almond milk that will take care of the skin, leaving it soft and fragrant. You can use it for the body leaving you pampered by the benzoin-scented foam. Inside there is extra virgin coconut oil, essential oil of marigold and davana.