Iniziamo parlando della collezione KissKiss Matte, i nuovi rossetti idratanti opachi di Guerlain, disponibili con un packaging di colore oro ed arricchiti nella loro formula con il balsamo. Come potete notare ci sono diverse nuance disponibili e tutte queste permettono di ottenere un colore intenso ed altamente pigmentato.
Let's start by talking about the KissKiss Matte collection, the new opaque moisturizing lipsticks by Guerlain, available in a gold-colored package and enriched with a formula with the balm. I would like to tell you that there are different shades available in boutique and all of these colors allow you to get an intense and highly pigmented coloration.
Qui di seguito ecco i nuovi colori disponibili/Here you can see the new colors:
M330 Spicy Burgundy
M331 Chilli Red
M347 Zesty Orange
M348 Hot Coral
M306 Caliente Beige
M307 Crazy Nude
M375 Flaming Rose
M376 Daring Pink
M377 Wild Plum
Parlando sempre di novità relative alle labbra, vi mostro l'Intense Liquid Matte: si tratta di un gloss opaco che dona uno splendido aspetto alle labbra, lasciandole levigate! Il prodotto è cremoso e pigmentato proprio come un rossetto e dura per tutto il giorno e la sua formula è arricchita anche di acido ialuronico e centella asiatica che offre una piacevole sensazione durante l'applicazione del prodotto. I colori disponibili sono ben 7 e la nuance che vi mostro io è M27 Addictive Burgundy! Come al solito vi ricordo che i prodotti Guerlain sono impreziositi da una delicata profumazione floreale.
After the new lips, I'm going to show you the Intense Liquid Matte by Guerlain: this is a matt gloss that gives a beautiful look to your lips! The product is creamy and pigmented just like a lipstick and lasts throughout the day and its formula is also enriched with hyaluronic acid and Asian centella which offers a pleasant feeling during application of the product. The colors available are 7 and the nuance I show you is M27 Addictive Burgundy! As usual, I remember you that Guerlain products are embellished with a delicate floral scent.
Passiamo alla grande novità di questo autunno: sto parlando del cushion: il nuovo cushion di Gurlain si presenta tradizionalmente all'interno di una confezione piccola e contiene al suo interno uno specchietto ed una spugnetta per stendere il prodotto. A differenza degli altri cushion, questo non si mostra con la spugna da intingere, bensì si aziona con un meccanismo a pressione che fa fuoriuscire il prodotto da alcuni fori posti nella zona centrale del cofanetto. Devo dire che questa soluzione è sicuramente comoda per alcuni versi, ma dall'altra parte non sempre riesco a premere ed ottenere il prodotto alla prima pressione. Ad ogni modo, si stende con facilità sulla pelle e dura veramente tanto, anche se a fine giornata ho notato che la pelle si lucida (ho la pelle mista). Per quanto riguarda la comprenza, invece, direi che è medio-leggera!
The big novelty of this Fall 2017 is the cushion: Gurlain's new cushion is traditionally presented in a small package and contains a mirror and a sponge to lay the product inside. Unlike other cushions, this does not show with the sponge to be pointed, but it is operated by a pressure mechanism that drains the product from some holes in the center of the casket. I have to say that this solution is comfortable in some ways, but on the other hand I can't always press and get the product at first pressure. Anyway, it stretches easily on the skin and lasts a lot, although at the end of the day I noticed that the skin is shiny (I have mixed skin).  I would say that the coverage is medium-light!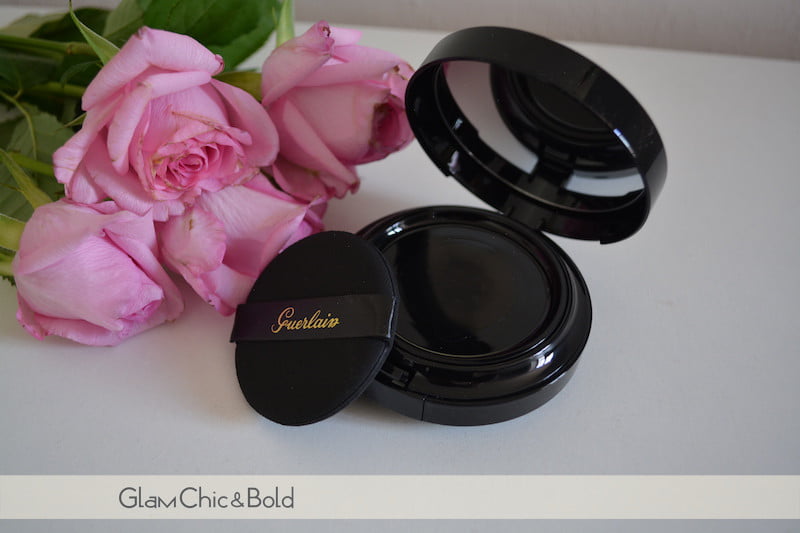 La prossima novità che vi presento è il primer per gli occhi. Questo prodotto è utile per allungare la vita dei vostri ombretti, così da mantenere in ordine il trucco durante tutta la giornata. Il prodotto si presenta in una nuance beige e si può applicare sia con le mani che con un pennello: il mio suggerimento è quello di lavorare il prodotto utilizzando le dita, così da stenderlo in modo uniforme su tutta la palpebra. Inoltre, volevo dirvi che il primer è anche leggermente coprente e che quindi se avete delle discromie sulla palpebra saranno leggermente cancellate. Il prodotto è buono, ma dopo una lunga giornata (6-8 ore), di sera noterete che il prodotto inizia a entrare nelle linee.
The next novelty I'm going to show you is the primer for the eyes. This product is useful to lengthen the life of your eye shadows, so keep your makeup all day long. The product comes in a beige nuance and can be applied with hands or with a brush: my suggestion is to work the product using your fingers so that it stretches evenly over the entire eyelid. Also, I wanted to tell you that the primer is also slightly covering and so if you have discoloration on the eyelid you will be slightly erased. The product is good, but after a long day (6-8 hors), in the evening you will notice that the product begins to enter in the lines of the eyes.
E voi avete già provato qualcosa delle ultime novità di Guerlain per l'autunno 2017?
Did you already try some of these products by Guerlain for Fall 2017?