Nell'aria si sente già l'odore dei nuovi prodotti Lush lanciati appositamente per San Valentino e per la primavera 2019. Oggi, quindi, vi presenterò i prodotti che potrete trovare già nelle botteghe Lush!
Hello beauties! Today I'm going to show you the new collection by Lush for the Valentine's Day and Spring 2019. Let's go to discover it! 
Love Boat – bomba da bagno/
bath bomb

(10.90 CHF)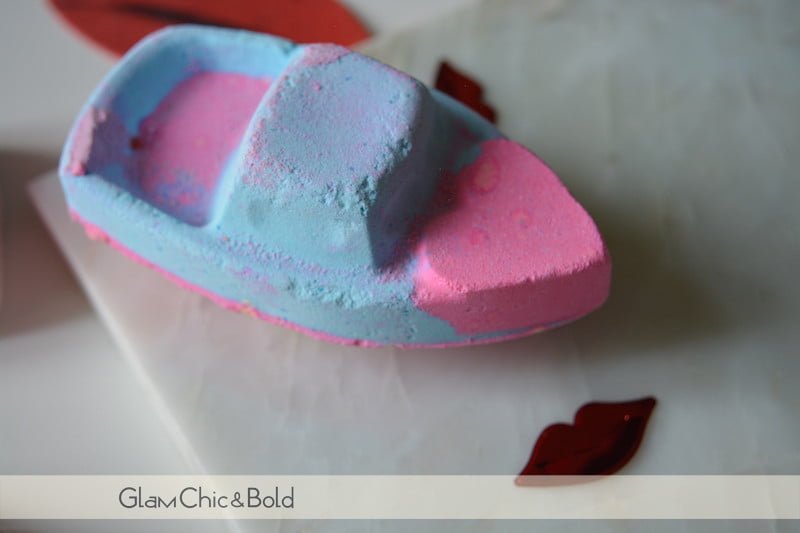 Ritorna di nuovo per la collezione di San Valentino la barca dell'amore che vi offrirà la possibilità di "navigare" in una vasca da bagno con profumo di arancia dolce e limone siciliano. Inoltre, la vostra vasca da bagno di colorerà di sfumature rosa ed azzurre!
Love Boat is come for this Valentine's Day 2019 with its gorgeous scent of sweet orange and Sicilian lemon. Your bathtub will be enrich with blue and pink colors for a beautiful moment of relax.
Unicorn Horn – spumante da bagno/
bubble bar

(11.50 CHF)
Un altro grande ritorno é il corno dell'unicorno, uno spumante da bagno che potrete sbriciolare nella vostra vasca per ottenere tanta schiuma profumata e brillante. All'interno troverai lavanda rilassante ed oli essenziali di neroli rinvigorente per un bagno indimenticabile!
Another great return at Lush boutique is the unicorn's horn, a sparkling bubble bar that you can crumble into your tub to get so much scented and shiny foam. Inside you will find relaxing lavender and neroli invigorating essential oils for an unforgettable bath!
Open Your Heart – spumante da bagno/
bubble bar

(12.50 CHF)
Passiamo al prossimo spumante da bagno che è una chiave che sarà in grado di aprire il tuo cuore ad una giornata di relax ricca di fragranze speziate di sandalo e cardamomo. I lustrini presenti sullo spumante da bagno faranno risplendere la tua vasca da bagno!
Let's move on to the next bubble bar that is a key that will be able to open your heart to a relaxing day full of spicy sandalwood and cardamom fragrances. The glitter will make your bathtub shine!
Peachy – bomba da bagno/
bath bomb

(9.90 CHF)
La vera novità di quest'anno, però, è l'introduzione di alcune bombe da bagno dal doppio significato: questa pesca frizzerà nella tua vasca sciogliendosi lentamente e lasciando nell'aria profumo di pompelmo e davana.
The real novelty of this Valentine's Day are some bath bombs with a double meaning for its shapes: this peach will sparkle in your tub melting slowly and leaving the scent of grapefruit and davana in the air.
Aubergine – bomba da bagno/
bath bomb

(9.90 CHF)
Un'altra bomba da bagno simpatica è la melanzana che assumer per l'appunto l'aspetto di una melanzana di colore viola. Questo prodotto, una volta immerso nell'acqua, disperderà nell'aria note fruttate e rilassanti di canfora, bergamotto, tonka e verbena tropicale, trasformando l'acqua di colore verde-blu.
Another nice bath bomb is the aubergine which will take on the appearance of a purple aubergine. Once immersed in water, this product will disperse the fruity and relaxing notes of camphor, bergamot, tonka and tropical verbena into the air, transforming the green-blue water.
Six – spumante da bagno/
bubble bar

(12.50 CHF)
Disponibile in due varianti colori (giallo/blu e giallo/rosso), per un numero d'amore davvero speciale, six riempierà la tua vasca da bagno di schiuma profumata di garofano, ylang-ylang per un bagno davvero sexy.
Available in two colors(yellow/blue and yellow/red), for a really special love number, Six will fill your bath with scented foam of ylang-ylang and carnation for a really sexy bath.
Big Banana – olio solido/
solid oil

(13.50 CHF)
Le dimensioni contano? Qui sicuramente! Lush ironicamente ci propone un olio da bagno dalla forma di una banana con burri idratanti di cacao, karité, chiodi di garofano ed arancia brasiliana per idratare la pelle e dare un tocco stimolante.
Does size matters? Yes! Lush ironically offers us a solid oil with the shape of a banana with moisturizing butters of cocoa, shea, cloves and orange brazil to moisturize the skin and give a stimulating touch.
Love Island – esfoliante corpo/
body scrub

(7.50 CHF)
Se vi piacciono gli esfolianti per la pelle del corpo non potrete fare a meno di provare questo prodotto di Lush dalla forma assai strana e con un rametto di rosmarino sporgente. All'interno sono stati racchiusi sabbia, sale marino e zucchero per un'esfoliazione intensa con sentori di mela ed olio essenziale di lemongrass.
If you like body scrub you can try the new product by Lush with a strange shape and a sprig of protruding rosemary. Inside, there are sand, sea salt and sugar that have been enclosed for intense exfoliation with hints of apple and lemongrass essential oil.
Adam's Apple – collutorio solido/
solid mouthwash

(13.90 CHF)
Chi l'avrebbe mai detto che il collutorio potesse essere anche in formato solido? Ebbene sì, Lush ci propone una pillola alla mela e menta da sciogliere in acqua (o in bocca) per il risciacquo finale della bocca. La vostra bocca sarà fresca con un tocco di mentolo ed agrumi! Se volete sapere qualcosa di più su questo prodotto vi lascio una mia vecchia recensione sul collutorio solido di Lush.
This is a solid mouthwash that you can use for a freshly sensation in your mouth. Lush offer us a combination of apple and mint with Adam's Apple. If you want, you can read my last review about solid mouthwash by Lush. 
Eve's Cherry – esfoliante labbra/
lip scrub

(14 CHF CHF)
Lush ci propone anche un altro scrub, ma questa volta è per le labbra: potrai sentire l'aroma di pesca e ciliegia che, insieme ai burri di jojoba e karité, si prenderanno cura delle tue labbra rimuovendo le pellicine e lasciandole morbide.
Lush offers us another scrub, but this time it is for the lips: you can feel the aroma of peach and cherry, with jojoba and shea butters, that take care of your lips by removing the dead skin, leaving it soft.
American Pie – balsamo corpo solido e liquido /
solid and cream body balm

(23.50 CHF-12 CHF)
Lush propone una variante solida e liquida dello stesso prodotto per prenderci cura della nostra pelle ed idratarla con ingredienti come burro di karité equosolidale e olio di mandorla.
Lush offer us two variant of the same product for our skin: inside there is fairtrade shea butter and almond oil.
Avocado Wash – gel doccia solido e gel doccia/solid shower gel and shower gel (18.50 CHF, 12 CHF)
Questa è la prima proposta della primavera 2019: si tratta di un gel doccia solido che è stato arricchito con avocado, bergamotto e verbena tropicale. Come potrete ben immaginare, da Lush trovate anche la versione liquida per soddisfare le necessità di chi vuole utilizzare la versione classica del gel doccia.
This is the first products of spring 2019: it is a solid shower gel that has been enriched with avocado, bergamot and tropical verbena. As you can imagine, at Lush you can also find the liquid version to satisfy every people!
American Cream – gel doccia solido e gel doccia/solid shower gel and shower gel (18.50 CHF, 12 CHF)
Se non gradisci l'avocado, allora non potrai fare a meno di testare la versione alternativa del prodotto precedente: sto parlando di American Cream, anch'esso proposto nella variante solida e liquida. Il profumo predominante è quello fresco della fragola e del succo di arancia che ti avvolgeranno con la schiuma insieme alla vaniglia e benzoino.
If you don't like avocado, you can try the other solid shower gel American Cream, that you'll find also in the liquid variant. The scent of this product is with strawberry, orange juice, vanilla and benjamin.
Strawberry Whip – sapone mani e corpo/ hand and body soap (CHF)
Passiamo al prossimo prodotto un sapone dalla forma di una fragola che potrai utilizzare per le mani, ma anche per il corpo. Al suo interno sono state inserite fragole fresche, geranio e gelsomino per un profumo intenso ed avvolgente come quello della primavera; l'olio di cocco idrata la pelle insieme al burro di cacao equosolidale.
Let's discover the next product for the Spring 2019 that is this funny strawberry soap for hand and for body. The ingredients are fresh strawberry, jasmin and geranium. There are also coconut oil and fair trade cocoa butter to moisturize the skin.
Love Token – spumante da bagno/bubble bar (CHF)
Terminiamo con l'ultimo prodotto presentato per la primavera 2019: si tratta di un altro spumante da bagno dalla forma di un disco d'oro dove c'è scritto "Grazie". Con questo prodotto potrai ringraziare una persona e trasformare la sua vasca da bagno con una schiuma di pino e chiodi di garofano.
Let's end with  the latest product launched for Spring 2019: it is another sparkling bubble bar with the shape of a gold disk with the word "Thank you". With this product you will be able to thank a person and transform the bathtub with pine foam and cloves.