Per questa primavera estate 2016 il marchio Vichy ci propone diversi prodotti nuovi che si prendono cura della nostra pelle: sto parlando della linea Ideal Body Vichy, di cui ho potuto testare il Doccia Spa Gel-Crema e l'acqua sorbetto Vichy.
For this Spring Summer 2016, Vichy offers us new products that take care of skin: I'm talking about the new line Ideal Body by Vichy, that I tested in these days. Creme-in-gel Spa Dousche and Aqua Sorbet by Vichy are two product that I'm going to show you! 
Ideal Body Aqua Sorbet Vichy (200 ml – 25 CHF)
Iniziamo dall'Acqua sorbetto Ideal Body di Vichy, un idratante per il corpo che è in grado di donare alla pelle freschezza ed allo stesso tempo energia. L'idratazione, peraltro, è continua durante tutta la giornata. Nel complesso, la pelle risulta più rassodata e levigata al tatto.
Questo prodotto è privo di parabeni e peraltro è stato arricchito con la kombucha, un concentrato multi-attivo del tè. La crema corpo, una volta stesa sulla pelle, si assorbe velocemente e lascia la pelle fresca e morbida. In questo modo, la pelle è rigenerata e fortificata. L'effetto fresco è dovuto alla splendida consistenza sorbetto che, per l'appunto, dona una sensazione di freschezza. Anche il profumo di questa crema-sorbetto è davvero molto piacevole e leggero.
A me piace molto questo prodotto e credo che con l'arrivo dell'estate diventerà uno tra quelli più utilizzati!
Let's start it with Aqua Sorbet by Vichy, a moisturizer for the body that is able to give the skin freshness and at the same time energy. Hydration, however, it continues throughout the day. Overall, the skin is firmer and smoother to the touch.
This product is free of parabens and, moreover, has been enriched with kombucha, a concentrated multi-active tea. The body cream, once spread on the skin, absorbs quickly and leaves the skin fresh and soft. In this way, the skin is regenerated and fortified. The cool effect is due to the splendid consistency sorbet, in fact, gives a feeling of freshness. Even the scent of this cream-sorbet is really very nice and light.
I really like this product and believe that with the arrival of Summer will become one of the most used!
Doccia Spa Gel-Crème Vichy (200 ml – 10.50 CHF)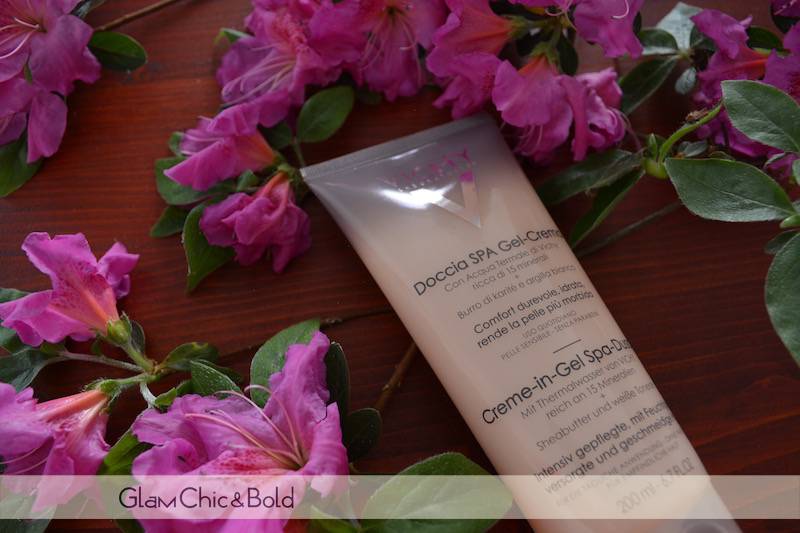 L'altro prodotto che ho testato è il gel-crema Doccia Spa di Vichy: all'interno di questo prodotto ci sono ben 10 olii nutrienti, burro di karité ed argilla bianca. La texture a crema è dolce sulla pelle che quindi risulta subito nutrita a fondo ed il confort è ben evidente a lungo. Dopo l'applicazione, la pelle è più fresca e questa freschezza permane durante l'intera giornata.
Anche la fragranza che si può sentire è davvero molto piacevole e delicata e vi avvolgerà in un sentiero di rose e vaniglia. Io trovo che questo prodotto Vichy sia veramente valido, specie se ne fate un uso quotidiano, giacché è adatto anche per pelli sensibili ed è privo di parabeni.
The other product I've tested is the Creme-in-gel Spa Dousche: inside this product, there are as many as 10 nutrients oils, shea butter and white clay. The texture cream is gentle on the skin so that it is immediately fed to the bottom and comfort is evident for a long time. After application, the skin is fresh and this remains fresh throughout the day.
Even the fragrance that you may feel is really very nice and gentle and will wrap you in a path of roses and vanilla. I find that this product by Vichy is really good, especially if you use it everyday, since it is also suitable for sensitive skin and it doesn't contains parabens!
Della stessa linea Ideal Body di Vichy troviamo il balsamo labbra riparatore (15 ml – 12.60 CHF), la crema mani ed unghie con protezione SPF 15 (40 ml – 12 CHF) e Doccia Spa Gel-Olio (200 ml – 10.50 CHF). Tutti i prodotti che vedete qui sono già disponibili dal mese di aprile 2016!
In the same collection of Ideal Body by Vichy we find the repairer lip balm (15 ml – 12.60 CHF), the cream for hand and nails with SPF 15 (40 ml – 12 CHF) and Shower Gel Spa-Oil (200 ml – 10.50 CHF). All products you see in my post are already available from April 2016!