Per la seconda volta quest'anno Dr. Hauschka propone il ritorno di alcuni prodotti che sono stati reputati i migliori dalle donne che conoscono il brand. I colori dell'autunno per il ritorno  Welcome Back sono in perfetto stile per questo momento dell'anno: i colori che troviamo sono perfetti per la stagione autunnale come il pruna, il color lavanda e berry. Scopriamo tutti i prodotti che possiamo trovare con questa nuovo look autunnale 2016 di Dr. Hauschka!
For the second time this year Dr. Hauschka proposes the "Welcome back" of some products that have been deemed the best by women who know the brand. The colors for the "Welcome Back" are back perfect for this time of the year: the colors for the Fall season are the pruna, the lavender and berry. Let's go to discover all the products for the Fall look 2016 by Dr. Hauschka!
Qui di seguito trovate tutti i prodotti del look autunno 2016/Here you can see all products for Fall 2016!
Eyeshadow palette 02
Kajal Eyeliner Duo 06 berry/black
Illuminting Powder
Matte & Shimmer Blush Trio
Lip Gloss 06 blackberry
Eyeshadow palette 02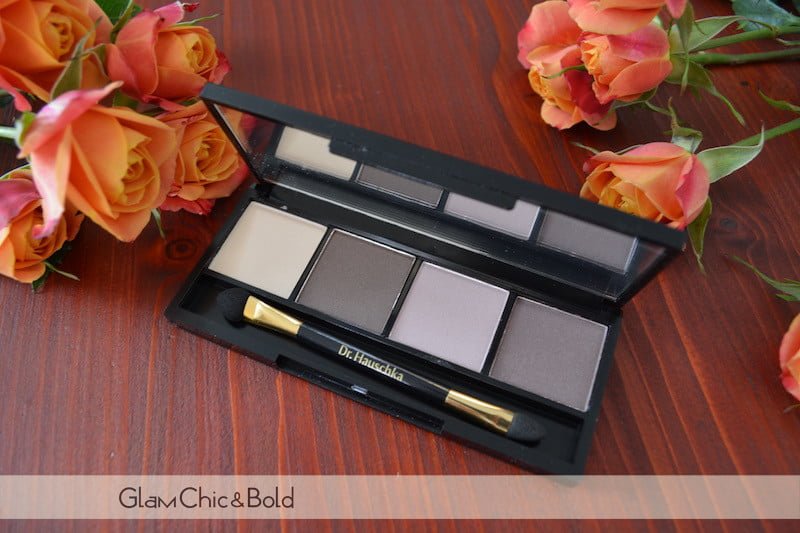 Questa palette propone al suo interno quattro colori che vanno dal bianco giglio alla lavanda, per creare un bellissimo trucco occhi ad alto impatto. La formula di questo prodotti è arricchita con pigmenti minerali, estratti di piante officinali come il té nero. All'interno della palette troviamo anche un applicatore con due spugnette agli estremi.
This palette offers you four colors from white lily to lavender, to create a beautiful make-up with high-impact on your eyes. The formula of this products is enriched with mineral pigments, medicinal plant extracts such as black tea. Within the palette we find also an applicator with two pads.
Kajal Eyeliner Duo 06 berry/black
Questo Kajal Eyeliner duo, realizzato con cera di cotogna e burro di karité, vi aiuterà a definire lo sguardo: da una parte il nero intenso, mentre dall'altra parte troviamo il berry per dare luce agli occhi. Questo prodotto può essere applicato anche nella rima interna dell'occhio.
This Kajal Eyeliner Duo, made with quince wax and shea butter, will help you to define the look: on one hand there is a deep black, while the other side we find the berry to give light to the eyes. You can apply this product  in the inner rim of the eye.
Illuminanting Powder Dr. Hauschka
Questa cipria è leggera e shimmering, così da donare il giusto tocco di luce alle pelle, applicandola su punti specifici del volto oppure su tutto il viso, in base ai vostri gusti. È una cipria perfetta anche da utilizzare sul décolleté. La formula è arricchita anche in questo caso da pigmenti minerali, estratti di piante officinali come l'antillide e l'amamelide.
This powder is light and shimmering, to give the right touch of light on the skin, applying it on specific points of the face or all over the face, if you like it. It's a perfect powder also be used on the décolleté. The formula is  enriched with mineral pigments, extracts of medicinal herbs such as kidney vetch and witch hazel.
Matte & Shimmer Blush Trio Dr. Hauschka
Questo splendido blush trio (lo amo davvero tanto!) si presenta con tre colori diversi (matt, setoso e shimmerging) e potrete decidere di applicare i colori singolarmente oppure di unirli per ottenere lineamenti illuminati. Questa combinazione di colori, perfetti per tutti i tipi di incarnato, ha una formula arricchita con estratti di salvia ed amamelide.
This beautiful blush trio (I love so much!) show you with three different colors (matt, silky and shimmerging) and you can choose to apply the colors individually or combine them. This combination of colors, perfect for all types of skin, has a formula enriched with extracts of sage and witch hazel.
Lip Gloss 06
Questo gloss si presenta in un colore mirtillo che, però, sulle mie labbra non appare decisamente interessante. Infatti, non mi è piaciuto molto come nuance,però effettivamente si abbina alla perfezione con tutti i colori di questo look autunnale. La formula di questo gloss è stato arricchito con pigmenti minerali, burro di mango e olio di nocciolo di albicocca.
This lip gloss is in a cranberry color, however, on my lips it does not appear very interesting. In fact, I  don't like this nuance, but at the same time it matches perfectly with all the colors of this autumn look. The formula of this gloss is enriched with mineral pigments, mango butter and apricot kernel oil.