Anche quest'anno non potevo certamente fare a meno di presentarvi la nuova collezione in edizione limitata di Lush per Halloween! Quest'anno la collezione Halloween di Lush ci ripropone alcuni dei prodotti più amati della stagione precedente, ma anche tante novità super profumate.
Also this year there is a new limited edition by Lush for Halloween 2018! This year the Halloween collection by Lush brings us some of the most popular products of the previous season, but also many super fragrant news.
Ghost in the dark – sapone/
soap
La prima novità di questa collezione è il sapone Ghost in the dark che prende le sembianze di un fantasmino che si illumina nel buio. Al suo interno sono state racchiuse note di bergamotto e lemongrasse che danno subito una sferzata di energia.
The first novelty of this collection is the soap called Ghost in the dark that, a ghost that lights up in the dark. Inside this soap have been enclosed notes of bergamot and lemongrasse that immediately give a burst of energy.
Sparkly Pumpkin – spumante da bagno/
bubble bar
Passiamo allo spumante da bagno Sparkly Pumpkin che, come potete ben immaginare, farà brillare la vostra vasca da bagno con tanti glitter color oro. Questo spumante da bagno, ripreso dalla precedente collezione di Halloween, ha una forma di zucca ed al suo interno oli essenziali di chiodi di garofano, lime e pompelmo.
Let's move on to Sparkly Pumpkin which will make your bathtub shine with lots of gold glitter. This sparkling wine, taken from the previous Halloween collection, has a pumpkin shape and contains essential oils of cloves, lime and grapefruit.
Eyeball – bomba da bagno/
bath bomb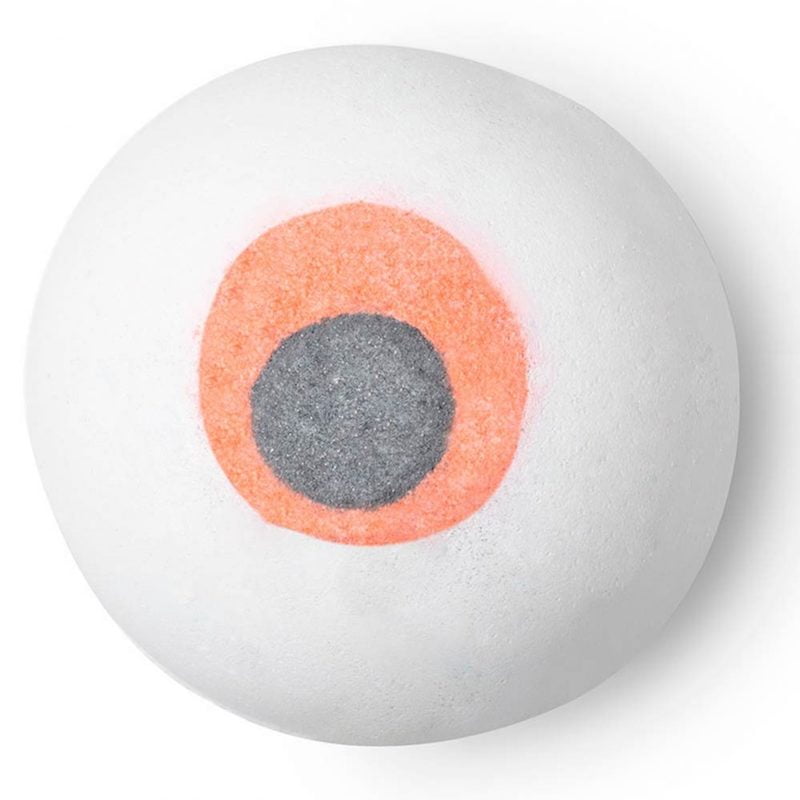 Questa bomba da bagno a forma di occhi ci regala uno splendido momento nella nostra vasca da bagno, grazie alle note di oli essenziali di ylang ylang, lavanda, arancia brasiliana e rosa. In questa maniera, potremmo creare le basi del perfetto bagno rilassante nella notte di Halloween.
This eye-shaped bath bomb gives us a wonderful moment in our bath, thanks to the notes of essential oils of ylang ylang, lavender, brazilian orange and rose. In this way, we could create the basics of the perfect relaxing bath on Halloween night.
Bewitched – spumante da bagno/bubble bar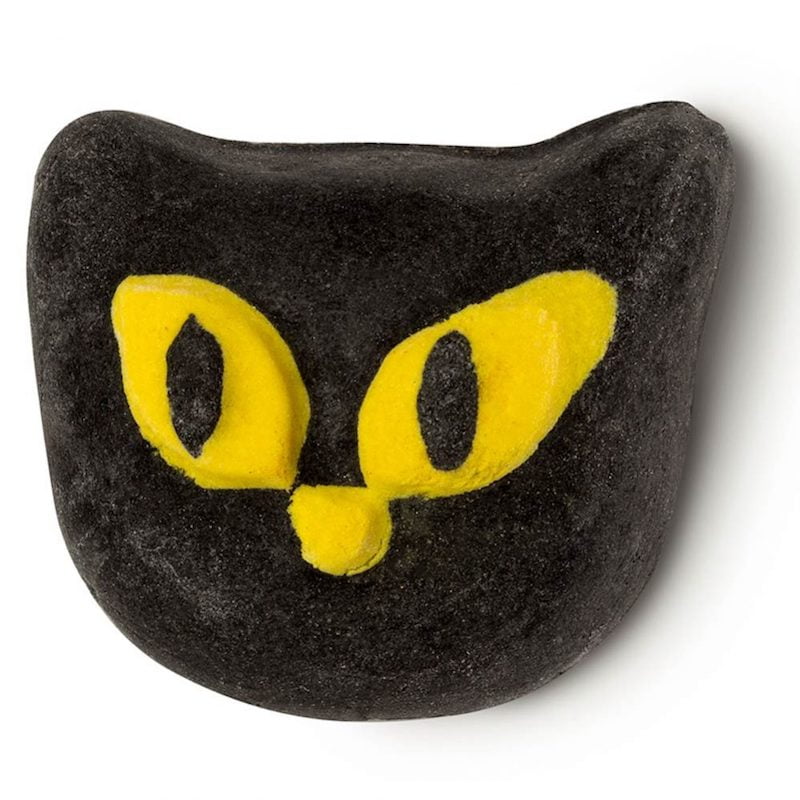 Questo articolo, in realtà, era presente già nella collezione dell'anno precedente! Si tratta di uno spumante da bagno a forma di testa di gatto nero che sotto l'acqua si scioglie lasciando nell'aria profumo di oli essenziali di olibano e bergamotto.
This product was already present in the previous year's collection! It is a bubble bar in the shape of a black cat's head that melts under the water, leaving the scent of essential oils of olibanum and bergamot in the air.
Ectoplasm – crema doccia solida/
solid shower cream
Ancora una volta Lush ci propone prodotti nudi, privi della confezione: è il caso di questa crema doccia dal colore spaventoso che ci consente di fare una doccia senza neppure dover aprire la confezione del prodotto. Al suo interno sono stati inseriti olio di mandorle per idratare, verbena tropicale per rinvigorire il corpo, oli essenziali di pompelmo e mandarino per rinfrescare ed illuminare la pelle.
Once again Lush offers us nude products, without the packaging: this is the case of this cream with a scary color that allows us to take a shower without even having to open the packaging of the product. Inside, almond oil was added to hydrate, tropical verbena to invigorate the body, essential oils of grapefruit and mandarin to refresh and brighten the skin.
Bewitched – regalo di Halloween/gift for Halloween
Per festeggiare nei migliori dei modi potrete pure acquistare Bewitched, che contiene al suo interno tutti i prodotti di questa collezione in edizione limitata più il knot wrap in cotone biologico che potrete riutilizzare!
If you want to enjoy this Halloween I suggest you to discover this funny gift: in the bio cotton know wrap you'll find these limited edition with all products.