Manca veramente poco a San Valentino 2018 ed oggi desidero presentarvi alcuni dei prodotti in edizione limitata che potrete acquistare già in negozio presso la boutique ed online. Ma andiamo a vedere quali sono!
Valentine's Day 2018  is coming! For this reason, today I'm going to show you the beautiful limited edition by Lush that you can already buy in the boutique and shop online. Are you ready to see all products?
Tisty Tosty Pink – bomba da bagno/
bath bomb

(8.90 CHF)
Se siete alla ricerca di una bomba da bagno romantica, questa fa senz'altro al caso vostro: Tisty Tosty Pink ha la forma di un cuore ed ha incastonato al suo interno boccioli di rosa veri. Il profumo di questo prodotto è davvero incredibile: mi piace tantissimo perché é un vero e proprio bouquet floreale: al suo interno oltre alla rosa troviamo anche radici di giglio fiorentino, rosa e limone, ma anche geranio e gelsomino. Infine, vi ricordo pure che al suo interno vi è olio essenziale di rosa che è utile per l'aromaterapia.
If you are looking for a romantic bath bomb, Tisty Tosty Pink is perfect four you: it has the shape of a heart and has embedded inside the real rose buds. The scent of this product is truly incredible: I like it a lot because it is a real floral bouquet: in addition to the rose we also find roots of Florentine lily, rose and lemon, but also geranium and jasmine. Finally, I would like to remind you that it is ideal for aromatherapy.
Love boat – bomba da bagno/
bath bomb

(9.80 CHF)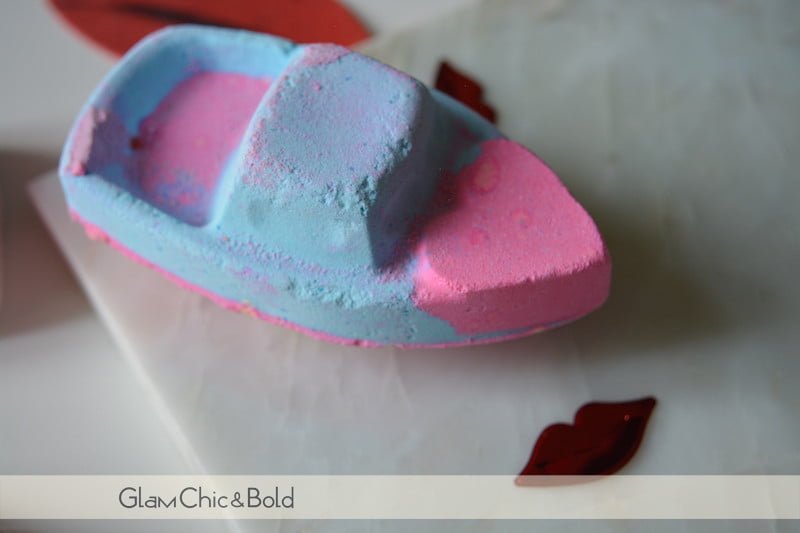 Se desideri immergerti in una vasca luminosa di arancia dolce selvatica biologica, allora questa fa bomba da bagno fa senz'altro al caso tuo. Il profumo agrumato non potrà fare a meno di attirare la tua attenzione, insieme a tutti i colori che sprigionerà!
If you want to immerse yourself in a bright tub of organic wild orange, this is a bath  bomb is perfect for you. The citrus scent will attract your attention, with all the colors!
Kiss Me Quick – wash card (5 CHF)
Avreste mai immaginato di lavarvi con una carta? Ebbene, Lush per questo San Valentino 2018 ci propone la wash card a forma di labbra rosse. Con questo prodotto potrete detergere il vostro corpo, sfregandolo tra le mani e passandolo delicatamente sulla pelle. Per quanto riguarda il suo profumo, invece, troviamo chiodi di garofano, mimosa e tonka.
Cherryrish – balsamo esfoliante solito /
solid balm crub

(16.50 CHF)
Siete alla ricerca di un esfoliando davvero prezioso? Vi suggerisco di provare questo di Lush, arricchito con estratto di cioccolato e ciliegia: in questa maniera, si possono eliminare le cellule morte della pelle e, allo stesso tempo, si lascia la pelle davvero morbida. La sua formula, inoltre, è stata arricchita con olio di mandorle ed essenza di cacao!
Are you looking for a really precious exfoliation? I suggest you to try this new product by Lush, enriched with chocolate and cherry extract: in this way, you can eliminate dead skin cells and, at the same time, leave the skin really soft. Furthermore, its formula has been enriched with almond oil and cocoa essence!