Per rendere più facile la vita delle donne, Guerlain ha pensato bene di proporre dal mese di maggio una serie di prodotti dal nome My Super Tips by Guerlain: si tratta di 5 alleati utili per affrontare nei migliori dei modi la giornata! Scopriamo in dettaglio di che cosa si tratta!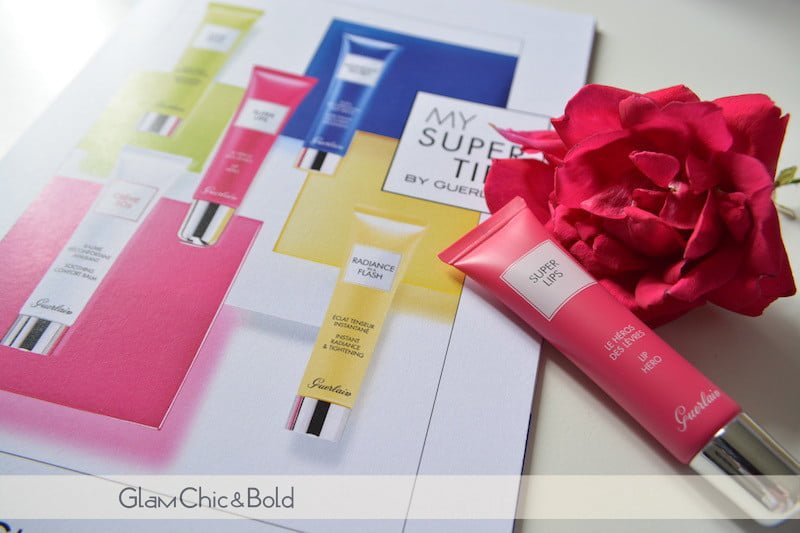 To make easier the life for women, Guerlain launched in May a series of products called My Super Tips by Guerlain: they are 5 useful allies to deal with in the best way your day! Let's go to discover these new products by Guerlain! 
Midnight Secret My Supertips Guerlain (15 ml – 37 CHF)
Midnight Secret My Supertips di Guerlain è un prodotto ideale per riparare la pelle durante le ore di sonno. Grazie al mix di ingredienti che aiutano a ridurre la comparsa di gonfiore ed i segni di stanchezza, al risveglio avrete un aspetto fresco e riposato. La pelle, quindi, sarà più liscia e rivitalizzata!
La fragranza di questo prodotto è costituita da lavanda e dalla fava Toka di Guerlain, nota per i suoi poteri energizzanti e calmati. Il packaging di questo prodotto è riconoscibile nel blu scuro!
Midnight Secret My SuperTips Guerlain is an ideal product for repairing the skin during sleeping. Thanks to the mix of ingredients that help reduce the appearance of puffiness and signs of tiredness on waking you will look fresh and rested. The skin, therefore, will be more smooth and revitalized!
The fragrance of this product is made up of lavender and tonka Toka Guerlain, known for its energizing powers and calm down. The packaging of this product is recognizable in the dark blue!
Superlips Guerlain (15 ml – 37 CHF)
Il prossimo prodotto di Guerlain che vi presento è Superlips, un eroe per le labbra! Questo prodotto è ricco, idratante e rimpolpante grazie agli estratti di uva. In questo modo, con un unico gesto si possono avere labbra morbide e lisce. Il bergamotto è la fragranza che potrete sentire utilizzando questo speciale stick per labbra.
La texture di questo prodotto che ho potuto testare personalmente è ultra-fine con glitter color oro e si fonde immediatamente sulla pelle, lasciando un piacevole profumo sulle labbra!
The next product of Guerlain that I present is Superlips, a hero for the lips! This product is rich, moisturizing and plumping thanks to grape extracts. In this way, with a single gesture you can have lips soft and smooth. Bergamot is the fragrance that you can enjoy using this special lip balm.
The texture of this product that I was able to personally test is ultra-fine glitter color with gold and melts instantly on the skin, leaving a pleasant scent on the lips!
Crème SOS  My Super Tips by Guerlain (15 ml – 37 CHF)
Per tutte le emergenze, c'è la crema SOS di Guerlain! Questo trattamento riparatore ed ultranutriente si prende cura della pelle secca od irritata. La sua formula è in grado di garantire un'idratazione a lunga durata e calma la pelle stressata dagli agenti esterni, come le temperature troppo basse o il sole. Questo prodotto è caratterizzato da una fragranza calmante come quella della rosa!
For all emergencies, there is the cream SOS Guerlain! This repair and ultranutriente treatment takes care of dry or irritated skin. Its formula is able to ensure the long-term skin hydration and calm stressed by external agents, such as low temperatures or the sun. This product is characterized by a soothing fragrance like that of the rose!
Radiance in a Flash Guerlain (15 ml – 37 CHF)
Come avrete ben capito, questo è un trattamento illuminante per il viso. Potrete utilizzarlo la mattina o la sera su viso e collo, dopo la vostra crema idratante; Guerlain suggerisce di aggiungerne un po' alla cipria per avere un effetto illuminante e bellezza immediata. Il profumo di Radiance in a Flash di Guerlain è di arancia, mandarino e agrumi.
This is an illuminating facial treatment. You can use it in the morning or evening on face and neck, after your moisturizer; Guerlain suggests to add to your powder to have an illuminating effect and instant beauty. The scent of Radiance in Flash to Guerlain is orange, tangerine and citrus.
Stop Spot (15 ml – 37 CHF)
Terminiamo con l'ultimo prodotto della linea My Super Tips by Guerlain: Stop Spot è un trattamento anti-imperfezioni, una vera e propria evoluzione della crema Camphréa nel 1870, con un'alta concentrazione di canfora purificante per calmare i rossori e le imperfezioni. Va applicata nelle zone in cui si desidera nascondere dei piccoli difetti della pelle. Il profumo è di framacopea e canfora.
Let's end with the last product of My Super Tips by Guerlain: Stop Spot is an anti-imperfection treatment, a real evolution of Camphréa cream in 1870, with a high concentration of purifying camphor to calm redness and imperfections. It should be applied in areas where you want to hide small defects of the skin. The scent is framacopea and camphor.