Eccomi qui a parlarvi di alcune novità che trovate da Sephora: oramai, il punto vendita Sephora all'interno di Manor a Lugano (e in altre città svizzere) è arrivato da circa un mese e, quindi, non si può fare a meno di fare un salto per acquistare qualcosa. A tal proposito, vi mostro alcuni prodotti che mi sono stati omaggiati per l'estate 2017!
Today I'm going to tell you about some novelties that you find at Sephora for this Summer 2017: now,  Sephora sales inside Manor in Lugano (and in many different Swiss cities). As you know, it arrived about a month and so you can do a visit to buy something. For this reason, I would like to show you some products that I received for the summer 2017!
Iniziamo parlando dei prodotti destinati al corpo e viso: in particolare, vi mostro il bagno doccia Monoi Fever che, oltre ad avere uno splendido packaging estivo con palme, ha un meraviglioso profumo! Sotto la doccia però non potrete fare a meno di portare con voi pure la mousse detoxificante per pulire il viso da impurità e make up. Una volta finito il bagno o la doccia, passiamo ai prodotti per l'idratazione:  Tea Infusione al tea verde é una splendida crema per mani che non unge e renderà più morbida la pelle, mentre la gelatina rinfrescante e idratante per il corpo all'aloe vera vi rinfrescherà, lasciandovi la pelle morbida…ve la consiglio soprattutto se siete ritornati dalle vacanze al mare! Gli ultimi due prodotti di questa categoria sono il sapone per le mani alla peonia che ho già utilizzato ed amato alla follia e la spazzola per capelli Brush to Go: è perfetta da portare con sé, viste le dimensioni, così da sistemare i capelli quando si vuole (peraltro ruotandola potrete estrarre i dentini della spazzola o chiuderla).
Let's start talking about body and face products: in particular, I'm going to show you the Monoi Fever bath shower, which, in addition to having a wonderful summer palm pack, has a wonderful scent! After this, there is the detoxifying mousse to clean your face from impurities and make up. Once the bath or shower is finished, we pass on moisturizing products: Tea Green cream is a wonderful hand cream that does not unge and make your skin softer, while the refreshing and moisturizing jelly will refresh you, leaving your skin soft … I especially recommend you if you are back from the sea vacation! The last two products in this category are the peony hand soap I have used and loved the madness and Brush to Go Brush to Brush: it's perfect to take with you, given the size, so you can fix your hair when you are You want it (by rotating it you can either pull the teeth of the brush or close it).
Passiamo alle unghie e questa volta vi parlo di una lima unghie a 4 facce di Sephora: sono una persona cui piace tenere in ordine le unghie e molto spesso uso proprio le lime per farlo. Questa sarà un'ottima alleata non appena quella vecchia mi abbandonerà. Molto utile è sicuramente il Liquid Palisade: se siete un po' delle pasticcione o andate di fretta questo prodotto vi consentirà di proteggere il contorno delle unghie dallo smalto in eccesso!
Let's go to your nails and this time I'm talking about a 4-faced Sephora nail file: I'm a person who likes to keep your nails in shape and very often use the files to do it. This will be a good ally as soon as the old one abandons me. Very useful is definitely the Liquid Palisade: this product will help you to protect the contour of nails from excess of nail polish!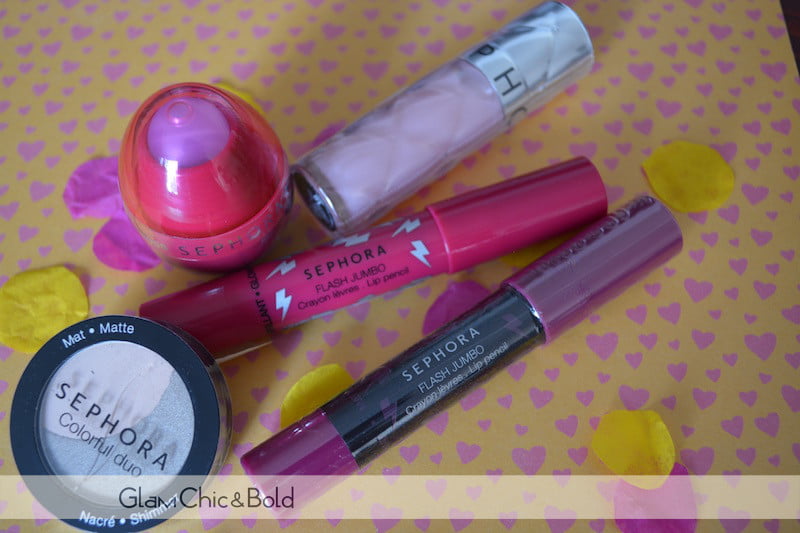 Ora passiamo al make up, la parte che preferisco di più: la collezione Sephora vanta di una vasta gamma di prodotti per il make up tra cui quelli proposti per l'estate 2017. Ad esempio, la splendida  il Glow Finishing Pressed Powder di Sephora che vi consiglio si usare in alcuni punti chiave del volto. Anche per le labbra c'è un'ampia scelta: il lipstick Pump Effect per ottenere maggiore volume, il Kiss Me Gloss di Sephora a forma di ovetto e due Flash Jumbo nelle nuance 07 Sudden Plum (opaco) e 16 Pumple Sprint (lucido). Per gli occhi, invece, il Colorful Duo n° 21 Pokerface, un mascara volumizzante waterproof, un mini mascara incurvante ed un eyeliner Sttylographic da utilizzare solo se siete davvero brave!
Now it's the right time for make up: the Sephora collection boasts a wide range of makeup products including those for the summer 2017. For example, the beautiful Glow Finishing Pressed Powder by Sephora that I recommend you use it in some key points of the face. Even for the lips there is a wide choice: the Lipstick Pump Effect for greater volume, the Kiss Me Gloss by Sephora in the shape of a door and two Jumbo Flash in the nuances of 07 Sudden Plum (matt) and 16 Pumple Sprint (polished) . For the eyes, instead, Colorful Duo n° 21 Pokerface, a waterproof volumizing mascara, a curling mascara and a stylographic eyeliner to use only if you're really good!
Infine, il pezzo forte sono i pennelli: ho ricevuto il pennello occhi 205 con doppia punta a setole sintetiche ed un mega pennello per le polveri da viso il n° 91. Questi due strumenti mi piacciono davvero molto. Entrambi i prodotti, inoltre, hanno anche una protezione! Dimenticavo…da Sephora trovate anche accessori capelli con questa clip a triangolo che, quest'estate, va tanto!
Finally, there are two beautiful brushes: I received the eye brush 205 with double synthetic bristle tips and a mega face pumper brush No. 91. I really like very much this 2 brushes. Both products also have protection! I forgot … at Sephora you can find also the hair accessories with this triangle clip that is a must have for this Summer!