Se ancora non avete fatto un salto in negozio, per scoprire tutte le novità del momento, ve le presento io!
If you didn't go at Lush shop and you didn't see the new products, you are lucky because today I'm going to show you the new products!
Think Pink – bomba da bagno/bath bomb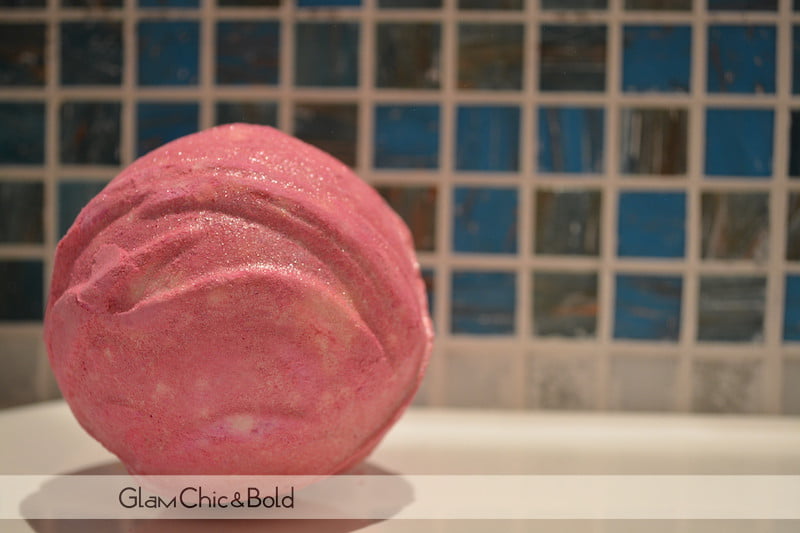 Questa bomba da bagno tutta rosa e brillante vi consentirà ti trasformare la vostra vasca da bagno rendendola piena di schiuma fucsia. Il suo profumo è dolce e tra gli ingredienti troviamo l'amido di mais utile per rendere la pelle più morbida e la sensuale vaniglia.
This pink and brilliant bath bomb will allow you to transform your bath tub in a full of fuchsia foam place. Its scent is sweet and among the ingredients we find corn starch useful to make the skin softer and the sensual vanilla.
Yellow Submarine – bomba da bagno/bath bomb
Questa bomba da bagno è fatta per le coloro che sanno apprezzare la fantasia di Lush: difatti, come potete notare, ha la forma di un sottomarino! Mettendola in acqua emanerà una scia di arancia brasiliana, lemongrass e semi di coriandolo, lasciando splendidi mix di colori nella vasca da bagno.
This bath bomb is made for those who know how to appreciate Lush's fantasy: in fact, as you can see, it's shaped like a submarine! Placing it in the water will emit a trail of Brazilian orange, lemongrass and coriander seeds, leaving beautiful mix of colors in your bathtub.
Sleepy – Crema mani e corpo/ bath and hand cream
Questa crema per le mani e per il corpo ti aiuterà ad idratare la tua pelle in fondo e, allo stesso tempo, grazie ai suoi ingredienti si prenderà cura di essa. L'infuso d'avena, la lavanda ed il tonka profumeranno il tuo corpo e lasceranno morbida la pelle. Il suo colore, poi, è splendido!
This cream for your hands and body will help you moisturize your skin and, at the same time, thanks to its ingredients will take care of it. The oat infusion, lavender and tonka will profuse your body and leave your skin soft. Its color, then, is gorgeous!
Olive Tree – Cuor di sapone/soap
Passiamo ora ad un sapone davvero molto delicato e ricco di olive verdi schiacciate, che sono in grado di lasciare la pelle più morbida. All'interno, però, troviamo anche petitgrain, rosa e cipresso che dona freschezza ed equilibrio. La base di questo cuor di sapone è fatta con olio d'oliva della tenuta di Permacultura MARDA, in Palestina, fondata in partnership con il SlushFund (Sustainable Lush Fund) che supporta progetti di rigenerazione sociale e ambientale.
Now let's go to a really delicate soap and rich of green olives, which are able to leave the skin softer. Inside, however, we also find petitgrain, rose and cypress that gives freshness and balance. The base of this soap is made with Permacultura MARDA olive oil from Palestine, founded in partnership with the Sustainable Lush Fund (SlushFund), which supports social and environmental regeneration projects.
Bubble Spinner – spumante da bagno /bubble bar
Lush ha pensato di realizzare anche uno spinner da bagno con questo spumante da bagno che riprende proprio le sue dimensioni. In questa maniera, potrete riemepire la vostra vasca da bagno in modo divertente!
Lush has also thought of making a bubble bar with shape of spinner with this sparkling color. In this way, you can enjoy your bathtub!
Rose Jam – Body Spray
Questo body spray è ricco di rose fresche e gerani che unendosi donano una splendida fragranza floreale per il corpo. La pelle sarà più fresca e luminosa.
This body spray is rich in fresh roses and geraniums that combine giving a beautiful floral fragrance to the body. The skin will be fresher and brighter.
Twilight – Body Spray
Questo spray da applicare sulla pelle vi donerà una sensazione di calma grazie alla lavanda e tonka, mentre che l'ylan ylang sarà una note seducente. Non vi resta che provarlo!
This spray applied on the skin will give you a feeling of calm thanks to lavender and tonka, while ylan ylang will be a seductive note. You just have to try it!
Potrete acquistare i prodotti da qui e nel negozio/You can buy them here and in the shop: