Quest'anno Too Faced ci coccola con una strepitosa collezione di Natale 2019 con protagonista l'omino di zenzero: in negozio già da ora trovare diversi kit regalo e novità da acquistare per noi oppure regalare alle nostre amiche o sorelle. I prodotti che vi mostro sono disponibili in parte in Svizzera e altri in Italia!
This year Too Faced launched the amazing collection for Christmas 2019 featuring the little ginger man: in the shop there are already several gift and novelty kits to buy for us or give to our friends or sisters. You can find some products in Switzerland and others in Italy!
Too Faced Palette Natale 2019
Per le feste di Natale, il marchio di Jerrod Blandino ci mette a tu per tu con una collezione caratterizzata da nuance che portano immediatamente alla mente il pan di zenzero, i biscotti e la zucca. Anche per quanto riguarda i soggetti illustrati per le pochette o per i packaging, notiamo che nella maggior parte dei casi c'è l'omino di zenzero. Con la nuova collezione Too Faced del Natale 2019 troviamo due nuove palette ma anche tanti kit regalo perfetti per un dono davvero eccezionale. Scopriamoli insieme!
For the Christmas holidays, the Jerrod Blandino's brand show us a collection characterized by nuances that immediately bring to mind gingerbread, biscuits and pumpkin. Also with regard to the illustrated subjects for the clutch bags or for the packaging, we note that in most cases there is the little ginger man. With the new Too Faced collection of Christmas 2019 we find two new palettes, but also many perfect gift kits for a truly exceptional gift. Let's go to discover together!
Gingerbread Extra Spicy Palette Too Faced
Questa palette in edizione limitata si compone di 18 colori profumati di spezie che vi permetteranno di realizzare un trucco giorno piuttosto che uno per la sera, con tonalità calde ed avvolgenti, perfette per le feste. Il packaging metallico ricorda per certi versi quella dell'anno precedente!
This limited edition palette consists in 18 fragrant spice eye shadows  that will allow you to make a day makeup rather than one for the evening, with warm shades, perfect for parties. The metal packaging reminds in some ways that of the previous year!
Hot Buttered Rum Palette Too Faced
Un'altra palette presentata da Too Faced per il Natale 2019 è Buttered Rum Palette, che si presenta con sei ombretti e due illuminanti. All'esterno il packaging è metallico e nel colore aranciato; all'interno, poi, troviamo uno specchio. Si tratta di una palette dal formato tascabile.
Another palette presented by Too Faced for Christmas 2019 is Buttered Rum Palette, which comes with six eye shadows and two illuminants. Outside, the packaging is metallic and orange in color; inside, then, we find a mirror. It is a pocket-sized palette.
Gingerbread Sugar – Polvere corpo/
body Powder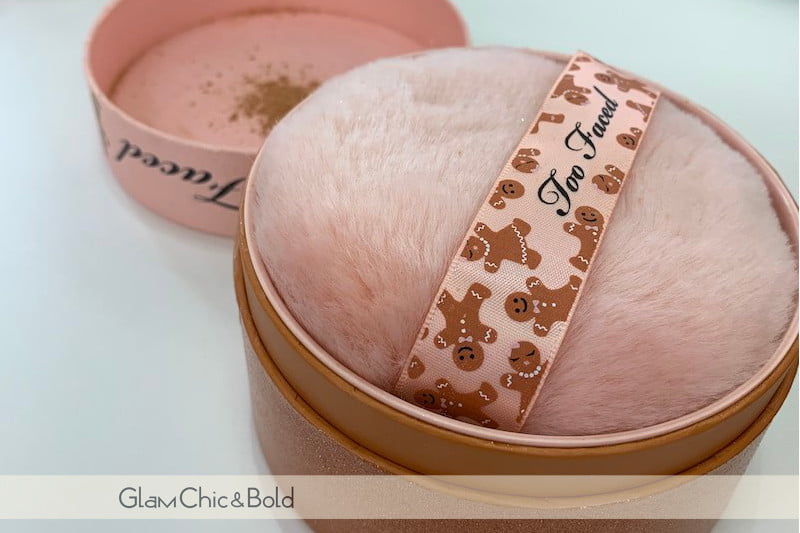 Questa polvere libera illuminante per il corpo dal tocco shimmer e dal profumo al pan di zenzero vi inebrierà: potrete applicarla sul décolleté, spalle e gambe, ma anche su qualunque altra parte del corpo che volete mettere in risalto. La texture è decisamente leggera per un effetto seta e si applica facilmente con il pouf posto al suo interno. Il cofanetto, poi, è davvero molto carino!
This free powder illuminating to the body with a shimmer touch and gingerbread scent will inebriate you: you can apply it on the décolleté, shoulders and legs, but also on any other part of the body that you want to highlight. The texture is decidedly light for a silk effect and is easily applied with the pouf inside it. The box is really very nice!
Better Not Pout But If You Do Keep It Glossy
Per dare un tocco luminoso alle vostre labbra, vi suggerisco di scoprire questo splendido cofanetto: al suo interno vi sono quattro gloss della linea Rich & Dazzling High Shine Sparkling, profumati ed arricchiti con oli naturali che donano un tocco di luminosità e colore alle labbra. I colori sono i seguenti:
To give a bright touch to your lips, I suggest you discover this beautiful box: inside there are four glosses from the Rich & Dazzling High Shine Sparkling line, perfumed and enriched with natural oils that give a touch of brightness and color to the lips. The colors are as follows:
Peppermint Bark (trasparente ghiaccio/

icy trasparent

)
Eggnog (giallo-arancio/

orange-yellow

)
Spice Cake ( rosso con sottotono oro/

red with gold undertone

)
Sugar Plum ( rosa baby con glitter oro e argento/

baby pink with gold and silver glitter

)
Gingerbread Bronzed & Kissed – kit terra e rossetto/
kit with bronzer and lipstick
Questo meraviglioso kit mette a disposizione una simpatica pochette a forma di omino al pan di zenzero, una terra compatta dal simpaticissimo pack ed un rossetto Juicy Matt dalla tenuta lunga e nel colore arancio opaco.
This wonderful kit offers a nice gingerbread man-shaped clutch, a compact earth with a very nice pack and a Juicy Matt lipstick with a long hold and an opaque orange color.
Christmas Cookie House Party – kit viso/
face kit
Questo set propone tutto il necessario per realizzare un make up completo per le feste, a suon di spezie: potrete trovare una maxi palette con 20 ombretti, una palette con 3 polveri viso, una mini palette con 6 colori occhi rossetto della linea Melted Matte Gingerbread Man, un primer per occhi Long Lasting Shadow, Insurance in edizione esclusiva ed un pratico mascara Better Than Sex.
This set offers everything you need to make a complete make-up for the holidays, to the sound of spices: you can find a maxi palette with 20 eyeshadows, a palette with 3 face powders, a mini palette with 6 colors lipstick eyes of the Melted Matte Gingerbread Man, a Long Lasting Shadow eye primer, exclusive edition Insurance and a practical Better Than Sex mascara.
Let It Snow, Girl – kit palette occhi e viso/
kit with face and eyeshadow palette
Questa confezione che simula una pupazzina di neve ci propone ben tre palettine per occhi e viso, oltre che un mascara Better than Sex Candy Cane Edition (versione viaggio). Nel dettaglio, le due palette per il viso hanno 4 blush matt e shimmer, sui toni del corallo e prugna, e un'altra con lighter e bronzer. Nella paletta occhi invece ci sono ben 19 ombretti con diversi finish di colori nude e vivaci per creare il vostro trucco come più vi piace!
This cadeau that simulates a little snowman offers us three little palettes for eyes and face, as well as a Better than Sex Candy Cane Edition mascara (travel version). In detail, the two face palettes with 4 blush matt and shimmer, in shades from coral to plum, and another one with lighter and bronzer. In the eyes palette, instead, there are 19 eye shadows with different finishes from nude to bright colors to create your makeup as you like!
Gingerbread Lane – Trio palette Too Faced Natale 2019
Questo set ci mette a disposizione ben tre mini palette di ombretti per gli occhi e viso, che contengono 4 ombretti ed un blush cadauna, con finish differenti (opachi e shimmer). Le palette sono Berry Merry Christmas, Sugar Plum Cookie e Totally Banana.
This set provides us with three mini eye shadow palettes for the eyes and face, which contains 4 eye shadows and a blush, with different finishes (matte and shimmer). The palettes are Berry Merry Christmas, Sugar Plum Cookie and Totally Banana.
Damn Girl Ornament – mascara
Questo piccolo regalo sarà perfetto da posizionare sul tuo albero di Natale: il regalino propone uno degli ultimi mascara Too Faced Damn Girl, assolutamente da provare. Io ho la versione full size – questa è una travel size- e mi piace tantissimo l'effetto volumizzante.
This little cadeau that you can put on your Christmas tree, it's perfect for this Christmas 2019. This gift give you a travel size of Damn Girl mascara: I like so much this volumizer mascara!
Better Than Sex Ornament – mascara
Un altro regalo da appendere all'albero è il mascara Better Than Sex con un pack del tutto natalizio.
This little mascara that you can put again on your Christmas tree has a beautiful pack white and pink for the holidays!
Pretty Little Present – Set mascara and lip gloss
Questo mini kit contiene due prodotti top di Too Faced: si tratta del mascara Better Than Sex ed il lip gloss Ginger Snap che è rosato con un sottotono bianco ghiaccio.
This mini kit contains two top products by Too Faced: it is the Better Than Sex mascara and the Ginger Snap lip gloss that is rosy with an ice white undertone.