Natale si avvicina e proprio per questo desidero darvi qualche dritta per quanto riguarda i calendari dell'avvento per  questo Natale 2015. Scopriamo insieme quali sono i marchi dei prossimi Christmas advent calendars 2015!
Christmas is coming and for this reason I decided to write an article where I deals with about the new Christmas advent calendars 2015! 
Christmas advent calendars Sephora (39.90 €)
Come avrete ben capito, i calendari dell'avvento non contengono solo cioccolatini, ma anche prodotti di bellezza e makeup. Questo è il caso del calendario dell'avvento Sephora, che potrete sistemare in bagno e scoprire giorno dopo giorno, con 24 sorprese di makeup, trattamenti ed accessori.
As you well know, the advent calendars don't contain only chocolates, but also beauty and makeup products. This is the case of the advent calendar by Sephora, which you can put in the bathroom and discover day after day, with 24 surprises of makeup, treatments and accessories.
I Christmas advent calendars Sephora contengono/You find this objects: Crema Doccia 3 x 7,9 ml – Crema Doccia Ultra Nutriente7,8 ml – Cubi effervescenti 2 x 18 g – Smalto 2 x 5 ml – Ombretto 2 g – Matita Occhi 0,7g – Salvietta Struccante Occhi 2 x 1,87 g – Salviettine Levasmalto 2 x 2,63 g – Maschera da notte 24 g – Braccialetto in satin x2 – Nastro adesivo decorativo x2 – Bloc-notes adesivo – Set di cartoncini per gli ospiti – Stencil – Tutorial x2 – Flacone vuoto – Blocco Levigatore
Advent Calendar The Body Shop (75 €, 100 €/ 149 CHF)
Per queste feste natalizie, The Body Shop ci propone ben due calendari dell'avvento: il primo calendario è verde e contiene ben 24 minisize di prodotti del marchio. La seconda proposta, invece, è la versione deluxe – di colore rosso – e contiene ben 25 prodotti di scelta superiore. Guardate che bel packaging!
For the Christmas holiday The Body Shop show us two Christmas advent calendar with more special minisize of products. One calendar is green and the other, deluxe version, is red. I like this packaging!
Ciaté Advent Calendar (59 €/)
Avete bisogno di smalti? Allora il calendario dell'avvento di Ciaté fa proprio al caso vostro! All'interno troviamo 7 mini smalti, 3 mini trattamenti per le unghie, 2 mini flaconi di glitter inediti, una mini limetta in cristallo e uno smalto in formato grande.
Do you need some nail polishes? I advice you that Ciaté create a beautiful Christmas advent calendar: in this precious box, you'll find 7 mini size of nail polishes, 3 mini treatment for nails, 2 bottles of inedit glitter, mini nail file and a full size of nail polishes. 
Alessandro International Advent Calendar (79.90 CHF)
Se siete delle appassionate del mondo delle unghie, invece, non potrete fare a meno di acquistare  questo calendario dell'avvento. All'interno di questa preziosa scatola in edizione limitata troviamo ben 24 regalini per aspettare il Natale 2015.
If you like the world of nail polishes, you must buy this Christmas advent calendar: waiting for Christmas, you can buy this beautiful box with 24 gift. 
Christmas advent calendars L'Occitane (39 €/59 CHF)
L'anno scorso avevo ricevuto come omaggio dall'azienda questo simpatico calendario dell'avvento L'Occitane ed anche quest'anno è stato proposto. Si tratta di un calendario dell'avvento arricchito da prodotti per la cura del proprio corpo e non solo, giacché in alcune caselle si trovano pure delle decorazioni per l'albero e biglietti segnaposto per la tavola.
Last year I had received as a gift by the company this cute calendar and this year has been proposed in all shop. It is an advent calendar enriched for the care of your body and not only because in some boxes are also decorations for the tree and tickets placeholder for the table.
Christmas Advent Calendars Lush (80 €/120 CHF)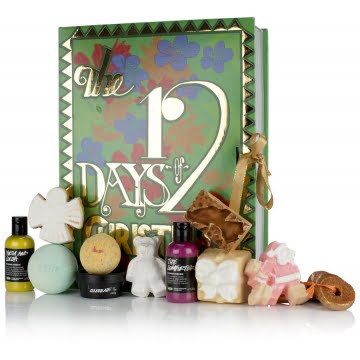 Se siete delle appassionate del mondo dei prodotti naturali, allora non potrete certamente farvi sfuggire lo splendido calendario dell'avvento di Lush. All'interno troverete ben 12 prodotti per un bagno splendido.
If you love the natural product for you bath, you can't wait to buy this beautiful Christmas advent calendar by Lush: you'll find 12 products to use for a special bath in your home. 
Benefit advent calendar (24 €/52 CHF)
Anche le amanti folli del makeup non potranno perdersi un calendario dell'avvento come questo: sto parlando della proposta di Benefit, che contiene la bellezza di 12 prodotti. Anche in questo caso, il packaging è davvero speciale!
For the lovers of makeup, there are another beautiful advent calendar: I'm talking about the Christmas advent calendar by Benefit, where you'll find 12 products. I like that packaging!