In occasione dei festeggiamenti di Halloween, voglio segnalarvi tutte le novità che troverete in negozio e che potrete utilizzare per rendere le vostre giornate davvero piacevoli!
Today I'm going to show you all new products for Halloween 2017 by Lush: there are a lots of novelties and some old products that come back for this year. Let's go to discover it!
Lord of Misrule – bomba da bagno/
bath bomb
Questa bomba da bagno si presenta di colore verde ed è stata nuovamente presentata per questo Halloween 2017. Ha un profumo di sandalo e vaniglia che a loro volta sono addolciti con spezie come pepe nero e patchouli.
The bath bomb is green and has been re-presented for this Halloween 2017. It has a scent of sandalwood and vanilla with black pepper and patchouli.
Pumpkin – bomba da bagno/
bath bomb
Questa ballistica è perfetta per festeggiare la notte di Halloween: come potete ben notare, difatti, ha la forma di una vera e propria zucca. Per la fragranza, invece, troviamo cannella e vaniglia.
This bath bomb is perfect for celebrating Halloween night: as you may notice, in fact, it has the shape of a real pumpkin. For the fragrance, however,  is with cinnamon and vanilla.
Monster's Ball – bomba da bagno/
bath bomb
Un piccolo mostricciattolo rosa si preoccuperà di colorare la vostra acqua e di lasciare uno splendido profumo di olibano, neroli e lime.
A small pink mullet will color your water and leave a wonderful perfume of olibano, neroli and lime.
Ectoplasm Jelly Bomb – bomba da bagno/
jelly
bath bomb
Questa bomba da bagno è stato ottenuto con l'uso della gelatina del muschio irlandese, olio di pompelmo, olio di mandarino e litsea cubeba che ha una funzione tonificante.
This jelly bath bomb was obtained with the use of Irish moss jelly, grapefruit oil, mandarin oil and litsea cubeba which has a toning effect.
Pink Pumpkin – spumante da bagno/
Reusable Bubble Bar
Passiamo ad un'altra proposta a forma di zucca, questa volta però si tratta di uno spumante da bagno che farà brillare la vostra notte di Halloween con note di gelsomino e geranio.
Let's go to another pumpkin-shaped product, this time it's a reusable bubble bar that will make your Halloween night shine with jasmine and geranium notes.
Bewitched Bubble -spumante da bagno/
Reusable Bubble Bar
Questo spumante da bagno ha la sembianza di un gattino nero con note di bergamotto, olibano e profumo di more.
This reusable bubble bar looks like a black kitten with notes of bergamot, olbano and scent of sea.
Sparkly Pumpkin – spumante da bagno/
Reusable Bubble Bar
Anche questo prodotto ha una forma di zucca, ma è ricca di brillanti color oro: all'interno, inoltre, vi sono elementi energizzanti come il lime, il ginepro ed il pompelmo.
This product also has a pumpkin shape, but it is rich in bright gold. Inside, there are also energizing elements such as lime, juniper and grapefruit.
Magic Wand – sapone/
soap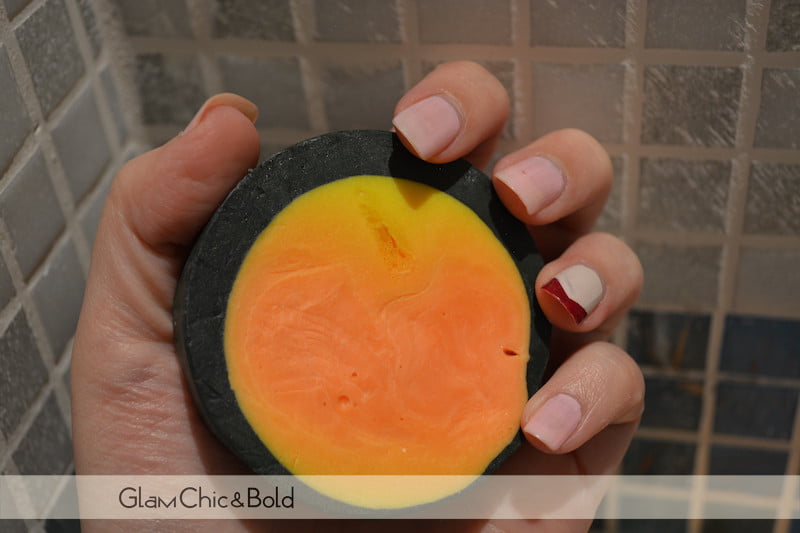 Questo è un sapone che sembra voler imitare una parte della bacchetta magica id un mago. Quando lo userete potrete sentire le note di arancia e clementina, unito all'olio d'oliva e carbone di legno. Inoltre, da questo prodotto è scomparso l'ingrediente dell'olio di palma.
This is a soap that seems to want to mimic a part of the magic wand. When you use it you will hear the notes of orange and clementine, combined with olive oil and charcoal. Additionally, the palm oil  has disappeared from this product.
Hedgewitch – sapone/
soap
Parliamo di un altro sapone che in tal caso sembra voler imitare il colore del fuoco presente nel cammino. Questo prodotto vi stregherà con il profumo di gelso bianco e di more.
Let's talk about another soap that in that case seems to want to mimic the color of the fire. This product is with the white and mulberry perfume.
Goth Fairy – olio da massaggio/
massage oil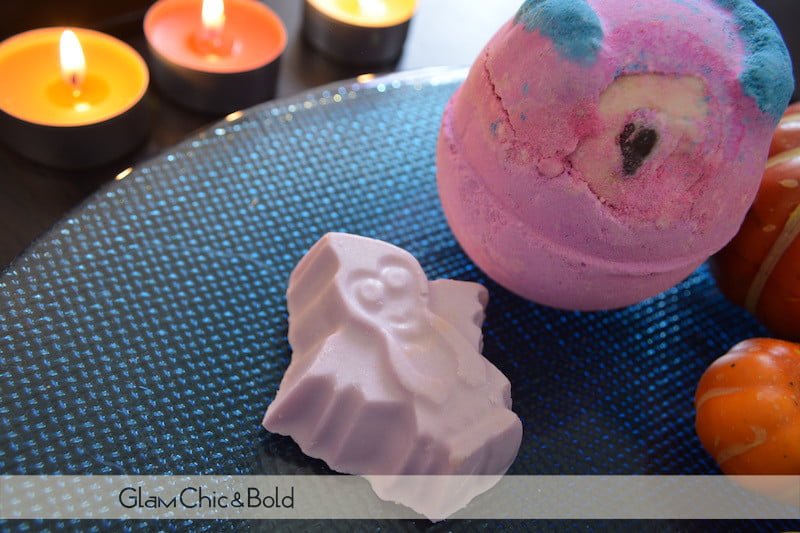 Ancora una volta, tra le proposte di Halloween 2017, abbiamo l'olio da massaggio Goth Fairy che raffigura un fatina brillante. Al suo interno, difatti, vi sono diversi glitter iridescenti e burri idratanti come quello di illipe e cupuaçu e non manca neppure il profumo di mandorle, pompelmo e bergamotto.
Once again, among the Halloween 2017 products, we have the Goth Fairy massage oil, which is a bright dune. Inside, in fact, there are several iridescent glittering and moisturizing balm like illipe and cupuaçu, and there is also the scent of almonds, grapefruit and bergamot.
Lord of misrule – crema da doccia/
shower gel
Un altro prodotto che è di nuovo disponibile è proprio la crema doccia Lord of misrule che si presenta nel colore verde e che ha una profumazione di vaniglia, patchouli e pepe nero. Questo prodotto, inoltre, ha anche olio di Germe di grano con vitamina E.
Another product that is again available is the Lord of Misrule shower gel, which is in the green color and has a scent of vanilla, patchouli and black pepper. This product also has grain germ oil with vitamin E.
Black Rose Lip Tint – balsamo colorato
/colored lip balm
Questo balsamo colorato di rosa ha proprietà idratanti date dalla presenza dell'olio di jojoba ed anguria. Inoltre, vi sono pure mandarino siciliano e ylang ylang.
This colored rose balm has moisturizing properties given by the presence of jojoba oil and watermelon. In addition, there are also Sicilian mandarin and ylang ylang.
Black Rose Solid Tint – balsamo colorato/
colored lip balm
Questo é un altro balsamo colorato per soddisfare le necessità di tutte! In tal caso, non si tratta di uno stick ma di un pezzo di prodotto che darà ugualmente idratazione e colore alle labbra per diverse ore.
This is another colored balm! In this case, it is not a stick but a piece of product that will also give hydration and color to the lips for several hours.
Black Rose Solid Scrub – Scrub labbra solido/solid lip scrub
Naturalmente, prima di colorare le labbra è necessario effettuare uno scurb con questo prodotto: al suo interno troviamo burro di illipé ed olio extra vergine di cocco. Lo zucchero, inoltre, effettuerà l'esfoliazione delle labbra con un tocco profumato di olio di ylang ylang e mandarini.
Of course, before color your lips, you must to usethis product: inside it you will find butter and extra virgin coconut oil. Sugar will also exfoliate the lips with a perfumed touch of ylang ylang and mandarin oil.
Regali/
Gift
Little Pimpkin: 

Pink Pumpkin, Pumkin 

Bewitched: 

Lord of Misrule (100g), Bewitched, Secret Arts  
Trovate tutti i prodotti in negozio o sul sito ufficiale di Lush!
You can buy all new products at boutique or in the official website by Lush!