Oggi voglio raccontarvi una storia speciale circa Bourjois che riguarda proprio il lancio delle polveri da viso: difatti, Bourjois iniziò dai teatri imperiali dove proporre i pot in cartone con le polveri che sostituivano i colori pesanti del tempo. Nel 1883 il fard secco nel pot risultava essere uno tra i prodotti prediletti del tempo e fu ribattezzato con il nome di Fard Pastel, primo fard in polvere dalla texture aerosa, con finish naturale e stesura facile. Dal 1918 fu messo a disposizione in pot di colori assortiti, diventando un'icona di bellezza conosciuta con il nome di Little Round Pot Blush di Bourjois.
Nel corso degli anni, il marchio ha introdotto negli anni '50 i pot in plastica e successivamente ha introdotto negli anni '80 i prodotti per gli occhi, e successivamente più avanti nel'93 ha aggiunto uno specchietto ed aggiunto un piccolo pennello per applicare il prodotto che ha mantenuto la sua formula migliorandola.
Today I want to tell you a special story about Bourjois that concerns the launch of face powders: in fact, Bourjois started from the imperial theaters with this products, where it proposed the cardboard pots with powders that replaced the heavy colors of the time. In 1883 the dry blush in the pot turned out to be one of the favorite products of the time and was renamed with the name of Fard Pastel, the first powder blush with an aerosol texture, with a natural finish and easy application. Since 1918 it was made available in pots of assorted colors, becoming an icon of beauty known as the Little Round Pot Blush of Bourjois.
Over the years, the brand introduced plastic pots in the 50s and then introduced eye products in the 80s, and later in 1993 added a mirror and a small brush to apply the product that has kept its formula improving it.
Oggi vi presento l'ultima novità che presenta nuovamente una formula rivista con una texture migliorata ed una coprenza facilmente gestibile; il colore è più luminoso, per un efffetto più naturale. Oltre a queste novità, Little Round Pot Blush preserva le sue caratteristiche originali che fanno di lui il prodotto utile per tutte: la texture è ultrafine e si fonde sulla pelle. Il suo odore di rose, lo specchietto integrato ed il pennello completano il delizioso pot!
Questi blush sono proposti con un vasto assortimento di colori: difatti, troviamo ben 17 nuance, di cui il celebre "Cendre de Rose" che è un best-seller dal 1910! Tra le novità di cui vi voglio parlare oggi vi sono proprio due prodotti, Le Petite Strobe e Duo Blush, che ci aiutano con le recenti tecniche dello strobing, counturing e draping. Le Duo Blush di Bourjois è proposto in 3 tinte, mentre Le Petit Strobe in uno solo. I  prodotti sono in vendita al costo di 19.75 CHF!
I colori sono veramente molto belli ed il profumo è davvero delizioso: naturalmente, li consiglio solo a coloro che amano i prodotti profumati!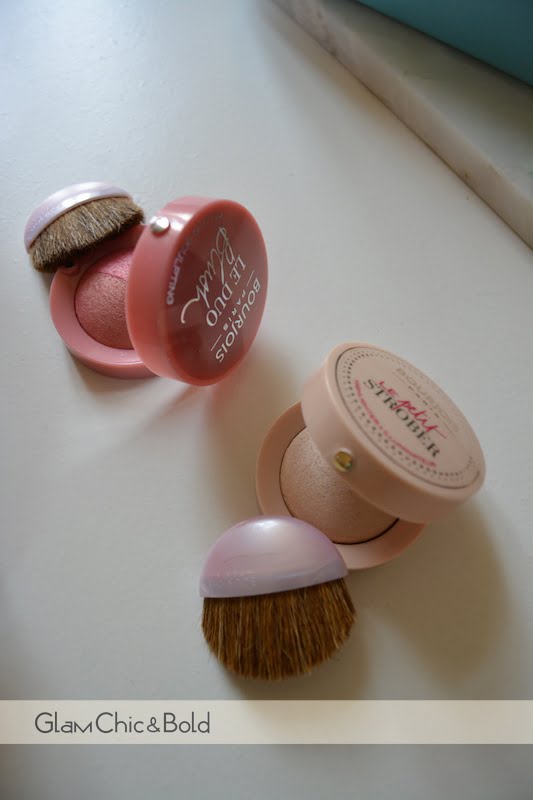 Today I'm going to show you the latest novelty that presents again a revised formula with an improved texture and an easily manageable coverage; the color is brighter, for a more natural effect. In addition to these innovations, Little Round Pot Blush preserves its original features that make it the product useful for all: the texture is ultrafine and blends into the skin. Its smell of roses, the integrated mirror and the brush complete the delicious pot!
These blushes are proposed with a wide assortment of colors: in fact, we find as many as 17 nuances, of which the famous "Cendre de Rose" is a best-seller since 1910! Among the news that I want to talk about today there are two products, Le Petite Strobe and Duo Blush, which help us with the recent techniques of strobing, counturing and draping. Le Duo Blush by Bourjois is proposed in 3 colors, while Le Petit Strobe in one. The products are on sale for 19.75 CHF!
The colors are really beautiful and the scent is really delicious: of course, I recommend them only to those who love fragrant products!