La collezione di Collistar Made in Italy
Oramai le feste sono alle porte e, proprio per questo, ho pensato che questo fosse il momento migliore per mostrarvi l'ultima novità lanciata da Collistar per realizzare un trucco davvero bello. La collezione Collistar che vi mostro oggi è quella lanciata per l'autunno-inverno 2018-2019 e si chiama Made in Italy, poiché é un vero e proprio omaggio per il nostro paese.
La collezione Collistar Made In Italy per l'autunno-inverno 2018-2019 ha nomi come Piazza di Spagna, Piazza della Signoria, Brera, Navigli, Vomero che si rifanno alle quattro città prese in considerazione per Made in Italy. Le texture sono luminose e setose. Con queste nuance si riesce a realizzare un trucco naturale, ma allo stesso tempo dai toni metallici e con glitter. Ecco qui la proposta di Collistar!
https://www.youtube.com/watch?v=twcupn4rKM8
The new Collistar collection for the Autumn-Winter 2018/2019 and is Made in Italy and it is a real tribute to this country.
The Collistar Made In Italy collection for autumn-winter 2018-2019 has names such as Piazza di Spagna, Piazza della Signoria, Brera, Navigli, Vomero that refer to the four cities considered for Made in Italy collection. The textures are luminous and silky. With these nuances you can make a natural make-up, but at the same time with metallic tones and glitter. Here is the Collistar products!
Correttore + Primer occhi 3in1
La prima novità di cui vi parlo è un prodotto che in realtà vale per tre: infatti, potrà aiutarci a correggere, fissare ed illuminare gli occhi per ottenere uno sguardo fresco ed un ombretto duraturo. Da un lato abbiamo il correttore, mentre dall'altro vi è il primer: entrambi propongono un prodotto cremoso, ideale se non avete il contorno occhi secco, per cercare di minimizzare le imperfezioni ed eliminare borse ed occhiaie. I colori disponibili sono: Chiaro (Palazzo Pitti), Medio (Lungarno) e Scuro ( Santa Maria Novella).
The first product by Collistar is one in three products: in fact, it can help us to correct, fix and illuminate the eyes to get a fresh look and a lasting eye shadow. On the one hand there is a concealer, while on the other there is the primer: both offer a creamy product, ideal if you do not have dry eye contour, to try to minimize imperfections and eliminate dark circles. The colors available are: Light (Palazzo Pitti), Medium (Lungarno) and Dark (Santa Maria Novella).
Illuminante Perla Pura Collistar
Per chi desidera brillare, invece, c'è l'illuminante Collistar Perla Pura, un prodotto che potrete utilizzare per viso e corpo. Potrete utilizzare questa nuance molto luminosa anche per creare un punto luce sulla vostra sopracciglia, sugli zigomi, sulle labbra oppure sul décolleté, sfruttando le mani  o un pennello.
For those who want to shine, there is the illuminating by Collistar Perla Pura, a product that you can use for face and body. You can use this very bright nuance also to create a light spot on your eyebrows, cheekbones, lips or décolleté, using your hands or a brush.
Ombretti Effetto Seta Mat ed Effetto Seta Perla Pura Collistar
Le tre nuance degli ombretti effetto seta opachi hanno nomi che richiamano Milano: infatti, troviamo San Babila (cipria opaco), Via Manzoni ( cognac opaco) e Piazza Duomo (marrone opaco). Tutti sono stati equipaggiati di un piccolo pennellino con spugnetta per applicare il make up sugli occhi e le polveri sono setose e quasi impalpabili. L'altro ombretto, Via Montenapoleone, è trasparente ma con tantissime microperle illuminanti e consente di ottenere una tonalità champagne sugli occhi, utilizzando da solo o come top coat, da asciutto o da bagnato per un effetto più intenso.
The three nuances of the opaque silk eyeshadows have names that recall Milan: in fact, we find San Babila (opaque powder), Via Manzoni (opaque cognac) and Piazza Duomo (opaque brown). All were equipped with a small brush with a sponge to apply make-up on the eyes and the powders are silky and almost impalpable. The other eyeshadow, Via Montenapoleone, is transparent but with lots of illuminating micro-pearls and allows to obtain a champagne shade on the eyes, using alone or as a top coat, from dry or wet for a more intense effect.
Matita occhi professionale Collistar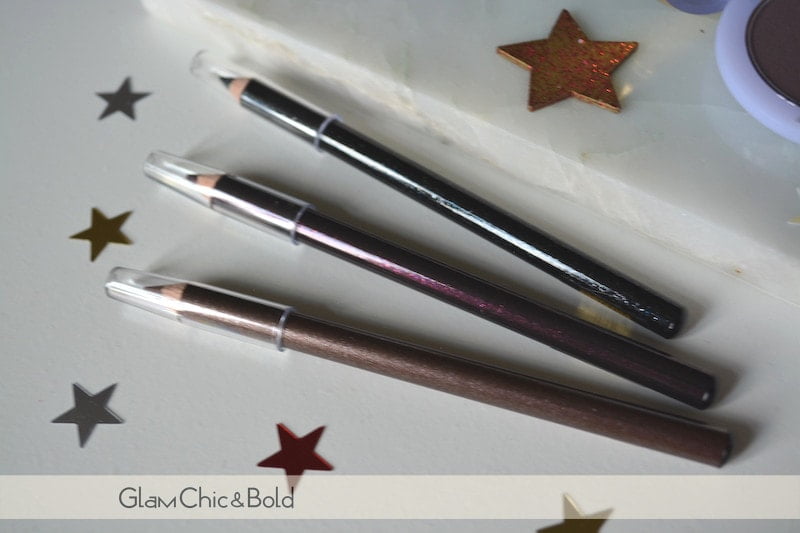 Navigli, Brera e Isola sono le tre matite occhi nei colori nero glitter, grafite glitter e marrone metallico. Si possono usare come eyeliner, delineando il contorno degli occhi, ma anche come ombretto sfruttando un applicatore morbido che aiuta a sfumare queste nuance.
Navigli, Brera and Isola are the three eye pencils in black glitter, graphite glitter and metallic brown. You can use them as eyeliner, outlining the contour of the eyes, but also as eyeshadow by using a soft brushes that helps to blend these nuances.
Rossetto Art Design Mat Sensuale
Le tre nuance opache proposte con Made in Italy di Collistar sono decisamente cremose e belle per chi vuole dare un tocco di colore alle labbra, senza appesantirle. Piazza di Spagna, Via Veneto e Trinità dei Monti sono il rosa antico, nude e rosso nero proposti dalla collezione Collistar che, come potete capire, si inspira a Roma.
The three matt nuances proposed with Made in Italy by Collistar are creamy and beautiful for those who want to give a touch of color to the lips. Piazza di Spagna, Via Veneto and Trinità dei Monti are the ancient rose, nude and black-red launched by the Collistar collection which, as you can understand, is inspired by Rome.
Smalto-Liner 2in1 Collistar
Terminiamo con le unghie e in particolare parliamo degli smalti liner di Collistar, proposti in due nuance Via Chiaia e Vomero, rispettivamente argento e nero. Come potete vedere i colori sono glitterati e l'applicatore sottile ricorda quasi quello di un eyeliner: in questa maniera, potrete definire facilmente l'unghia o se preferite riverstirla completamente.
Let's finish with the nails polishes and we talk about the liner nail polishes by Collistar, proposed in two shades Via Chiaia and Vomero, respectively silver and black. As you can see, the colors are glittery and the thin applicator is almost like an eyeliner: in this way, you can easily define the nail or if you prefer to completely cover it.