Da metà settembre sono disponibili le meravigliose proposte Lush per Halloween 2016: tantissime bombe da bagno e non solo per rendere davvero unica e spaventosa la giornata del 31 ottobre 2016. Scopriamo insieme alcuni dei prodotti di Halloween 2016 che potrete trovare nei negozi e online.
From middle September you can find the new collection for Halloween 2016 by Lush: today I'm going to show you all new products that you can buy at the boutique and online. 
Monster's Ball Lush (9.50 CHF)
Siete alla ricerca di piccoli mostricciattoli da far entrare nel vostro bagno? Niente paura, perché con questa bomba da bagno potrete sicuramente trascorrere una notte da urlo. All'interno troviamo neroli e lime per un tocco energizzante, ma anche una nota balsamica di olibano. Esteticamente, poi, questa bomba da bagno riprende le sembianze di un piccolo polifemo rosa, con un occhio solo!
Are you looking for small monster  in your bathroom? This bath bomb help you to spend a special night. Inside there are neroli and lime for an energizing touch, but also a balsamic notes of frankincense. Aesthetically, then, this bath bomb takes the form of a small pink Polyphemus, with one-eyed!
Pumpkin Lush (8.90 CHF)
Che Halloween sarebbe senza una zucca per casa? Questa bomba da bagno, dalla forma di una zucca intagliata, ti aiuterà ad immergerti in un caldo bagno di cannella e vaniglia. Io la trovo davvero simpatica e la sua fragranza è davvero unica!
What would Halloween without a pumpkin at home? This bath bomb, with the shape of a carved pumpkin, will help you to immerse yourself in a warm bath of cinnamon and vanilla. I find it really nice and its fragrance is truly unique!
Boo Lush (7.50 CHF)
Boo! Vi siete spaventati? Il piccolo fantasmino di Lush vi aiuterà a rilassarvi con un bagno allo zenzero e mimosa, ingredienti dalle proprietà calmanti e riscaldanti. Sciogliendosi, poi, la tua pelle verrà a contatto con il burro di cacao biologico, lasciando la pelle più morbida; il sandalo ed il mandarino siciliano daranno un tocco di profumo in più alla tua pelle.
Boo! Have you frightened? The little ghost by Lush will help you to relax with a bath with ginger and mimosa, ingredients from calming and heating. Melting, then, your skin will be in contact with organic cocoa butter, leaving the skin softer; sandal and Sicilian mandarin will give a touch of extra to your skin perfume.
Lord of Misrule Lush (CHF 12.50 / 100g CHF 25.00 / 250g CHF 45.00 / 500g)
Questo prodotto viene nuovamente proposto da Lush anche quest'anno: si tratta del doccia crema Lord of Misrule, un mix di patchouli e pepe nero che daranno vita ad un intrigo speziato e misterioso. Un tocco di dolcezza é dato dalla vaniglia che lascia un meraviglioso profumo della pelle. Ma vogliamo parlare anche del suo splendido colore verde vivo?
This product offered again for this year by Lush: this is the Lord of Misrule shower cream, a blend of patchouli and black pepper that will give life to a spicy and mysterious intrigue. A touch of sweetness is given by vanilla that leaving a wonderful aroma on your the skin. I love also its bright green!
Goth Fairy Lush (12.50 CHF)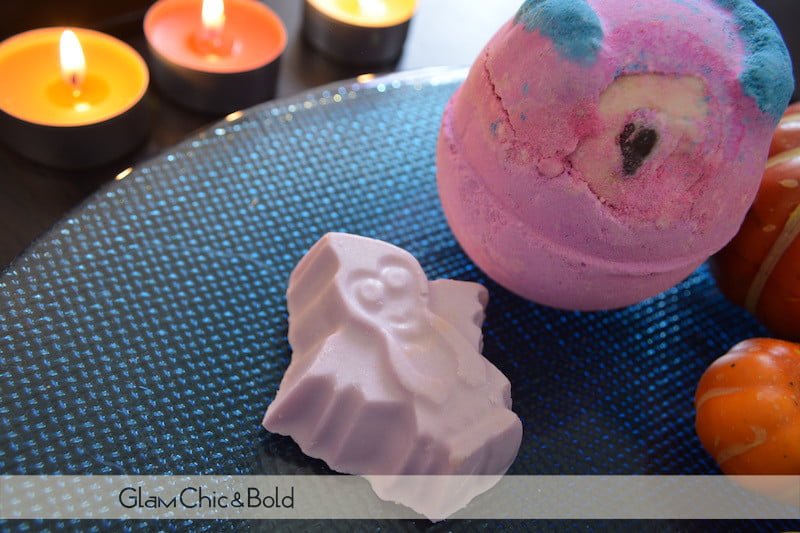 Concludiamo la giornata di Halloween con Goth Fairy, un angioletto che potrete utilizzare come olio da massaggio e che vi farà brillare la pelle con tanti lustrini. Questo prodotto è pieno di glitter di diversi colori (oro, verde, viola ed argento) ed è stato arricchito con burri di illipe e cupuaçu che rendono più morbida la pelle insieme al profumo di mandorla, pompelmo e bergamotto.
Let's conclude the day of Halloween with Goth Fairy, a little angel that you can use as a massage oil, and that will make your skin more shine with lots of glitter. This product is full of glitter of different colors (gold, green, purple and silver) and has been enriched with butters of illipe and Cupuaçu that make softer the skin with the scent of almond, grapefruit and bergamot.