Quest'anno Globus ci invita a vivere nei migliori dei modi le feste di Natale e ci propone una splendida rivista dalla quale possiamo prendere alcune idee per decidere quali saranno i regali migliori da fare ai nostri parenti, amici, ma anche per noi stessi. Dall'abbigliamento ai prodotti di bellezza, per poi passare a tutti gli elementi per la tavola o per l'arredamento in classico stile invernale, con Globus riuscirete sicuramente a rendere speciale la vostra casa, ma anche il vostro look. Le foto che trovate all'interno di questo prezioso catalogo sono state fatte all'interno dell'hotel The Chedi di Andermatt.
This year Globus invites us to live in the best way the Christmas holidays and offers us a wonderful magazine which we can take some ideas about the best gifts to give to our relatives, friends, but also for ourselves. From clothing to beauty products, from accessories to the elements for the table and for the classic winter style decor, Globus  help us to do special our home, but also our  look. All pics of this magazine by Globus made at hotel The Chedi at Andermatt.
Iniziamo parlando del mondo beauty: come potete vedere Globus mette a disposizione una serie di cadeaux davvero molto preziosi e di tanti brand di lusso. Tra i marchi in questione possiamo citare Estée Lauder, Clinique, Dior, Lancôme, Sensai, La Prairie e molti altri ancora. Naturalmente, non mancano neppure le confezioni preziosi che vi permetteranno di regalare qualcosa di davvero molto originale: ad esempio, potrete regalare la splendida confezione Advanced Night Repair Essentials che ha un valore di 164 CHF, ma è proposta a 145 CHF o il make up set di Clinique dal valore di 150 CHF in vendita a 69 CHF!


Let's start talking about the beauty world: as you can see Globus offers us a series of cadeaux very precious and many luxury brands. Between the marks that you can find at Globus there are Estée Lauder, Clinique, Dior, Lancôme, Sensai, La Prairie and many others. Of course,  the precious packages  allow you to give something very original to your friends or family: for example, you can give the gorgeous packaging Advanced Night Repair Essentials by Estée Lauder that has a value of 164 CHF, but it is proposed at 145 CHF or make up set by Clinique at 69 CHF (value 150 CHF)!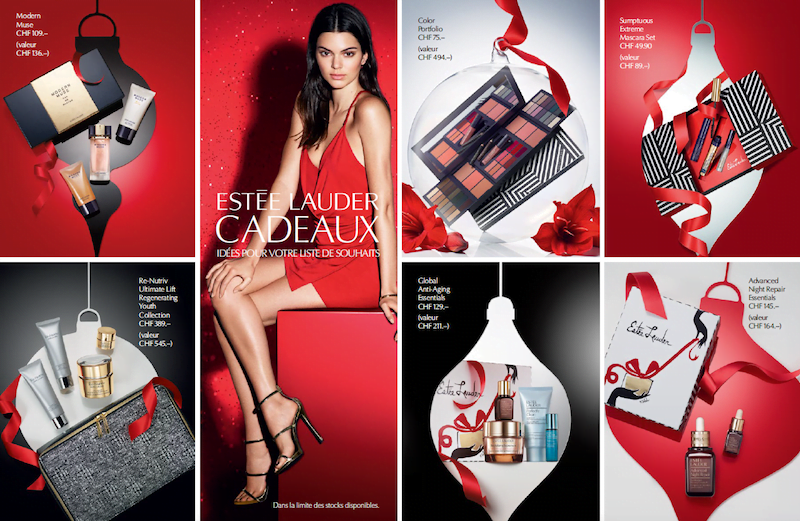 Come ho appena detto, da Globus troverete anche qualche idea per arredare la vostra casa nel giusto stile natalizio, ma anche tante proposte per scegliere i migliori capi d'abbigliamento per un look delle feste davvero mozzafiato. Non mancano neppure le idee di regalo per i più piccoli di casa, così da scegliere il miglior regalo.
Infine, Globus guarda anche alla tavola proponendo tante squisite proposte e bevande d'eccellenza come lo champagne Veuve Clicquot. Non vi resta che iniziare a vivere ora le vostre feste di Natale!
As I just said, at Globus will find some ideas to decorate your home in the right Christmas style, but also many proposals to choose the best clothes for a look for your holidays. There are also gift ideas for the little boys and girls.
Finally, Globus looks to the table offering many delicious proposals and drinks of excellence as the champagne by Veuve Clicquot. It's the right time to choose the best gifts for your Christmas!