Sofia Loren, Virna Lisi, Anna Magnani, Silvana Mangano, Claudia Cardinale, Mariangela Melato, Monica, Asia, Lucia, Valeria, Lea, Elsa Martinelli, Giulietta Masina, Margareth sono i nomi che contraddistinguono il panorama italiano con alcune personalità del cinema italiano, passato e contemporaneo. In questo modo, le stesse attrici diventino icone della nuova collezione di makeup Bellezza Italiana di Collistar, per l'autunno inverno 2015.
Sofia Loren, Virna Lisi, Anna Magnani, Silvana Mangano, Claudia Cardinale, Mariangela Melato, Monica, Asia, Lucia, Valeria, Lea, Elsa Martinelli, Giulietta Masina, Margareth are the Italian famous name of film actresses of present and past. In this way these actresses are icons of the new makeup collection by Collistar named Bellezza Italian for Fall Winter 2015.
La collezione Bellezza Italiana Collistar
La nuova collezione makeup Bellezza Italiana Collistar si compone di diversi prodotti pensati per il trucco viso, occhi, labbra ed unghie, così da dare un tocco di personalità completo al proprio look. Qui di seguito vi lascio ai dettagli sulla collezione che trovate già in vendita da Manor e nei migliori negozi di trucco.
The new collection Bellezza Italiana by Collistar composed by many different of products for your face, eyes, lips and nails; in this way you can give a special touch to your look. Here you can find more details about the new collection.
VISO/FACE Bellezza Italiana Collistar
Perfezionatore universale POWDER-EYESHADOW-ALLOVER: si tratta di un prodotto dalla triplice utilità e che si compone di tre colori. Oltre a donare brillantezza alla pelle, questo prodotto lascia la pelle morbida e soprattutto non si vede. Unendo le tre polveri si ottiene una cipria, mentre che i primi due colori si possono usare singolarmente come ombretti e l'ultimo colore su tutto il corpo dal viso al decolleté passando per il collo. 47 CHF
UNIVERSAL PERFECTOR POWDER-EYESHADOW-ALLOVER : it is a product from the triple utility and which is composed of three colors. In addition to giving shine to the skin, this product leaves your skin softer and you do not see it on skin. Joining the three powders you get a powder, while the first two colors can be used individually as eye shadows and the last color on the entire body from face to cleavage through the neck. 47 CHF
CC Perfezione: si tratta di una paletta universale costituita da 4 correttori pre-trucco. Hanno una texture cremosa e sono in grado di coprire le imperfezioni cromatiche che si possono denotare sul nostro volto, così da utilizzare ogni singolo colore per un difetto. L'ambrato è ideale per coprire le occhiaie e macchi, il beige chiaro per minimizzare le imperfezioni che si notano di meno, il rosa brillante per ottenere uno sguardo riposato e luminoso e il beige scuro per correggere le occhiaie pesanti e più evidenti. 46 CHF
CC Perfection: it is a universal pallet consists of 4 correctors pre-makeup. They have a creamy texture and are able to cover the chromatic imperfections of your face, so you can use every single color for a defect. The amber is ideal to cover dark circles and staining, light beige to minimize imperfections that you see less, the bright pink to get a look rested and bright and the dark beige to correct dark circles heavier and more obvious. 46 CHF
Maxi Fard effetto seta: terminiamo con un tocco di colore sugli zigomi dalla nuance rosa creata proprio per la linea Bellezza Italiana Collistar. Giulietta Pink è proposta al pubblico con un pratico pennellino utile per stendere correttamente il prodotto sulle gote. 40 CHF
Silk Effect Maxi Blush: We're going to finish with a touch of color on the cheeks with pink shade created just for the line Collistar Bellezza Italiana. Giulietta Pink is offered to the public with a handy brush for hanging the product correctly cheeks. 40 CHF
OCCHI/EYES Bellezza Italiana di Collistar
Passiamo allo sguardo: la collezione Bellezza Italiana vuole mostrarci una donna dalle sopracciglia importanti, colori naturali ed occhi ben definiti con eyeliner e kajal. Insomma, si tratta di un vero e proprio richiamo agli anni Sessanta e Settanta, quando la bellezza italiana spopolava.
It's the right time to think about the eyes: the new collection Bellezza Italiana show us women with bushy eyebrows, natural colors and well-defined eyes with eyeliner and kajal. In short, it is a reminder of the '60 and '70 years, when the Italian beauty depopulated.


Ombretti Doppio Effetto wet&dry: Sono due i colori prescelti per questa collezione, rosa Lucia e beige Mariangela, due colori che potrete utilizzare nella formula asciutta oppure con un pennello inumidito. In questo modo, potrete modulare il risultato, ma soprattutto ottenere un colore pieno e durevole oppure del tutto naturale. 21 CHF
Double Effect Eye Shadow Wet & Dry: There are two colors of these eye shadow, pink Lucia and beige Mariangela, two colors that you can use in formula wet to have a long-life colors or in dry formula for natural look. 21 CHF
Shock Kajal: Questa matita dalla punta morbida, disponibile nei colori nero e burro, si può stendere sulla rima dell'occhio delicatamente, ottenendo un risultato pieno e profondo. Il colore burro è in grado di illuminare l'occhio ed aprire lo sguardo per gli occhi più piccoli, mentre quello nero intensifica lo sguardo mediterraneo.
Shock Kajal: This pencil with the soft tip help you to have a full-on color inside the eyelids and it's available in two different colors: butter to highlight the eyes and black for intense Mediterranean look.
Eye Liner Grafico: Marrone Laura, Nero Lea e blu Valeria sono i tre colori ideati per questo prodotto che si presenta con una punta in feltro morbida, che offre un risultato intenso, waterproof e longlasting. 32 CHF
Graphic Eyeliner: Brown Laura, Black Lea e Blue Valeria are the new colors for these products that help you to definite your eyes. It's waterproof and long-lasting. 32 CHF
Shock Eyeliner: Si presenta con un meccanismo hi-tech di rilascio del colore, una punta morbida e allungata che permette di realizzare un segno spesso e preciso. É disponibile nel colore nero Claudia. 32 CHF
Shock Eyeliner: It has a hi-tech mechanism of release of the color, a soft tip which and elongated allows you to create a sign thick and accurately. It is available in Black Claudia. 32 CHF
Mascara Shock : Questo mascara è in grado di dare un tocco incurvato alle sopracciglia ed è stato proposto in assoluta anteprima nel color borgogna, per uno sguardo particolarmente magnetico. 35 CHF
Mascara Shock: If you want a magnetic eyes you can find in this mascara the right solution: XXL Lashes Burgundy can help you for a gorgeous look. 35 CHF
Kit sopracciglia perfette gel + la matita: Per infoltire, fissare e definire lo sguardo non potrete più fare a meno di questo kit di Bellezza Italiana di Collistar. Il kit è disponibile nelle tonalità biondo Virna, castano Asia e bruno Silvana. Lo stesso é venduto accompagnato da una matita che vi aiuta ad illuminare l'arcata sopracciliare con un colore rosa tenue, definendo ancor di più le sopracciglia. 28 CHF
Perfect Eyebrown Kit +eye brown pencil: To thicken, set and define the look you can use this kit Beauty Italian by Collistar. The kit is available in three shades Virna blonde, brown and Asia brown and brunette Silvana.  This product is accompanied by a pencil which helps to illuminate the eyebrow with a pale pink color, defining even more eyebrows. 28 CHF
LABBRA/LIPS Bellezza Italiana Collistar
Scrub labbra: Con questo prodotto potrete prendervi cura delle vostre labbra: si tratta difatti di un trattamento riparatore completo che va ad esfoliare delicatamente le labbra con il saccarosio, eliminando le cellule morte, e che nutre le labbra con il burro di karité. La formula di questo scrub è arricchita anche di oli emollienti ed attivi. Vi basterà applicare il prodotto su labbra e contorno labbra e fare un leggero massaggio. Dopodiché rimuovete il tutto. 24 CHF
Scrub Balm: With this product, you can take care of your lips: it's  a complete repair treatment that goes to gently exfoliate lips with sucrose, removing dead cells, and that nourishes the lips with shea butter. The formula of this scrub is enriched with emollient oils and active oils. You can apply the product on the lips and around the lips and do a massage. Then remove it. 24 CHF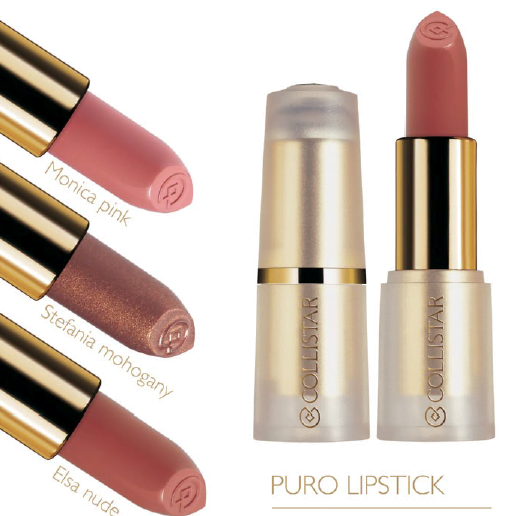 Rossetti: Dopo un bello scrub è tempo di passare al rossetto puro, che in questo caso è proposto in tre varianti colori, tutte nuance nude di grande effetto. I colori disponibili sono rosa Monica, nudo Elsa e mogano Stefania. 26 CHF
Lipstick: After scrub it's the right time to apply your favorite lipstick. Bellezza Italiana by Collistar show you three nude colors:  Monica pink,  Elsa nude e  Stefania mahogany. 26 CHF
UNGHIE/NAILS Bellezza Italiana Collistar
Smalto Gloss Effetto Gel: Terminiamo il nostro look pensando alle unghie! La collezione di Collistar propone tre tonalità, borgogna Anna, rosso Sofia e verde Paola per dare un tocco brillante alle tue unghie, nonostante l'arrivo della stagione fredda dell'anno. 11 CHF
Gloss Nail Lacquer gel effect: Finally let's talk about the three nail polishes by Bellezza Italiana by Collistar. You can buy them in  Anna burgundy,  Sofia red e Paola green to give a touch of color of your nails also in Winter. 11 CHF