Oggi vi presento alcuni prodotti della collezione estiva Terracotta di Guerlain, una linea in edizione limitata, ideale per brillare in questa estate con una pelle color bronzo. Scopriamo nel dettaglio di che cosa si compone!
Today I'm going to show you the Terracotta collection by Guerlain for Summer 2016: it's a limited edition composed with some products – that I tried on my skin – to shine with a beautiful bronze skin. Let's go to discover Terracotta by Guerlain!
Terracotta Pause d'Eté Guerlain (95 CHF)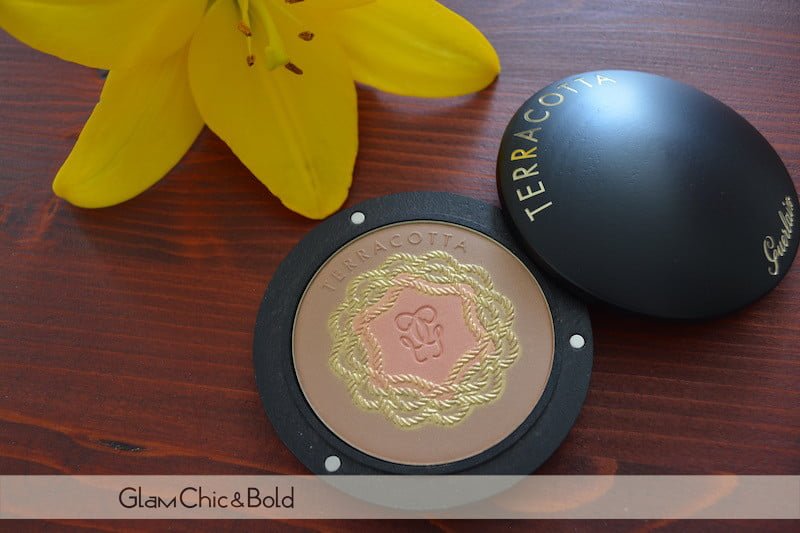 Quando ho visto questa splendida terra duo non ho potuto fare a meno di rimanere con la bocca aperta di fronte a cotanta bellezza e cura nella sua realizzazione. Iniziamo parlando dello splendido packaging ecologico: la confezione, difatti, è in legno e racchiude al suo interno uno specchietto e la preziosa polvere, disponibile nella tinta 03 (Naturel Brunettes, tinta più venduta)  più un rosa leggermente dorato, perfetto per illuminare l'abbronzatura.  Naturalmente, i colori si possono utilizzare singolarmente, ma anche mischiati per riscaldare l'incarnato ed enfatizzare l'abbronzatura.
Non appena aprirete la scatoletta di cartone sarete inondati dalla fragranza di questa polvere: note di fresia e fiore d'arancio si combinano con la fava tonka, vaniglia, muschio bianco che risvegliano i sensi, trasportandoci in una terra lontana. Applicate la vostra terra sul viso e decollété!
When I saw this beautiful Bronzing Power Duo I'm dead and born again XD  Let's start talking about the precious and ecological packaging: this packaging, in fact, is made of wood and contains in a mirror and powder, available in the color 03 (Naturel Brunettes, best-selling color) plus a light golden pink, perfect for illuminating your skin. Of course, the colors can be used individually, but also mixed to warm and emphasize the tan.
As soon as you open the box, you will be inundated by the fragrance of this powder: freesia and orange blossom combine with tonka bean, vanilla, white musk that awaken the senses, transporting us to a distant land. Apply it on the face and décolleté!
Terracotta L'eau Hâlée (69 CHF)
Questa è la prima acqua colorata di Guerlain, ideata per il viso. Grazie alla sua leggera textura, potrete illuminare la pelle e donarle un effetto abbronzato. Il prodotto è in grado di adattarsi perfettamente a tutte le carnagioni e con la sua formula idratante si prende pure cura della pelle. Un grande pregio è che non macchia assolutamente i vestiti.
This is the first colored water by Guerlain, designed for the face. Thanks to its light texture, you can brighten the skin and give her a tanned effect. The product is able to adapt perfectly to all complexions and with its moisturizing formula also takes care of the skin. The major advantage is that absolutely does not stain clothes.
My Terracotta (70 CHF)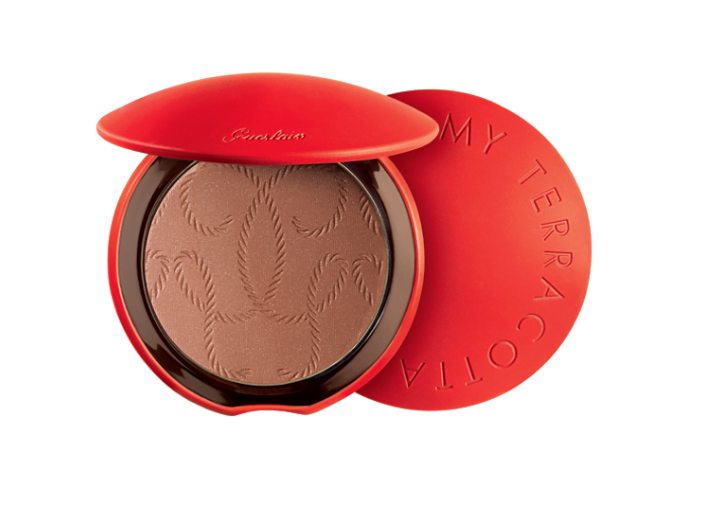 Questa terracotta è stata pensata esclusivamente come edizione limitata per l'estate 2016: infatti, si presenta con una cover in silicone e di colore rosso. Questa polvere, peraltro, è in grado di dare un'abbronzatura naturale, durante tutto l'anno e non solo d'estate! Anche in questo caso, la fragranza ci porta lontani con la mente in posti esotici, giacché é uguale a Terracotta Pause d'Eté di Guerlain.
This clay is designed exclusively as a limited edition for summer 2016: in fact, you can find it with a silicone cover in red color. This powder, however, is able to give a natural tan all year round and not just in summer! Again, the fragrance takes us away with the mind to exotic places, since it is equal to Terracotta Pause d'Eté by Guerlain.
Terracotta Sun Protect by Guerlain (55 CHF)
Questa è una vera e propria protezione solare per viso e per il corpo con SPF 15 (in commercio trovate però anche quella con SPF 30) che è stata arricchita con il Tan Booster Complex, un attivatore di abbronzatura per attivare, facilitare e far prolungare l'abbronzatura. La texture di questo prodotto è piacevole sulla pelle e, una volta stesa, scompare velocemente, senza lasciare alcuna sensazione di appiccicoso. Peraltro, la meravigliosa fragranza al fiore di Tiara vi avvolgerà non appena l'avrete stesa!
La confezione di questa crema è da 100 ml ed è perfetta da mettere anche in borsa e da portare nei propri viaggi in aereo. Naturalmente, proprio come ogni crema solare, è necessario applicarla più volte per una vera efficacia, specie se fate il bagno o sudate. Vi faccio notare che il tappo di questo prodotto è da svitare leggermente, così da poter permette l'uscita del prodotto! 
This is a real sun protect for face and body with SPF 15 (you can buy also with SPF 30) that has been enriched with Tan Booster Complex, a tanning activator to activate, facilitate and to prolong your tanning. The texture of this product is pleasant on the skin and, once stretched, disappears quickly, without leaving any sticky feeling. Moreover, the wonderful fragrance to the flower of Tiara will wrap as soon as you spread!
The package of this cream is 100 ml, and is also perfect to put in your bag and carry on their journeys by plane. Of course, just like any sunscreen, you need to apply it several times for a real effect, especially if you swim or sweat. I do note that the plug of this product is to be loosened slightly, so as to allow the output of the product!
Vi ricordo che fa parte della splendida collezione Terracotta di Guerlain anche le due nuance Kiss Blossom e Fancy Kiss della linea Kiss Kiss di cui vi ho parlato poco tempo fa. E voi avete già testato qualcosa di questa linea?
I would like to remember you that Terracotta by Guerlain composed also with the two Kiss Kiss lipstick for Summer 2016 (Kiss Blossom and Fancy Blossom) that I showed you in the last posts. Did you already try one of this products?