Lo so, sono un po' in ritardo, ma arrivo comunque per tempo perché in questo modo potrete approfittare dei saldi e cercare questi prodotti tra quelli in offerta! Ad ogni modo, oggi desidero mostrarvi alcuni prodotti della collezione natalizia di The Body Shop che possiamo certamente definire come "Selvaggia".
La prima cosa che desidero ricordarvi è che per ogni acquisto di un regalo (linee natalizie e linee selezionate) che andrete a fare potrete supportare ancora una volta la campagna Bio-Bridges in Vietnam. Difatti, potrete riuscire ad aiutare il brand a proteggere le specie in pericolo e riuscire pure a ristabilire 1 metro quadrato di foresta fluviale in Indonesia e Malesia, habitat per tanti animali.
I know it, I am a little 'delay, but in any case for I'm in time for sales necause in this way you can see my review about some products that you can buy online or in the boutiquer! However, today I want to show some products of the Christmas collection of The Body Shop that we can define "Wild".
At first I want to remind you that for every purchase of a gift (Christmas collections and select lines) you can support the campaign Bio-Bridges in Vietnam. In fact, you will be able to help the brand to protect a species of animals in danger and succeed well in restoring one meter square of rainforest in Indonesia and Malaysia, habitat for many animals.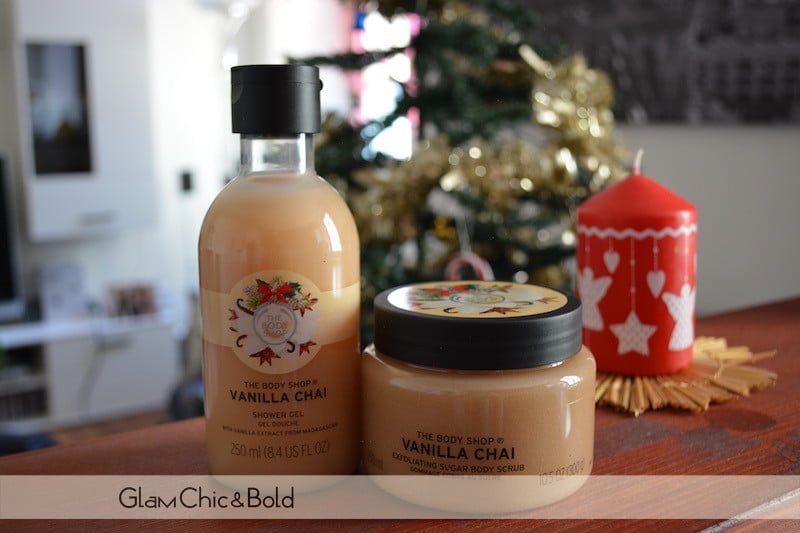 Detto questo, passiamo ora ai prodotti: quest'anno ho potuto provare la meravigliosa linea Vanilla Chai di cui mi sono follemente innamorata. La profumazione è davvero sublime e la vostra pelle rimane davvero profumata. Se vi piacere l'odore della vaniglia, non potrete certamente farvi sfuggire l'occasione di acquistare questi due prodotti.
Il doccia gel Vanilla Chai di The Body Shop è stato arricchito con estratto di vaniglia proveniente dal Madagascar. Come potrete ben immaginare, profuma di vaniglia ma ci sono anche dei tocchi speziati di cardamomo e di anice stellato.
L'esfoliante Vanilla Chai di The Body Shop, anche in questo caso ha una profumazione speziata, ma ci aiuta ad ottenere una pelle più liscia grazie allo zucchero contenuto al suo interno. La vostra pelle sarà così privata della pelle morta e sarà più morbida al tatto. Voi avete già provato qualche prodotto della linea Vanilla Chai di The Body Shop?
Now let's go to speak about the products: this year I was able to try the wonderful Vanilla Chai collection and I'm falling in love for it. The fragrance is sublime and your skin remains very fragrant. If you enjoy the smell of vanilla, you will love these two products.
The Vanilla Chai shower gel by The Body Shop has been enriched with vanilla extract from Madagascar. As you can imagine, it smells of vanilla, but there are also touches of spicy cardamom and star anise.
The exfoliating Vanilla Chai by The Body Shop, also in this case has a spicy fragrance, but it helps us to get a smoother skin thanks to sugar. Your skin will be thus deprived of the dead skin will be softer to the touch. Did you already tried some product of Vanilla Chai by The Body Shop?
Naturalmente, non potevo fare a meno di parlare di make up anche in questa occasione: proprio per questo vi mostro la palette da quattro colori A True Romance di The Body Shop. Grazie ai colori di questa meravigliosa palette potrete realizzare un make up meraviglioso durante il giorno, con toni metallizzati che faranno risplendere i vostri occhi.
Come potete notare i quattro colori posti all'interno di questa palettina – vanno dal chiaro allo scuro –  sono opachi e brillanti iridescenti. Vi comunico che potrete utilizzare tutte le tonalità a secco, ma anche umide per ottenere dei colori ancor di più vivaci e brillanti. Insomma, con questa piccola palette elegante otterrete un bellissimo trucco occhi 100% vegano.
E voi avete già provato qualcosa dei prodotti di Natale di The Body Shop?
Of course, now it's the right time for make-up: for this reason I'm going to show you the palette with four colors called A True Romance by The Body Shop. Thanks to this  palette of colors you can create a wonderful make up during the day, with metallic tones that will make your eyes shine.
As you can see, the four colors placed inside this recess –  from light to dark – they are opaque and brilliant iridescent. I inform you that you can use all the shades dry and wet to get the colors even more vibrant and bright. In short, with this little palette you will get a stylish beautiful makeup eyes 100% vegan.
And did you already try some of the Christmas products by The Body Shop?