Dal mese di aprile 2016 è disponibile la nuova Cruise Collection di Diego Dalla Palma, splendida collezione che si ispira alla pelle abbronzata, con sfumature e riflessi che richiamano i colori dell'estate 2016.
From April 2016 there are the new Cruise Collection by Diego Dalla palma, a beautiful collection inspired to the tan skin and the color of Summer!
Wheat Field Duo Eyeshadow (28.50 €)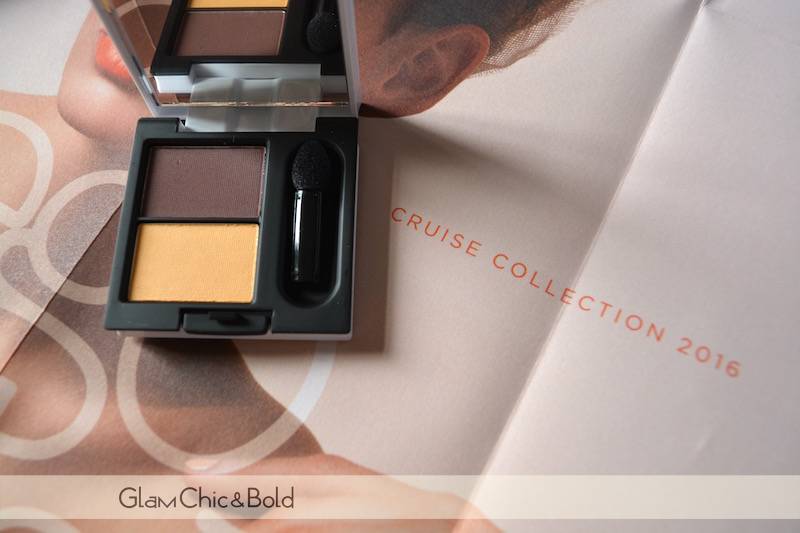 Questo meraviglioso duo di ombretti, in edizione limitata, si presenta come un'abbinamento perfetto tra giallo ocra e color marsala! La texture microsottile e la formula satinata ci aiuta a realizzare un trucco pieno ed allo stesso tempo luminoso, dove possiamo giocare con le ombre.
This wonderful Wheat Field Duo Eyeshadow, in limited edition, comes as perfect combination with yellow ocher and marsala! The micro-fine texture and satin formula helps us to create a full and bright makeup at the same time, where we can play with shadows.
Purple Eyeliner (18.90 €)
Sempre rimanendo in ambito occhi, la Cruise Collection di Diego Dalla Palma ci propone una matita esterno occhi in edizione limitata, nella tonalità marsala. Con la sua punta morbida è possibile ottenere un risultato definito, come pure qualcosa di più sfumato.
The Cruise Collection by Diego Dalla Palma offers us a limited edition pencil for your eyes of purple nuance. With this purple pencil you can get a definite result or blending makeup. The pencil tip is soft and I love this detail! 
Red Orange Lipstick (24.50 €)
Per colorare le nostre labbra, durante la stagione bella, non può certamente mancare un rossetto dalla tonalità rosso-arancio. La formula di questo rossetto permette di ottenere un colore pieno sulle labbra ed a lunga tenuta. Peraltro, va sottolineato pure che la sua formula è stata arricchita con vitamina E e filtri UVA!
For our lips, there are a  red-orange lipstick. The formula of lipstick allows to obtain a full color on the lips and long-lasting. Moreover, it should also be emphasized that its formula has been enriched with Vitamin E and UVA filters!
Shiny Lipstick (19.50 €)
Un'altra alternativa per le labbra è lo Shiny Lipstick ovvero il rossetto lucido semi-trasparente che permette di avere un prodotto che dona luminosità, ma allo stesso tempo si prende cura della nostra pelle. Questo prodotto, difatti, ha una consistenza burrosa e delicata!
Another alternative for the lips is the Shiny Lipstick that is a gloss lipstick semi-transparent which allows to have a product that gives light, but at the same time takes care of our skin. This product, in fact, has a buttery texture and delicate!
Multi Color Orange Blush Powder (22.90 €)
Questo credo sia il prodotto più entusiasmante di questa collezione: si tratta di una piccola trousse dove all'interno troviamo ben quattro tonalità colore (terracotta, rosa cipria, corallo, arancio). Tutte queste nuance dalla texture ultra-fine sono ideali per illuminare il nostro volto.
I think this is the most exciting product of this collection: it is a small cosmetic where we find four color tone (clay, powder pink, coral, orange). All these nuances from ultra-fine texture are ideal for illuminating our face.
Sun Protection Foundation SPF 30 (29.90€)
Sono ben tre le tonalità solari ideati per questo fondotinta ad alta protezione e dalla formula innovativa cremosa ed emoliente. Quando l'ho provato sulla mano – sulla pelle purtroppo non posso perché sono ancora una mozzarella – mi sono stupita della sua texture.
Questo prodotto è in grado di donare un aspetto radioso, ma allo stesso tempo ci protegge con dai raggi UVA ed UVB; peraltro, la formula è stata arricchita anche con vitamina E. Nel complesso, la pelle risulta protetta da un sottile film che si preoccupa anche di proteggere la pelle da secchezza e disidratazione.
Are three solar shades designed for this foundation with high protection and the innovative formula creamy and soothing. When I tried it on hand – I cannot use it because my skin is too light – I was surprised of its texture.
This product is able to donate a radiant appearance, but also protects us from UVA and UVB rays; however, the formula has also been enriched with vitamin E. Overall, the skin is protected by a thin film that is also concerned to protect the skin from dryness and dehydration.
Sweet Peach & Red Orange Nails
Ho testato entrambi i colori sulle mie unghie e devo dire che entrambi sono ottimi colori da abbinare al trucco, ma il mio preferito è sicuramente il Red Orange, un rosso arancio intenso che va ad esaltare ancora di più la pelle abbronzata. Il maxi pennello dello smalto, poi, perfette di applicare facilmente il prodotto sulle unghie, anche alla prima passata!
E voi avete già testato qualcosa di questi prodotti?
I tested both colors on my nails and I must say that both are great colors to create the makeup, but my favorite is the Red Orange, a red intense with a touch of orange, bringing out even more tanned skin. Maxi polish brush, then, is perfect to easily apply the product on the nails, at the first applay!
And you have you already tested these products?
Quando e Dove acquistare la Cruise Collection Diego Dalla Palma
Tutti i prodotti Diego Dalla Palma Cruise Collection sono disponibili sul sito ufficiale o presso i rivenditori autorizzati in Italia e in Svizzera (Manor). La collezione è già in vendita!
You can buy the new Cruise Collection by Diego Dalla Palma are available in the official website and in the authorised reseller  in Italy and Switzerland (Manor). The new makeup collection is already available!