Review linea Skinfood's Egg White Pore
Oggi vi voglio presentare una linea davvero molto interessante per le pelli caratterizzate dalla presenza di punti neri e che hanno bisogno di essere purificate:  Skinfood's Egg White Pore é la linea prodotti di cui vi parlerò oggi, che potrete trovare sul sito Niasha.ch .Se siete delle amanti della skin care koreana, non potrete fare a meno di testare Skinfood's Egg White Pore Foam, Skinfood's Egg White Pore Mask ed i Skinfood's Egg White Pore Pack.
Today I want to show you a very interesting line for skin characterized by the presence of blacks points that need to be purified: Skinfood's Egg White Pore is the product line, which you can find on the site  Niasha.ch . If you are lover of the Korean skin care, you can not miss my review about Skinfood's Egg White Pore Foam, Skinfood's Egg White Pore Mask and Skinfood's Egg White Pore Pack.
Skinfood's Egg White Pore Pack
Iniziamo parlando del primo prodotto che ho testato con grande curiosità: si tratta dei tradizionali cerottini nasali + fronte/mento che potete utilizzare per eliminare fisicamente i punti neri dal vostro naso. Avendo una pelle grassa e quindi anche leggermente impura, utilizzo spesso questo tipo di soluzione e devo dire che ogni volta ne rimango sempre di più soddisfatta. In passato ho utilizzato tanti brand dei cerotti leva punti neri – Nivea, Essence, Migros ecc – ed oggi ho provato per la prima volta questi della linea coreana Skinfood's White Pore. Che dire? Ne sono rimasta soddisfatta! Come al solito dovete inumidire l'area dove andrete ad applicare il cerotto – prima vi suggerisco una bella doccia calda o  comunque del vapore per allargare i pori – e successivamente piazzate il vostro cerotto. Lo lasciate in posa per 10-15 minuti e poi lentamente lo rimuovete. Una volta fatto questo, andate a completare l'operazione sciacquando l'area incriminata con dell'acqua fredda: in questo modo i vostri pori si stringeranno.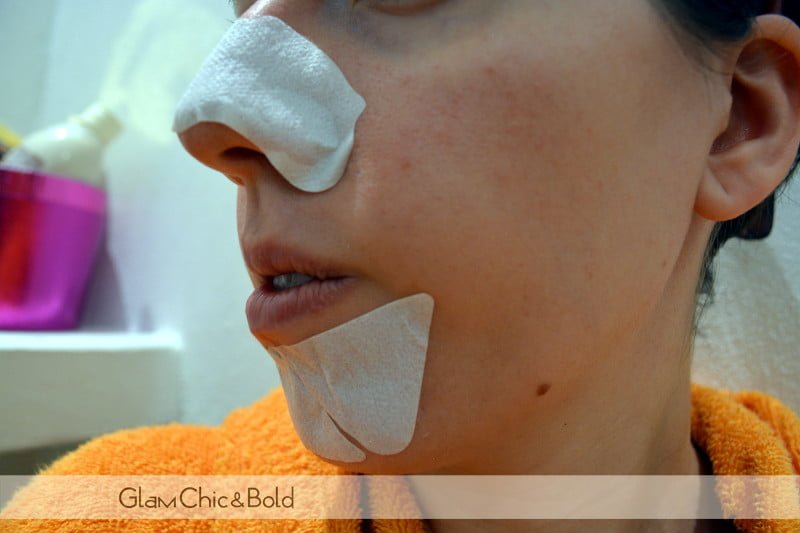 Let's  start talking about the first product I've tested with great curiosity: these are the traditional nasal + forehead and chin plasters that you can use to eliminate the blacks points from your nose, forehead and chin. Having an oily skin and slightly impure, often I use this type of solution and I must say that every time I remain always more satisfied. In the past I have used many of the patches brand to eliminate blacks points – Nivea, Essence, Migros etc. – and today I tried for the first time these Korean brand, Skinfood's White Pore. What to say? As I was satisfied! As usual, you have to moisten the area where you are going to apply the patch – before I suggest an hot shower or steam anyway to enlarge the pores – and then you place your patch. Leave it on for 10-15 minutes and then remove it slowly. Once this is done, go to complete the operation by rinsing the offending area with cold water: in this way you will tighten your pores!
Skinfood's Egg White Pore Mask
Il prossimo prodotto di cui voglio parlarvi è la maschera: come vedete si presenta all'interno di un barattolino da 125 grammi di prodotti. La maschera non è una peel-off bensì una di quelle che dovrete stendere con la mani o se preferite con un pennello. La cosa che è trovato molto interessante è che quando svitate il coperchio trovate un ulteriore tappo di protezione! Passando al prodotto, questo si presenta di colore bianco e potrebbe sembrare dello stucco 😀 In realtà, è una maschera, ve lo posso assicurare; per quanto riguarda la profumazione, invece, non sa assolutamente di uovo – cosa che si potrebbe pensare visto che la linea è fatta con l'albume – ma anzi è davvero piacevole e leggera.
Una volta applicata sulla pelle – io l'ho messa esclusivamente nelle zone interessate ovvero naso, mento e fronte – la dovrete lasciare in posa per 10-15 minuti; naturalmente, prima di applicare la maschera dovrete aver già pulito la pelle. Ricordatevi, inoltre, di evitare il contorno occhi e labbra. Ad ogni modo, quando andrete a lavare la faccia vi accorgerete che la pelle si eliminano delle pellicine, come se si fosse eseguito uno scrub per eliminare la pelle morta. Lavate bene, non preoccupatevi, è normale, ed una volta terminata la pulizia, idratate la pelle con la vostra crema da giorno o da notte; noterete una pelle liscia e pulita. Anche questo prodotto mi è piaciuto e soprattutto non mi ha creato alcun fastidio o rossore sulla pelle.
The next product that I'm going to show you is the mask: as you see, it comes in a jar of 125 grams of product. The mask is not a peel-off but one that you'll have to roll with the hands or if you prefer with a brush. The thing I found very interesting is that when unscrewed the lid you find an additional protection cap! Moving on to the product, this is white color and it might seem the stucco 😀 It is a mask, I can assure you; regards the fragrance, however, it does not scent absolutely egg – something that you might think seen that the line is made with egg white – but in fact it is really enjoyable and light.
Once applied on the skin – I have put exclusively in the areas concerned or nose, chin and forehead – you'll have to leave it on for 10-15 minutes; of course, before applying the mask you will have already cleaned the skin. Remember, also, to avoid the eyes and lips. However, when you go to wash your face you will find that the skin is removed the cuticles, as if you used a scrub to remove the dead skin. Wash you face, don't worry, it's normal, and once finished cleaning it, hydrated the skin with your day or night cream; you will notice a skin smooth and clean. I liked Skinfood's Egg White Pore Mask and especially it not caused me any discomfort or redness on the skin.
Skinfood's Egg White Pore Foam
Terminiamo questa recensione con l'ultimo prodotto che ho testato di questa linea ovvero il sapone. Anche in questo caso, l'odore non è assolutamente fastidioso, anzi è esattamente come quello della maschera. Ho notato anche in questo caso che lavando la pelle con questo sapone sembra quasi vi sia un effetto scrub, in cui viene eliminata la pelle superficiale, lasciandola poi liscia. Il sapone, di colore bianco, si trova all'interno di un contenitore da 150 ml. Vi ricordo che su questi prodotti le istruzioni d'uso e l'inci sono fortunatamente disponibili anche in inglese, quindi anche noi potremmo capire cosa stiamo usando e se lo stiamo facendo nel modo giusto.
Let's end this review with the last product that I tried that is the soap. Even in this case, the smell is not absolutely annoying, indeed is exactly like that of the mask. I also noted in this case that washing the skin with soap this seems there is a scrub effect, in which the surface skin is removed, then leaving it smooth. The soap, with white color, is located inside of a 150 ml bottle. I remind you that all these products have the instructions for use and the INCI (fortunately) available in English, so we also could  read how to use it and its ingredients.
Ringrazio per i prodotti messi a disposizione lo shop online di Niasha.ch: qui trovate tanti altri prodotti ideali per coloro che sono alla ricerca di prodotti coreani e desiderano provare qualcosa di diverso. Tra i brand citiamo Tony Moly, ElizaVecca, Etude e molti altri ancora. Le spedizioni sono garantite in Svizzera e nel resto d'Europa!
Thank you very much to the shop online di Niasha.ch! I suggest you to discover the other brand on the e-commerce (for example, Tony Moly, ElizaVecca, Etude…). You can buy more brands and receive them in Switzerland and Europe!