La nuova collezione Mac Fashion Pack è una vera e propria ondata di colori con riflessi che vanno dal fucsia, viola, verde smeraldo, fino al più profondo prugna e mezzanotte! Scopriamo in dettaglio come di cosa si compone la nuova collezione makeup Mac Fashion Pack!
Questa collezione sarà disponibile dal mese di Luglio!


Lead the way with a new wave of front-row worthy hues. Fuchsia, violet, emerald, deepest plum, midnight…ready to wear, any way we dare! So, be a doll and show us how — the fashion pack is always in the know.  Let's go to discover the new collection by Mac Fashion Pack!
You'll find the Mac Fashion Pack collection from July 2016!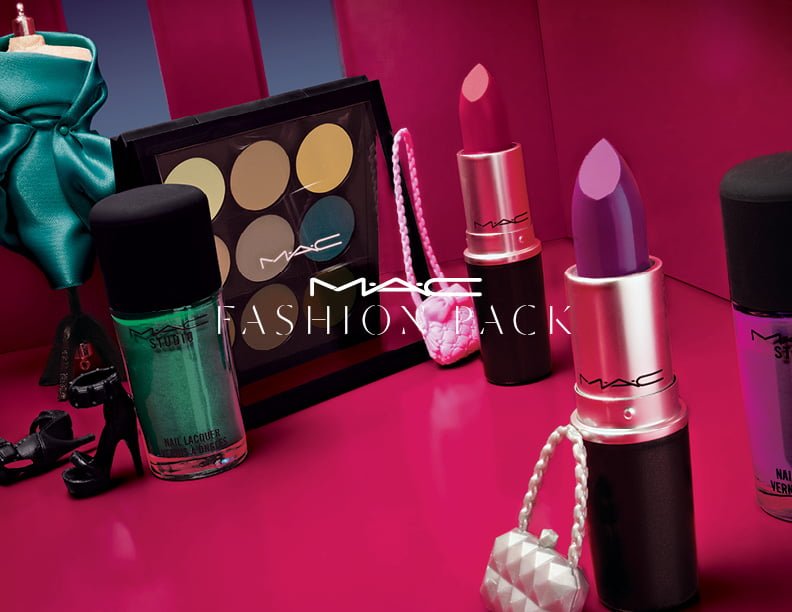 Eyeshadow x 9: She's a Model and Runway Worthy  (60 CHF)
Fresh Blade:

 Pale frosted yellow (Veluxe Pearl)

Gilded Lids:

 Bright yellow with pearl (Satin)

Sample Sized:

 /Dirty golden olive (Frost)

She's a Model:

 Alzavola con perlescenze/Blackened teal with pearl (Veluxe Pearl)

Big Attitude:

 grigio sporco/

Dirty grey

(Frost)

Not Basic Black:

 Marrone carbone con perlescenza/

Charcoal brown with pear

l (Velvet)

Fab Accent:

 Nude/

Soft nude

(Matte)

Cool Complement:

 sporco neutro/

Dirty mid-tone neutral

(Matte) (Repromote)

Dance in the Dark:

 marrone scuro/

Deep cool brown

(Matte) (Repromote)
Runway Worthy:

 bianco ghiaccio/

Soft frosty white

(Veluxe Pearl)

Dress Me Up:

 rosa sporco/

Dirty pink

(Satin)

Frock Talk:

 rosso ciliegia nero/

Blackened cherry

(Veluxe Pearl)

Paradise Island:

 rosa caldo/

Soft warm pink

(Satin)

Available in Petite:

 lampone ghiacciato/

Frosty raspberry

(Velvet)

Snappy Style:

 nero viola profondo/

Deepend black plum

(Satin)

Hypnotizing:

 Malva grigio ghiaccio/

Frosted greyed mauve

(Frost) (Repromote)

Zip Me Up:

 Mezzo tono di viola/

Mid-tone violet

(Satin)

Nice Fit:

 mora/

Blackened blackberry

(Frost)
Fluide Pen 26 (CHF)
Retro Black: nero/

black

Indelibly Blue: blu marino profondo/

deep navy blue

Prive: verde mare/

sea green
Lipstick (28 CHF)
By Special Order:

 Fucsia rossastro profondo/

Deep reddened fuchsia

(Amplified)

Aim for Gorgeous:

 Fucsia brillante/

Bright fuchsia

(Matte)

Stylist's Tip:

 Viola scuro/

Deep violet

(Amplified)

Pressed & Ready:

 nude sbiancato delicato/

Soft whitened nude

(Lustre)
Mac Studio Nal Lacquer (18 CHF)
Style Matters:

 verde dorato metallico/

Metallic golden green

(Frost)

Like My Gown?:

 viola rossastro sporco/

Dirty reddish purple

(Creme)