Quest'anno, per le feste natalizie, il marchio Nars ha realizzato una splendida collezione makeup in collaborazione con il fotografo Steven Klein ed il designer Fabien Baron, proponendo una linea dalle fantasie sensuali e di vocazione estrema.
Il fotografo di moda cerca sempre di suscitare forti emozioni con le sue fotografie ed anche in questo caso è riuscito a creare con Nars qualcosa di veramente straordinario. Lo stesso fotografo a dichiarato di ammirare François Nars ed è molto entusiasta di aver presentato la nuova linea di Natale di Nars.
Nars Steven Klein è una linea che si compone di diversi prodotti che, per l'appunto, ripropongono il packaging con foto del celebre fotografo. Qui di seguito ecco tutti i prodotti che troverete e di cui alcuni sto già provando!
This year, for Christmas 2015, Nars has made a beautiful makeup collection in collaboration with photographer Steven Klein and designer Fabien Baron, offering a line from sensual fantasies and extreme vocation.
The fashion photographer is always trying to stir up strong emotions with his photographs and again managed to create something truly extraordinary with Nars. The photographer said to admire François Nars and is very excited to have presented the new line of Christmas Nars.
Nars Steven Klein is a line that consists of several products that, in fact, reproduce packaging with photos of famous photographer. Below that you will find here all the products and some of which I'm already trying!
Killer Shine Lipstick Limited edition ( 25.60 €)
Le nuove tonalità di rossetti in edizione limitata per la linea Nars Steven Klein sono ben tre e si presentano con una texture cremosa ed una formula che permette di applicarli facilmente sulle labbra.
The new shades of lipstick in a limited edition for the line Nars Steven Klein are three and have a creamy texture and a formula that allows you to easily apply them to his lips.
Besame Mucho (Rosa-beaige scuro/

Deep rose-beige

)
No Shame (Prugna rossa/

Red plum

)
Redemption (Rosa champagne metallico/

Metallic Pink Champagne

) * Non disponibile in Italia
Killer Shine Gloss Limited Edition (25 €)
Questi gloss si presentano di un bellissimo colore intenso e dalla formula innovativa, conferendo alle labbra un tocco sensuale ed un effetto laccato alle labbra. Sono disponibili tre nuance:
These gloss they have a beautiful deep color and the innovative formula, giving the lips a sensual touch and a lacquered effect to the lips. There are three shades:
Provoke (viola profondo iris/

deep iris-purple

) * Non disponibile in Italia
Fast Life (rosa cipria glitterato/

Iridescent dusty rose

)
Special Force (fragola selvatica/

wild strawberry

)
Singles Eyeshadow (25.50 €)
Con la linea Nars Steven Klein ci sono tre ombretti singoli:
There are three single eyeshadows with this collection:
Mortal (bianco perla iridescente/

iridescent pearl white) *

Non disponibile in Italia
Stud (bronzo lucido/

soft pewter bronze

)
Never too late (verde militare con riflessi/

olive green with gold shimmer

)


Dual-Intesity blush
Vergeful (bianco-oro illuminante, nero-rosso brillante/

white-gold hightlight, shimmering black-red

) *Non disponibile in Italia
Nail Polish Nars Steven Klein (19 €)
Hard To get (bronzo metallizzato/

metallic bronze gunmetal

)
Black Fire (blu ardesia/

shimmering slate blue

)
Night Creature (viola profondo iris/

metallic iris-purple

) * Non disponibile in Italia
CHRISTMAS SET NARS STEVEN KLEIN
Tearjerker eye set (35 €)
Questo cofanetto occhi contiene al suo interno l'Audacious Mascara che vi offrirà un look estremo per i vostri occhi, mentre le due matite color smeraldo e zaffiro ad alta pigmentazione vi aiuteranno a rifinire il look in modo provocante. Questo set contiene:
Warm and yearn. Audacious Mascara takes scenes to the extreme, while richly pigmented emerald and sapphire liners blur the lines between precious and provocative. Every look longs for more. 
Audacious Mascara Black Moon
Kohliner X-Static (Verde giada
Kohliner Tragic ( Smoky blu ardesia)
A Eoman's Face Nude Lip Set (Non disponibile in Italia)
Avrai labbra super naturali con questo set! Grazie ad una matita labbra cremosa, ad un rossetto dal colore cult ma classico e ad un matitone opaco, avrai un set perfetto per un look nude per tutti i giorni.
Supernatural lips, in the flesh. Creamy liner, cult-classic lipstick, and a coveted matte lip pencil deliver a triple hit of iconic nudes for every mood.
Despair Cheek Palette Nars Steven Klein (Non disponibile in Italia)
Questa palette si compone di ben quattro blush dai toni sul rosa provocante. La palette viene proposta al pubblico insieme ad un kabuki.
Dont' mask, don't tell. A four-part blush fantasy of provocative pinks and blushing bares. Paired with a mini Kabuki Ita Brush for shading every scenario.
Magnificent Obsession Red Lip Set Nars Steven Klein
Con questo set avrai tre modi per sistemare le tue labbra: un rossetto, una matita ed un matitone.
A three-way lip set of all-consuming crimson. Warm up with liner, layer on lipstick, or ignite the creamy, matte lip pencil. Color for every craving.
Dead of summer dual-intensity eyeshadow palatte (Non disponibile in Italia)
Questa palette ha al suo interno quattro ombretti che si possono utilizzare sia umidi che asciutti per un look davvero spettacolare.
Four wet/dry Dual-Intensity Eyeshadows steeped in pigment and shine plumb the depths of desire. Instant submersion. Total subversion. 
One Shocking Moment Palette Cheek Studio (59 € – Not available in Switzerland)
Sono ben sette le nuance per creare i vostri look preferiti con questa palette. Quattro blush, uno speciale contouring duo e un bronzer illuminante Laguna per un viso perfetto.
There are seven products with this beautiful set: infact, you find four blushes, one special duo conturing, one bronzer-hightlighting Laguna for a perfect look. 
Killer Heels Set di Mini Rossetti (39 €)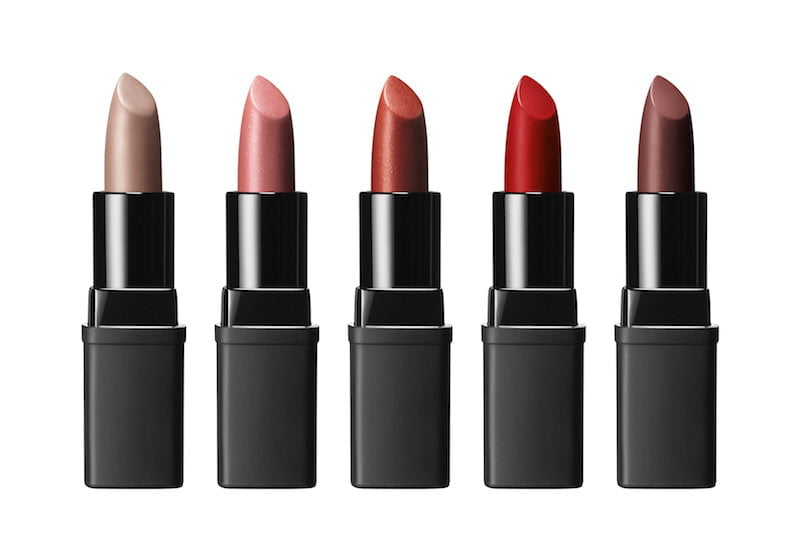 Cinque rossetti top parte di un'unica seducente gamma di tonalità. Dalla delicatezza alla trasgressione in un unico set per questo Natale 2015. All'interno si trovano i rossetti: Little darling, Mayflower, Joyous red, Jungle Red, Fire down below.
There are five lipsticks with the beautiful set signed by Nars Steven Klein for this Christmas 2015.
An Abnormal Female Lip Pencip Coffret (*Non disponibile in Italia)
Terminiamo con l'ultima proposta Nars per questo Natale 2015: troviamo questo set con tre Velvet Matte Lip Pencil, a lunga durata, e molto precisi nella loro stesura.
Three, two, one – Velvet Matte Lip Pencils. A triple-threat of arresting color, daring long-wear, and instant precision in a range of shades that hit the spot. Weapons of seduction.
Trovate questi prodotti da novembre in Svizzera da Bongenie Geneve et Lausanne, Jelmoli Zurich, Osswald Zuricj, Osswald Zug e Manor Lugano, mentre in Italia da Sephora.
You can buy the product of Nars Steven Klein from November in Bongenie Geneve et Lausanne, Jelmoli Zurich, Osswald Zuricj, Osswald Zug  and Manor Lugano, while in Italy at Sephora.