La nuova linea Age Exception di Yon-ka
Oggi vi parlo di un altro brand di lusso che potrete trovare in Svizzera nelle SPA e nei 200 istituti che propongono Yon-Ka: sto parlando della gamma Age Exception di Yon-ka, ideale per donne dai 55 anni in su che desiderano far ritrovare la giusta luminosità alla propria pelle e riducendo così i fastidiosi segni del tempo che avanza.
Le ultime due novità di questa linea sono l'Excellence Code Contours e l'Excellence Code Masque, che aiutano ad illuminare il volto, riducendo pure i segni di stanchezza e le rughe. Ma vediamo nel dettaglio le due proposte!
Today I'm going to speak about another luxury brand that can be found in Switzerland in SPA and 200 institutions where you find Yon-Ka products: I'm talking about the Age Exception of Yon-ka range, ideal for women aged 55 and over who wish to regain right brightness to your skin and reducing the annoying signs of aging advances.
The last two novelties of this line are the Excellence Code Contours and Excellence Code Masque, which help to illuminate the face, as well reducing the signs of fatigue and wrinkles. Let's go to discover this new products! 
Excellence Code Contours di Age Exception di Yon-ka (15 ml – 83 CHF)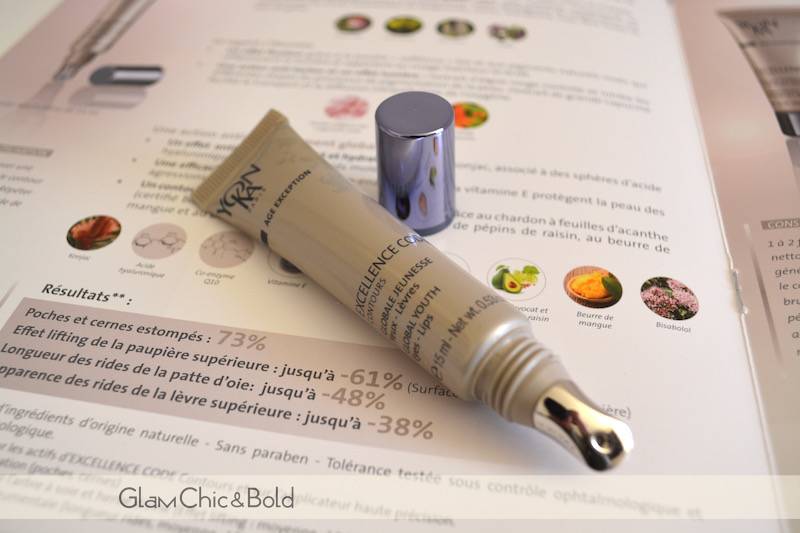 Questa crema per il contorno occhi e labbra agli 5 brevetti perfette di ottenere un effetto lisciante e morbido come seta. La crema, difatti, dona da subito un interessante effetto lifting!
Gli estratti di albero di seta e l'erba divina vanno a stimolare la sintesi di elastina e collagene, sollevando le palpebre e dissolvendo le occhiaie. I bianchi lupino e l'erba medica sono ricche di proprietà drenanti che aiutano a diminuire il gonfiore in quest'area del viso. L'alga rossa, invece, agisce sulla pigmentazione della pelle, mentre l'estratto di nasturzio va a stimolare l'ossigenazione intracellulare. Per finire è un prodotto volumizzante ed idratante grazie alla combinazione di konjac e sfere di acido ialuronico di peso molecolare alto e basso.
This cream for eyes and lips with 5 patents get a perfect smoothing effect and soft like silk. The cream, in fact, gives immediately a lifting effect!
The silk tree extracts and the divine grass going to stimulate the synthesis of elastin and collagen, lifting eyelids and dissolving the dark circles. The white lupine and alfalfa are rich in draining properties that help decrease the swelling in the area of the face. The red seaweed, instead, acts on the pigmentation of the skin, while the nasturtium extract is to stimulate intracellular oxygenation. Finally, it is a volumizing and moisturizing product with the combination of konjac and hyaluronic acid spheres of high and low molecular weight.
Naturalmente, non si può fare a meno di segnalare il particolare applicatore: come potete vedere, l'applicatore darà un effetto ghiaccio, rinforzato anche dagli oli  essenziali di bergamotto, limone e mandarino. Anche lo sguardo potrà beneficiare degli effetti, ritrovandosi ad essere fresco e luminoso.
Gli ingredienti dell'Excellence Code Contours di Age Exception di Yon-ka sono al 95% di origina naturale ed è senza parabeni!
Of course, there are a special applicator as you can see: the applicator will give a frosted effect, also reinforced by the essential oils of bergamot, lemon and mandarin. Even the look will benefit from the effects, finding himself to be fresh and bright.
Ingredients of Excellence Code Contours of Age Exception by Yon-ka are 95% originates natural and is paraben-free!
Excellence Code Masque di Age Exception di Yon-ka (50 ml – 81 CHF)
Il trattamento maschera anti-aging permette alla pelle di ottenere immediatamente un effetto luminoso! Dunque, se la pelle appare opaca e stanca, questa è la soluzione al caso vostro. La maschera allo zigolo dolce rafforza il derma papillare e aumenta la sintesi delle fibre di collagene. Le dolci proteine di mandorla, invece, liscia le linee sottili delle rughe, mentre il collagene marino e l'AHA di limone, arancia, canna da zucchero, acero e mirtillo hanno un effetto volumizzante. La vitamina B5, l'olio di semi d'uva e l'acido ialuronico, a loro volta, vanno a rivitalizzare e rigenerare la pelle. Terminiamo dicendo poi che l'estratto di alghe rosse aiutano a ridurre visibilmente la pigmentazione. Nel complesso, quindi, possiamo affermare che la pelle è più elastica e luminosa!
Treatment anti-aging mask allows the skin to instantly get a luminous effect! So, if your skin is dull and tired, this is the perfect solution for you. The mask at tigernuts strengthens the papillary dermis and increases the synthesis of collagen fibers. The sweet almond proteins, however, smooth the fine lines of wrinkles, while the marine collagen and AHA lemon, orange, sugar cane, maple and blueberry have a volumizing effect. Vitamin B5, the grape seed oil and hyaluronic acid revitalize and regenerate the skin. Then, the extract of red algae help to visibly reduce pigmentation. Overall, the skin is more supple and radiant!
Vi ricordo infine che questo prodotto è composto da ingredienti di origine naturale al 92% ed é senza parabeni.
I remind you that this product is made with natural ingredients at 92% and this product is paraben-free.