Per queste feste natalizie il marchio Bare Minerals ci propone due adorabili confezioni di Natale: sto parlando della palette The Enchanted Garden e del kit Lash Domination Double Domination. Scopriamo qualcosa di più in dettaglio sui prodotti che ho scoperto al press day Sephora Natale 2015 e che troverai nei negozi a partire da Novembre 2015!
For the Christmas 2015, Bare Minerals show us two incredible proposal that you find in Sephora from November 2015. I'm talking about the Enchanted Garden palette and kit Lash Domination Double Domination.
Palette The Enchanted Garden Bare Minerals -Natale 2015
Iniziamo parlando della deliziosa palette The Enchanted Garden di Bare Minerals: si tratta di un prezioso cofanetto, dallo stile romantico – ideale per realizzare il giusto look di Natale. All'interno vi troviamo quattro ombretti Ready, un illuminante, un blush, un pennello a doppia punta con setole naturali ed il lucidalabbra Moxie per un sorriso smagliante. Il costo di questa palette è di 36 €.
The fist product that I'm going to show you it's the palette The Enchanted Garden by Bare Minerals. It's a precious box, with romantic style, perfect to create a beautiful look for your Christmas holiday. Inside the palette you find four eyes-shadows Ready, highlighting, blush, lipgloss Moxie and a double natural brush. Its cost is 36 €.
Kit Lash Domination Double Domination- Bare Minerals Natale 2015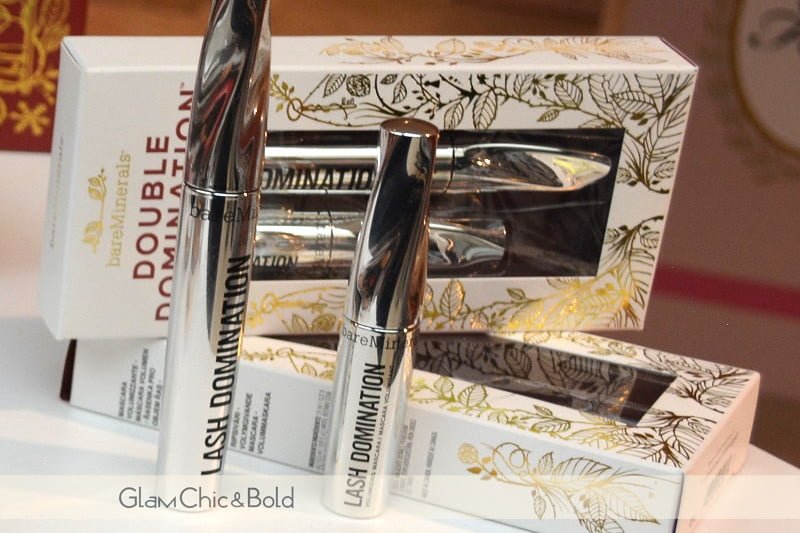 Il kit occhi che vi propongo ora è perfetto per avere uno sguardo davvero accattivante. Grazie allo speciale applicatore del mascare, potrete avere ciglia lunghe e spesse. Insieme al mascara nel formato base, trovate anche un mini mascara, ideale da portare con sé in viaggio o, perché no, in borsa. Il costo di questo prodotto è di 21 €!
This is a special kit for your eyes: in fact you find two sizes of mascara for your eyelashes. With the special applier screwd on itself, you can obtain beautiful look with  long and thick eyelashes. You can buy it at the cost of 21 €.
Blemish Remedy Bare Minerals
Terminiamo poi con un prodotto che in realtà non è una novità, ma è stata già introdotta durante quest'autunno: sto parlando dello speciale fondotinta in polvere Blemish Remedy. Si tratta di un fondotinta a base di ingredienti naturali (corteccia di pioppo, camelia sinensis ed aloe) che corregge le imperfezioni, gli arrossamenti e la lucidità. Si tratta di un prodotto ideale anche per coloro che soffrono di problemi di acne poiché ha un'ottima copertura e soprattutto lascia respirare la pelle.
Le tonalità colori disponibili sono sei (Clearly Porcelain, Clearly Pearl, Clearly Medium, Clearly silk, Clearly nude e Clearly Sand). Il costo è di 29.50 €, mentre il pennello Pinceau Application Zéro Demarcation costa 26 €.
Let's end with a product that you can already buy,  because it was introduced during this Fall: I'm talking about the special powder foundation Blemish Remedy. It is a foundation made from natural ingredients (bark of poplar, Camellia sinensis and aloe) that corrects imperfections, redness and lucidity. It is an ideal product for those who suffer from acne problems because it has greater coverage and especially let the skin breathe.
The shades are six colors available (Clearly Porcelain, Pearl Clearly, Medium Clearly, silk Clearly, Clearly Clearly bare and Sand). The cost is € 29.50, while the brush Pinceau Application Zéro Demarcation costs 26 €.