Finalmente l'estate è alle porte e quindi ho deciso di approfittarne per mostrarvi alcune delle proposte che potrete utilizzare durante questa estate 2018 per proteggere la vostra pelle dal sole. Tutte le proposte di oggi riguardano il marchio Garnier Ambre Solaire e vi consentiranno di creare una barriera protettiva per la pelle del corpo, ma anche quella del viso. Ma andiamo a scoprire le novità!
Finally summer is coming and so I decided to suggest you the new products for this summer 2018 to protect your skin from the sun: I'm talking about Garnier Ambre Solaire. Let's go to discover all new products to try!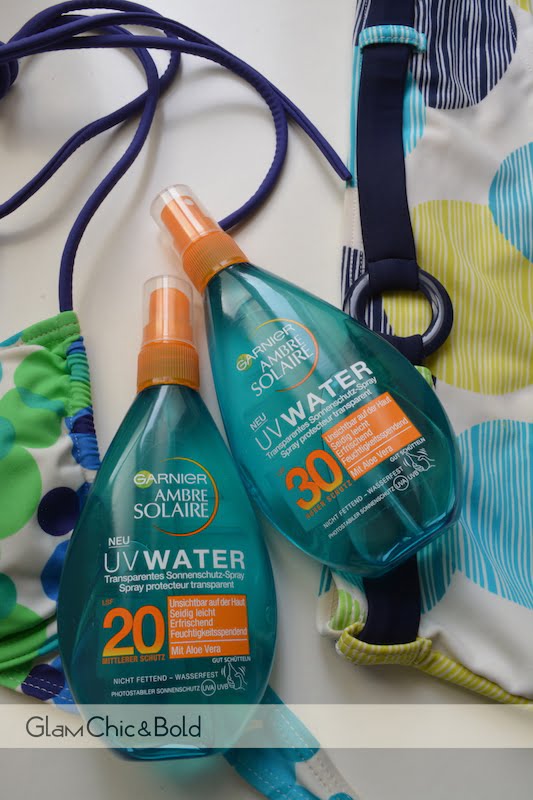 Iniziamo parlando dei due nuovi UV Water di Garnier: si tratta di uno spray protettivo trasparente con SPF 30 e SPF 20. Come potrete ben vedere dal prodotto, si tratta di una protezione solare bifasica con sistema di filtri brevettato Mexoryl SX. La formula protegge efficacemente la pelle dai raggi UV fornendo una sensazione leggera e fresca, grazie alla presenza dell'aloe vera. Il prodotto, quindi, è composto da due fasi: una fase olio contenente i filtri UV, incluso il sistema di filtri Mexoryl, e SX che fornisce una texture leggera e rinfrescante. Naturalmente prima di utilizzare il prodotto lo dovrete agitare per miscelare bene i due ingredienti! Come di consueto le raccomandazioni sono quelle di utilizzare il prodotto prima dell'esposizione e di applicarlo nuovamente dopo il bagno o se si ha sudato molto. Se applicare il prodotto sul viso, mettetelo sulle mani e poi lo stendete bene ed evitate gli occhi, poiché potrebbe bruciare!
Let's start talking about the two new UV Water by Garnier: it is a transparent protective spray with SPF 30 and SPF 20. As you can see from the product, it is a biphasic sunscreen with a patented Mexoryl SX filter system. The formula effectively protects the skin from UV rays providing a light and fresh feeling, thanks to the presence of aloe vera. The product, therefore, consists of two phases: an oil phase containing the UV filters, including the Mexoryl filter system, and SX which provides a light and refreshing texture. Naturally, before using the product, shake it to mix the two ingredients well! As usual the recommendations are to use the product before exposure and to apply it again after the bath or if you have sweated a lot. If you apply the product on the face, put it on your hands and then spread it out well and avoid the eyes, as it could burn!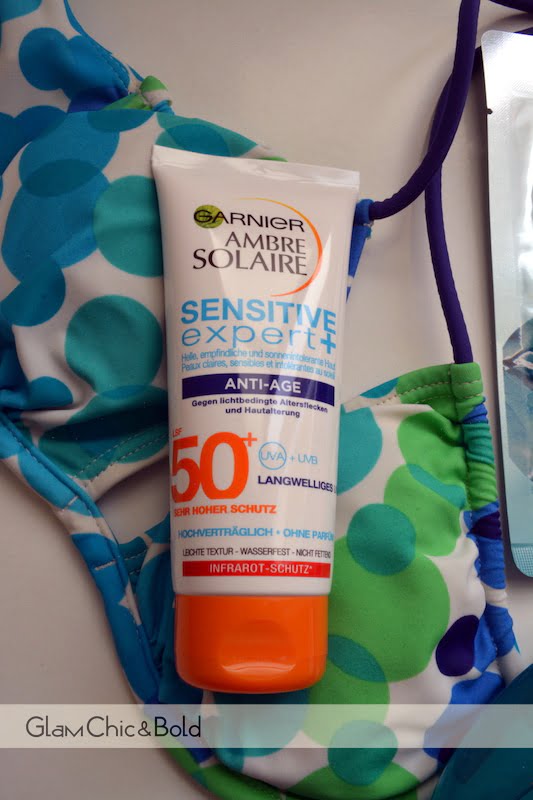 Della linea Sensitive Expert + vi propongono la protezione con SPF 50: si tratta di un prodotto ideale per coloro che hanno una pelle sensibile, chiara e intollerante al sole: peraltro, si tratta anche di un prodotto che svolge una funzione anti-age, così da rallentare il processo di invecchiamento della pelle. Anche in tal caso, applicate il prodotto prima di andare in spiaggia e rimettetelo ogni volta che fate il bagno, così da garantire una protezione uniforme durante la giornata in spiaggia o in piscina.
The Sensitive Expert + line offers you protection with SPF 50: it is an ideal product for those who have a sensitive skin, clear and intolerant to the sun: moreover, it is also a product that performs an anti-age function, so to slow down the aging process of the skin. Even in this case, apply the product before going to the beach and put it back every time you take a bath, so as to ensure uniform protection during the day at the beach or pool.
Terminiamo con l'ultima grande novità di Garnier: si tratta di una maschera in tessuto doposole davvero molto interessante! Sino ad oggi non avevo visto mai niente di simile! La maschera in questione è arricchita con la pianta dell'hamamelis ed acido ialuronico. Potrete effettuare la mostra maschera e mantenerla in posa per 15 minuti, idratando così la pelle in profondità, dopo la giornata di esposizione al sole. Credo proprio che sia la maschera da portare con sé in viaggio!
We finish with the latest big news from Garnier: it is a very interesting after-sun mask! Until today I had never seen anything like it! The mask in question is enriched with the witch hazel and hyaluronic acid plant. You can perform the mask exhibition and keep it in place for 15 minutes, thus moisturizing the skin in depth, after the day of exposure to the sun. I really think it's the mask to take with you on the go!