Quest'anno il protagonista incontrastato delle collezioni Sephora è un simpatico pinguino! Ebbene sì, in occasione del press day tenutosi a Milano per Sephora Italia ho visto in anteprima le novità che si troveranno ben presto nei negozi per le feste natalizie. Come al solito, Sephora cerca di accontentare le tasche di tutti, tant'è vero che mette a disposizione doni piccioli come pure regali più grandi per stupire la persona che riceve il dono. Se siete pronte, ora armatevi di carta e penna per iniziare a scrivere a Babbo Natale!
At the Sephora pressday in Italy for Christmas 2019 I discovered a lot of new products that we can buy or give to our friend or family. As usually, Sephora show us many gifts with from cheap to hight price: in this way it is possible to make happy everybody!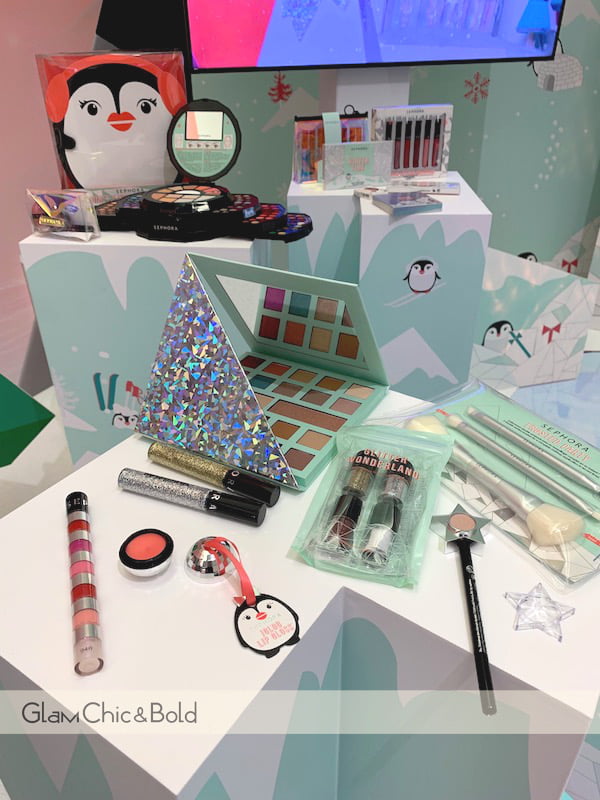 Sephora Collection – Make Up Natale 2019
Gloss Igloo 4.90 €
Questa piccola pallina di Natale argentata contiene un gloss labbra nel colore rosa delicato. Un regalo perfetto da appendere all'albero di Natale!
This little silver ball is perfect on yuor Christmas tree: inside the ball there is a pink light gloss! 
Enchanted Moutains Palette 5 €
Questa palette propone tre tonalità con effetto opaco e perlato che consente di realizzare un make up occhi semplice.
This eyeshadow palette is perfect to realize a simple make up on your eyes, with matte and pearly nuances.
Lip & Cheek Duo 4.9 €
Questo fard a doppio uso vi aiuterà a dare un tocco di vivacità alle gote ed alle labbra con un rosso ed un rosa chiaro.
This lip and cheek duo can help you to obtain a beautiful look with red and pink nuances.
Frosted Party 8.9 € €
Questo spray scintillante ti consentirà di dare un tocco luminoso ai tuoi capelli!
You can give a brillant touch to your hair!
Freezing Magic Wand 9.9 €
Ogni desiderio sarà esaurito con questa matita nera per gli occhi ed un ombretto dorato a forma di stella! (anche Davide ha provato a fare qualche magia durante il pressday di Milano!)
Every wish will be exhausted with this black eye pencil and a golden star-shaped eye shadow! (even Davide tried to do some magic during the Milan pressday!)
Cosmic Glow 9,9 €
Questo illuminante gloss lo potrete utilizzare per dare un tocco di luce agli zigomi, sopra all'arco di cupido o, perché no, sull'arcata sopraccigliare.
This illuminating gloss you can use to give a touch of light to the cheekbones, above the bow of cupid or, why not, on the eyebrow arch.
Mascara Top Coat Glitterato 9,9 €
Se volete ottenere un effetto brillante, questi due top coat mascara di colore argento ed oro vi permetteranno di farlo.
If you want a special effect on your mascara, you can use this two beautiful top coat for mascara in gold and silver color.
Eyeliner glitterato intenso 9,9 €
Oro ed argento sono anche i due colori cui sono stati resi disponibili i nuovi eyeliner per questo Natale.
You can find also gold and silver eyeliner for a beautiful make up of Christmas. 
Palette Artic Eyes 9.9 €
All'interno di questa palette ci sono 8 ombretti con toni freddi e caldi, con effetto opaco o perlescente.
Inside this palette you can find 8 eyeshadow with cold and warm nuances, with matte and pearly effect. 
Holiday Gloss Combination 9,9 €
Il tubetto Sephora nascondo ben 6 gloss di diverse tonalità che vanno dal bianco al rosso.
The iconic tuby by Sephora offers us six gloss from white to warm red nuances.
Let it glow palette 13,9 €
Questa palette custodisce 2 illuminanti, 1 cipria abbronzante ed 1 blush!
This palette offers us 2 highlighter, 1 bronzing powder and 1 blush!
Frosted Party – Sorpresa make-up 15,9 €
Questo cofanetto contiene tre prodotti per il vostro make up delle feste: un prodotto ciglia, uno occhi ed uno viso.
This little couffret contains three products for your make-up of eyes, lashes and face.
Frosted Party – Sorprese make-up e skincare 24,9 €
Questo cofanetto è perfetto per una routine di skincare (maschera occhi al melograno, maschera viso all'ananas e maschera labbra al burro di karité) e per truccarsi gli occhi, viso e labbra con un mascara Volume On – Black ON!, un Rossetto vellutato no-transfer 13. Marvelous Mauve e un blush Colorful 16. Heated.
This set is perfect for a skincare routine (pomegranate eye mask, pineapple face mask and shea butter lip mask) and to make up for your eyes, face and lips with Volume On – Black ON! Mascara, a velvety lipstick no-transfer 13. Marvelous Mauve and a Colorful 16. Heated blush.
Stay Polishes! 15,90 €
Questo set è composto da questi 6 smalti: L141. I'm a princess, L138. Cookie break, L178. Rose Bouquet, L41. Cherry Popsicle, L43. It girl e 196. Silver Fever.
This set for Christmas offers us this nail polishes: L141. I'm a princess, L138. Cookie break, L178. Rose Bouquet, L41. Cherry Popsicle, L43. It girl e 196. Silver Fever.
Winter Frost Eye 14,90 €
È una palette pensata con i prodotti utili sia per gli occhi che per il viso che ci permette di realizzare un bel trucco a Natale.
This palette is perfect to realize your make up for Christmas with eyeshadow and powder for face.
Glow Party Kit 17,90 €
Questo kit racchiude al suo interno tre prodotti molto desiderati in una mini pochette: Rossetto vellutato no-transfer n° 63, Color Hit Gold Fever e Colorful Ombretto n° 216.
This kit contains three highly desired products in a mini clutch: No-transfer velvet lipstick No. 63, Color Hit Gold Fever and Colorful Eyeshadow No. 216.
#Lipstories trio set 19.90 €
I rossetti proposti in questo set sono 3. OUI!, 22. A Little Magic e 41. Take a Spin, con tre effetti differenti ovvero opaco, satinato e metallizzato. 
These three lipstories by Sephora are 3. OUI!, 22. A Little Magic e 41. Take a Spin with three differente effect (matte, satin and matallic).
All Eye Want Palette 22,9 €
Con questa palette avrete tra le mani ben 16 ombretti, con colori che vanno dal nude sino al marrone scuro, con opachi, perlati e metallizzati.
With this palette you can find 16 eyeshadows with matte, pearly and metallic effect. 
Cream Lip Stain Collection Kit 34,9 €
Questo kit propone ben 6 rossetti liquidi no-trasfer con finish opachi e metallizzati.
This kit offers us six liquid lipstick no-trasfer with matte and metallic finish.
The Pinata – Kit Sorpresa 29,9 €
Questo cofanetto Sephora contiene diverse sorprese: Ombretto, gloss ultra brillante, acqua micellare al tè matcha, maschera labbra al burro di karité, maschera viso al tè verde, balsamo mani al cocco, capsula di doccia schiuma e stella effervescente, spugna a rete e accessorio per capelli.
This Sephora box contains several surprises: Eyeshadow, ultra bright gloss, micellar water with matcha tea, shea butter lip mask, green tea face mask, coconut hand balm, foam shower cap and effervescent star, mesh sponge and accessory for hair.
Show Palace Palette 29,90 €
60 ombretti/

eyeshadows

24 gloss
8 eyeliner
4 polveri per sopracciglia/

4 eyebrows podwer

6 illuminanti/

6 highlighter

3 ciprie abbronzanti/

3 bronzer

3 blush
1 cipria levigante illuminante/

1 smoothing face podwer