Oggi voglio parlarvi di un prodotto che vi ho mostrato nuovamente sul mio canale Instagram e di cui molte di voi mi hanno chiesto informazioni. Visto che ve lo avevo mostrato appena ricevuto e che vi ho dato un piccolo riscontro in questi giorni, ho deciso di scrivere anche un post dettagliato.
Freshy Beat Pot by ZAGO Milano si presenta come un pratico stick di primer che, però, offre ulteriori benefici: infatti, è un prodotto adatto per ogni tipo di pelle che dona idratazione e rinfresca il viso velocemente. Durante la stagione estiva, infatti, è stato un vero e proprio alleato: oltre ad essere uno stick Made in Italy di dimensioni pratiche poiché si può inserire in borsa, consente al nostro make up di durate nel tempo.
Gli ingredienti contenuti al suo interno sono acido ialuronico (effetto idratante e tonificante, combatte i radicali liberi), il the matcha (potere antiossidante) e acqua distillata alla menta (effetto fresco sulla pelle). Grazie a questo mix portentoso, offre una pelle luminosa per tutto il giorno ed un trucco impeccabile: io ho provato su me stessa l'effetto duraturo di questo prodotto, poiché durante un battesimo avvenuto in estate il make up ha tenuto benissimo fino a sera. Anche durante le mie vacanze alle Canarie, a settembre, con un clima ventoso e mediamente caldo ha dato grande soddisfazione e freschezza sulla pelle abbronzata, anche senza dover applicare il fondotinta sopra.
Lo stick di Freshy Beat Pot by ZAGO Milano contiene 30 ml di prodotti – peraltro protetto da una piccola cupolina di plastica – ed è in vendita per 31.90 euro sull'e-commerce zagocosmetics.com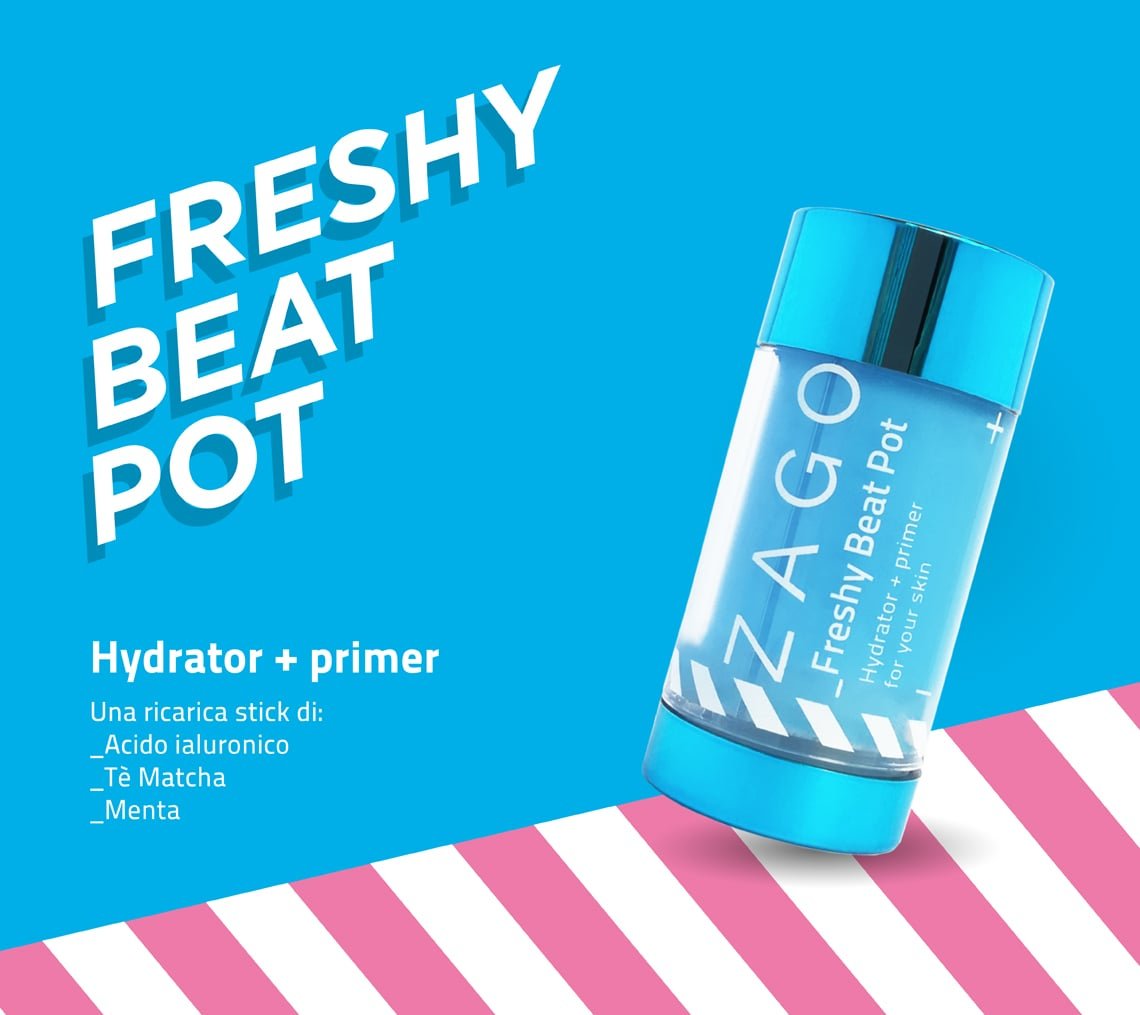 Today I'm going to show you a product that I showed you again on my Instagram channel and many of you asked me for information. Since I showed it to you as soon as I received it and I gave you a little feedback these days, I decided to write a post too.
Freshy Beat Pot by ZAGO Milano is a practical primer stick which, however, offers further benefits: in fact, it is a product suitable for every type of skin that gives moisture and refreshes the face quickly. During the summer season, in fact, it was a real ally: in addition to being a practical Made in Italy stick because it can be inserted into the bag, it allows our make-up to last over time.
The ingredients of this primer are hyaluronic acid (moisturizing and toning effect, fights free radicals), the matcha (antioxidant power) and distilled mint water (fresh effect on the skin). Thanks to this marvelous mix, it offers a luminous skin all day long and an impeccable make-up: I tried on myself the lasting effect of this product, because during a baptism that took place in the summer the make-up kept very well until evening. Even during my holidays in the Canaries, in September, with a windy and moderately warm climate, it has given great satisfaction and freshness to tanned skin, even without having to apply the foundation above.
The Freshy Beat Pot stick by ZAGO Milano contains 30 ml of products – also protected by a small plastic dome – and is on sale for 31.90 € on e-commerce zagocosmetics.com