A partire dal mese di Luglio 2015 sono disponibili le nuove Eyes on Mac palette: si tratta di un'intera collezione che si compone di 4 palette da 9 colori cadauna e due palette da 15 colori ciascuna.
Durante il mese di giugno 2015 è stato fatto già un prelancio della collezione presso Jelmoli a Zurigo, quindi potrai acquistarle proprio lì oppure direttamente da Manor e sito ufficiale.
Creating your own bespoke eyes has never been easier. These well-edited Eyes x 9 and Eyes x 15 palettes feature a wave of colour-coordinated hues offering countless combinations. In colour schemes from Navy and Burgundy to Amber and Purple, each palette offers textures from matte to satin to frost for creating looks for both day and night. Now, that's a gorgeous sight to behold 


From July you can already purchase the beautiful Eyes on Mac Palette in the Jelmoli, Manor and official web site of Mac Cosmetics.
Eyes on Mac (15 colours) – Warm Neutral – 198 CHF
HEY METALLIC coral (veluxe pearl )
WARM BREEZE pastel coral (satin)
GINGERSNAP deep rosy pink (frost)
DARK BREW deep chocolate with pink pearl (velvet)
DANCE IN THE DARK dark brown (matte)
BRULE soft creamy beige (satin)
VANILLA EXTRACT soft warm yellow-beige (frost)
HONEY LUST bronze dipped peach (lustre)
AMBER LIGHTS peachy brown with shimmer (frost)
SADDLE golden orange-brown (matte)
LEMON TART metallic gold (veluxe pearl)
BUTTERFUDGE dirty mocha with gold pearl (satin)
CREATIVE COPPER frosted gold (lustre)
UNWIND dirty olive (veluxe pearl)
DIVINE DECADENCE soft bronze (velvet)
Eyes on Mac (15 colours) – Cool Neutral – 198 CHF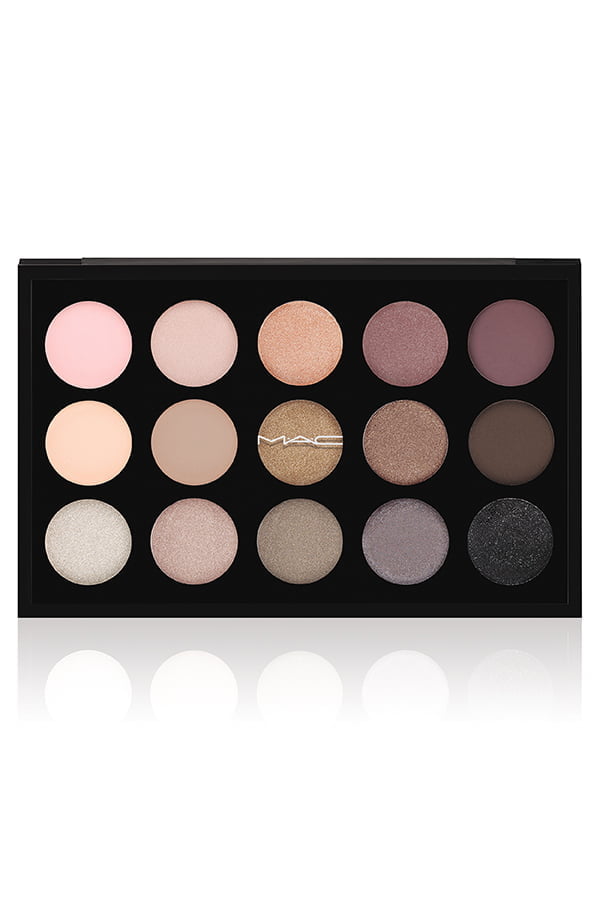 FLOUNCE chalky white-pink (matte)
SWEET ALLURE soft light pink (satin)
SUN TWEAKED soft frosty coral (frost)
BLACKBERRY muted burgundy plum-brownt(matte)
AFTER DUSK mid-tone rosy pink with pearl (veluxe pearl)
PICK ME UP pale ivory (matte)
CRUSHED CLOVE dirty gold-olive (frost)
COZY GREY cool grey (matte)
DECEPTION chocolate gold (frost)
BRUN muted blackish brown (satin)
SILVER FOG white silver with pearl (lustre)
Eyes on Mac – Purple Times Nine – 60 CHF
SWEET LUST soft champagne pink with pearl (lustre)
POIGNANT soft lavender (satin)
MANCATCHER matte lavender-taupe (frost)
AFTER DUSK soft red wine (veluxe pearl)
BEAUTY MARKED black red with sparkle pearl (velvet)
SATELLITE DREAMS plum with violet pearl (veluxe pearl)
SHADOWY LADY blackened plum (matte)
LIGHTLY SUGARED soft lilac with pearl (frost) / BON NUIT deep plum (matte)
Eyes on Mac – Navy Times Nine – 60 CHF
SILVER FOG white silver with pearl (lustre)
BLONDE MINK pale khaki with sparkles (lustre)
CLOUDSCAPE khaki (velvet)
JG GREY frosty grey-blue (frost)
CLUB red-brown with green pearl (satin)
MULLED OVER matte cool blue with grey (matte)
CAST IRON matte charcoal (matte)
COPPERPLATE muted mid-tone grey (matte)
BLACK TIED black with silver sparkle (velvet)
Eyes on Mac – Amber Times Nine- 60 CHF
GEORGIA PEACH dirty rose-pink (matte)
COZY GREY cool grey (matte)
CREATIVE COPPER light beige (lustre)
CORK muted golden brown (satin)
RICEPAPER peachy gold with shimmer (frost)
KITTIES pale bronze (frost)
AROMATIC matte brown (matte)
DON'T TELL sparkly brown (lustre)
PEPPER PLEASE sparkly bronze copper-brown (velvet)
Eyes on Mac – Burgundy Times Nine- 60 CHF
#NOIR deep black-brown with gold pearl (velvet)
HONEY LUST bronze-dipped peach (lustre)
QUARRY soft muted plum-brown (matte)
ANTIQUED ash brown and bronze (veluxe pearl)
STAR VIOLET pinky brown plum (veluxe pearl)
HAUX soft muted rosy brown (satin)
EMBARK intense reddish brown (matte)
SKETCH burgundy red with shimmer (velvet)
POPPYSEED mid-tone mauve nude (satin)
Pennelli/
Brushes MAC
228 MINI SHADER –  34.00 CHF
213 FLUFF BRUSH  – 34.00 CHF