Quest'estate 2016, come avrete ben visto, c'era un trend preciso ovvero quello dei fenicotteri rosa e io non potevo certamente farmi sfuggire l'occasione di sfoggiare una t-shirt con tanto di fenicotteri rosa. A tal proposito, desidero mostrarvi il mio look sfoggiato per un pomeriggio e sera al ristorante. Tutti i capi che vi mostro – ad eccezione della borsa marrone e delle scarpe – provengono dai sito online Veillon.
Per chi non conoscesse questo portale, si tratta di un sito specializzato per l'appunto nella vendita di capi d'abbigliamento, intimo ed accessori per la donna ed uomo, ma anche arredamento per la casa. Tra i grandi brand presenti nell'assortimento vi segnalo Lacoste e Triumph! Potrete acquistare tutto quello che desiderate e pagare scegliendo tra tre modalità di pagamento (fattura, paypal, carta di credito oppure a rate per importi superiori ai 500 CHF), con l'aggiunta del costo di spedizione pari a 6.95 CHF.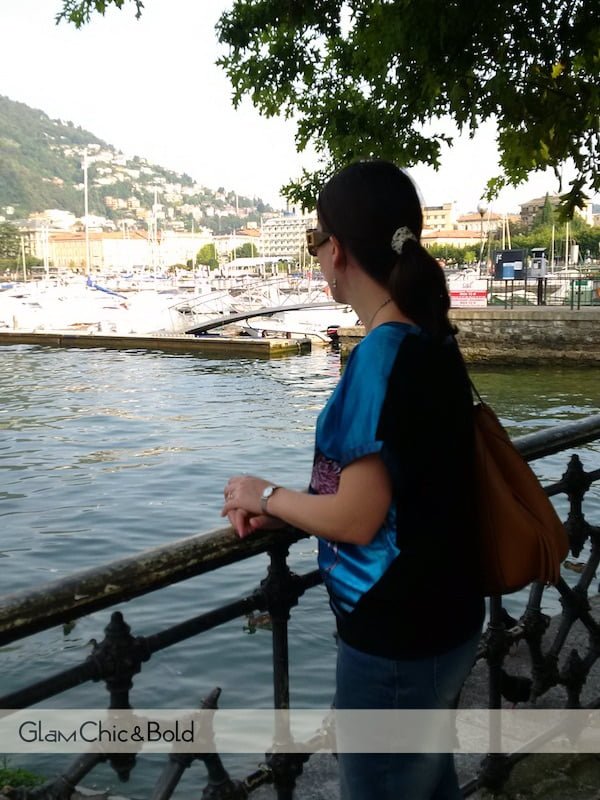 This summer 2016, as you have seen, there was the trend of flamingos and I didn't miss the chance to put on a t-shirt with lots of pink flamingos. For this reason, I wish to show you my look chosen for an afternoon and evening at the restaurant. All items that I'm going to show you – except for the brown bag and shoes – come from Veillon e-commerce.
This is a specialized site for the sale of clothing, underwear and accessories for women and men, but also accessories for your home. Among the big brands present in the shop online I can tell you Lacoste and Triumph! You can buy everything you want and pay by choosing between three payment methods (invoice, paypal, credit card or in installments up 500 CHF of shopping), with the addition of the shipping cost of 6.95 CHF.
Ad ogni modo, ritorniamo al mio look che ha un valore di circa 250 CHF! Oltre alla meravigliosa t-shirt con fenicotteri, ho scelto di abbinare un paio di jeans a vita alta che arrivavano alla caviglia; la particolarità di questo capo, come potete vedere, è nel bordo decorato che a me piace veramente molto. Per completare il tutto, non poteva certamente mancare una borsetta nera che ho deciso di portare con me al ristorante dove sono stata di sera; ho deciso di metterla la sera soprattutto perché avrei messo al suo interno meno cose rispetto a quello che mi ero portata nella borsa grande di giorno.
Le fotografie sono state scattate a Como! Che ne dite, vi piacciono questi capi d'abbigliamento? Avete già fatto shopping su Veillon? Vi segnalo che su Veillon troverete anche tanti sconti e, se siete fortunate, riuscirete anche a portare a casa l'ultima taglia della t-shirt o pantalone che vi piace per un costo assai conveniente 😉
In any case, my look has a value of about 250 CHF! In addition to the t-shirt with flamingo, I've combined a pair of high-waisted jeans that reached the ankle; the particularity of this jeans, as you can see, it is decorated in the edge that I like very much. A beautiful black bag complete my look and I decided to take with me to the restaurant where I was in the evening; I decided to put it in the evening  because I need of a big bag during the day (there are a lots of things in my bag O_O)
The pics mad in Como, in Italy! What do you say, do you like these clothes?Have you already shopped on Veillon?  If you're lucky, you able to bring with you the ultimate size of the t-shirt or pants that you like for a very affordable cost 😉
Thanks Veillon.ch