Mac Cosmetics di recente ha lanciato i nuovi Retro Mate Liquid Lipcolour, rossetti liquidi dai colori pieni ed opachi. Per questa primavera 2017 troveremo ben 12 nuance che vanno ad aggiungersi ai primissimi Retro Matte Liquid Lipcolour. Questi, che sono arrivati circa un anno fa, sono molto interessanti non solo per il splendido assortimento di colori, bensì anche per la formulazione.
Ad ogni modo, la cosa che ci piace di più è sicuramente il finish super opaco e la lunga tenuta sulle labbra. L'applicatore consente di stendere il prodotto sulle labbra con facilità e precisione, cosa che è decisamente molto importante soprattutto quando si ha a che fare con nuance più scure che necessitano senz'altro di maggiore precisione.
Mac Cosmetics launched the new Retro Mate Liquid Lipcolour, liquid lipsticks with  opaque colors. For this Spring 2017 we will find 12 shades that add to the earliest Retro Matte Liquid Lipcolour. These collection, arrived about a year ago, are very interesting not only for the beautiful range of colors, but also the formulation.
However, the thing that I like very much is the super matte finish and long-lasting on the lips. The applicator allows you to apply the product on the lips with ease and precision, which is very important especially when it has to do with darker shade that certainly require greater precision.
Qui di seguito vi elenco tutti i colori disponibili a 32 CHF l'uno:
Here these are the nuances Retro Matte (32 CHF):
Carnivorous – Rosso con un tocco di nero/

blackened red

Young Attitude – Verde/blu con un tocco di nero/

Blackened teal

Dash O'Spice – Giallo beige/

Yellow beige

Ess-Presso – Marrone cioccolato scuro/

Deepened chocolate brown

Simply Smoked – Marrone Taupe/

Brown taupe

Flesh Stone – Marrone grigio/

Greyed neutral brown

Cafe Au Chic – Beige/Grigio/

Greyed beige

Burnt Spice – Rosa sporto cremoso/

Creamy Dirty Rose

So Me – Viola grigio/

Greyed plum 

Topped With Brandy – Rosa sporco profondo/

Deep dirty rose

So Me – prugna grigio/ 

Greyed plum

Uniformly Fabulous – uva con un tocco di nero/

Blackened grape

Chocotease – Marrone cioccolato caldo/

Warm chocolate brown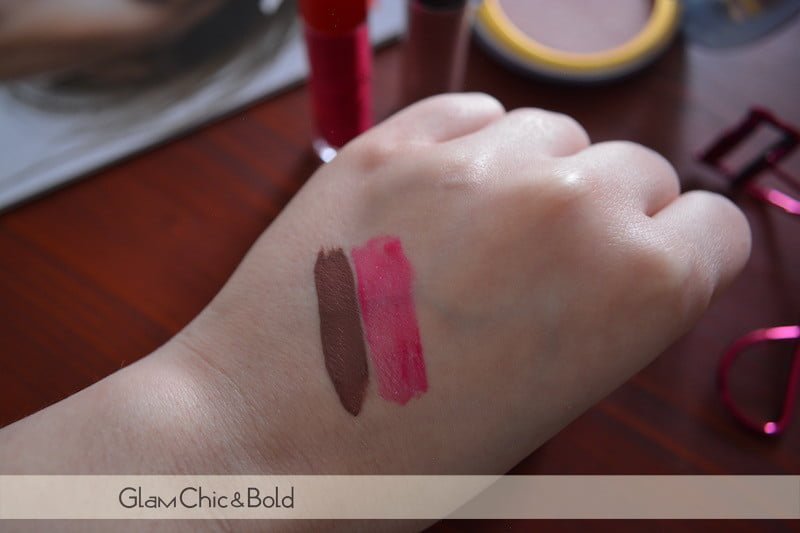 Passiamo ora all'altra recente novità di Mac Cosmetics ovvero i Viva Glam Taraji P. Henson & Jussie Smollett. Mac, quindi, ha di nuovo collaborato con un personaggio chiave della musica ovvero le afroamericane Taraji P. Henson e Jussie Smollett, dopo le precedenti collaborazioni avute con personaggi come Ariana Grande, Rihanna e Miley Cyrus.
La nuova linea Viva Glam ci propone ben due prodotti, un rossetto (28 CHF) ed un gloss (26 CHF) dalle nuance fucsia e magenta. Il lipgloss di Taraji P. Henson di colore magenta ha al suo interno dei piccoli glitter che vanno ad esaltare ancora di più il volume delle labbra. Il rossetto, invece, è di colore fucsia con un finish satinato.
I packaging di entrambi i prodotti riprendono il colore fucsia e, come ricorderete bene, sono prodotti destinati ad una iniziativa benefica: difatti, l'intero ricavato dalla vendita viene dato a donne, uomini e bambini colpiti da HIV ed AIDS.
Posso dirvi sicuramente che queste nuance sono veramente molto belle e perfette soprattuto con un make up occhi nude.
Mac Cosmetics launched the Viva Glam Taraji P. Henson & Jussie Smollett. Mac, then, has again collaborated with a key character of the music or the African-American Taraji P. Henson and Jussie Smollett, after previous collaborations have had with people like Ariana Grande, Rihanna and Miley Cyrus.
The new Viva Glam offers us two products, a lipstick (28 CHF) and a gloss (26 CHF) from fuchsia and magenta shades. The lipgloss Taraji P. Henson magenta color on the inside of the small glitter going to bring out even more the volume of the lips. Lipstick, however, it is fuchsia with a satin finish.
The packaging of both products echo the color fuchsia and, as you will remember well, products are intended for a charity initiative: in fact, the entire proceeds from the sale is given to women, men and children affected by HIV and AIDS.
I can tell you that these nuances are really very beautiful and perfect above all with a make up naked eyes.