Il mese di settembre si rileva essere ricco di sorprese: infatti, Estée Lauder ha stretto una collaborazione con la famosa icona di stile Victoria Beckham per la realizzazione della sua primissima collezione di trucco. Dopo la sua prima collaborazione nel 2014 con Nails Inc, ora è il turno del makeup: Victoria Beckham x Estée Lauder sarà lanciata il 13 ottobre 2016 in Svizzera presso 11 negozi selezionati di Estée Lauder.


The month of September is rich of surprises: in fact, Estée Lauder collaborated with the famous  style icon  Victoria Beckham  for the realization of her first makeup collection. After her first collaboration in 2014 with Nails Inc, now it's the right time for makeup: Victoria Beckham x Estee Lauder will be launched on 13th October 2016 in 11 boutique of Estée Lauder.
La collezione makeup Victoria Beckham x Estée Lauder include 15 pezzi, riposti all'interno di una scatola e peraltro le formule di alcuni prodotti sono innovative visto che sono multi-tasking: ad esempio, l'illuminante in crema è pure ottimo per idratare e rassoda la pelle. Ad ogni modo, la collezione può essere divisa in tre categorie: viso, occhi e labbra!
The collection Victoria Beckham makeup x Estee Lauder includes 15 pieces, placed in a box and also the formulas of some products are innovative and multi-tasking: for example, the illuminating cream is also excellent for moisturizing and tightens the skin. However, the collection can be divided into three categories: face, eyes and lips!
Victoria Beckham x Estée Lauder per la faccia/
for face
Morning Aura Illuminating Creme (48 ml – 78 CHF)
Highlighter in Modern Mercury (10 g- 72 CHF)
Bronzer in Java Sun (14 g – 72 CHF)
Victoria Beckham x Estée Lauder per gli occhi/
for eyes
Eye Ink in Black Myrr (6 g – 52 CHF)
Eye Metals Eye-Shadow: Bitter Clove, Charred Emerald (3 g – 52 CHF)
Eye Palette: Fired Sapphire, Blonde Cumin, Metal Saffron, Burnished Sage,Grey Amber, Black Nutmeg (7.2 g – 88 CHF)
Eye Foils: Burnt Anise, Blonde Gold ( 7 ml – 52 CHF)
Eye Kajal Duo Black Saffron/Vanilla (1 g – 40 CHF)
Victoria Beckham x Estée Lauder per le labbra/
for lips
Lipstick: Brazilian Nude, Chilean Sunset ( 3.5 g – 58 CHF)
Lip Pencil Victoria (1.2 g – 40 CHF)
Lip Gloss Moroccan Heat ( 2ml – 51 CHF)
Box Deluxe Victoria Beckham x Estée Lauder (only Jelmoli – 1300 CHF)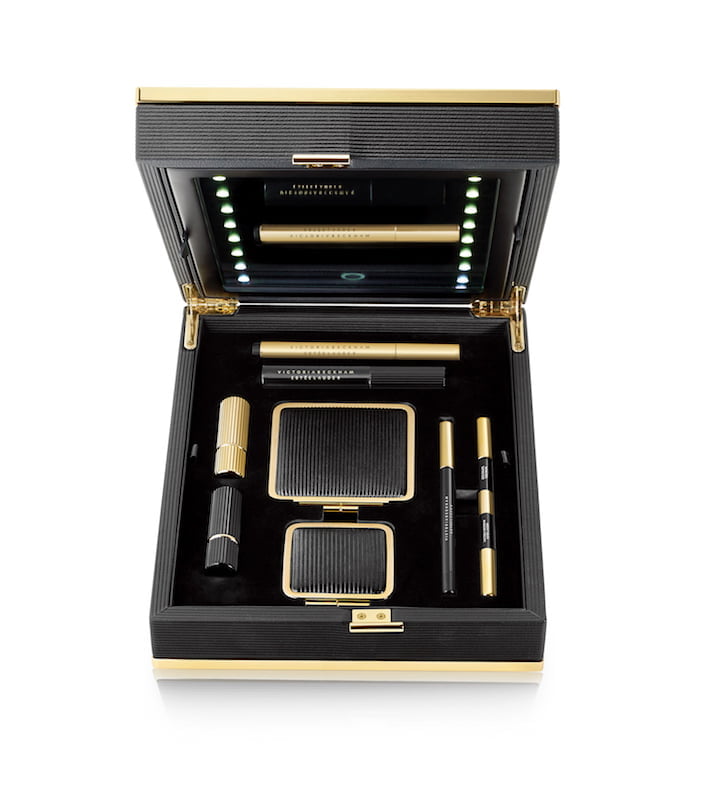 Highlighter Modern Mercury
Eye Metals Eyeshadow Charred Emerald
Eye Foils Burnt Anise, Blonde Gold
Eye Kajal Duo Black Saffron/Vanille
Lip Pencil Victoria
Lipsticks Brazilian Nude, Chilean Sunset
Paris Look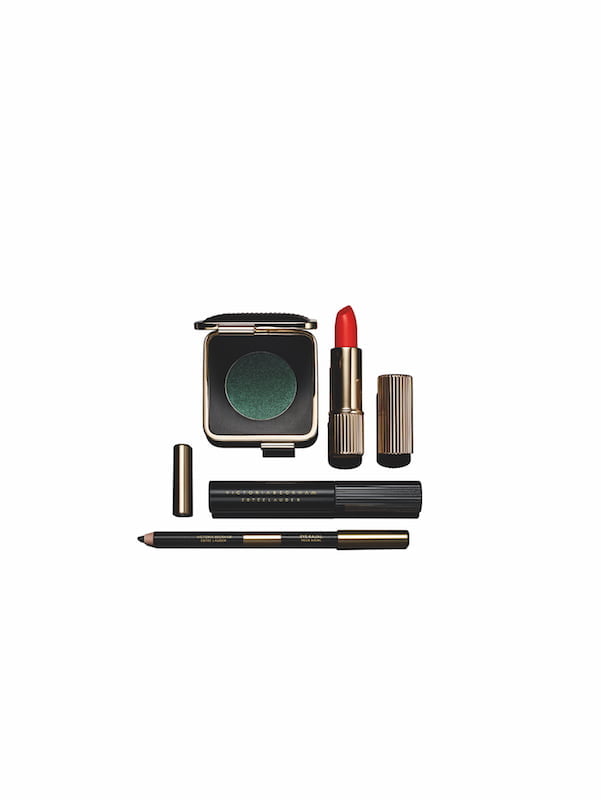 New York Look
London City Look
La City Look