Se vi piace prendervi cura dei vostri capelli e desiderate scoprire le ultime novità proposte da Migros, allora vi suggerisco di provare oltre ai prodotti di Lee Stafford anche la linea Nju by xLaeta. La youtuber tedesca xLaeta ha collaborato insieme a Mibelle Group per la realizzazione di questa linea che è stata lanciata dapprima in Germania in estate; ora, con l'arrivo dell'autunno 2018, troviamo tutti i prodotti disponibili da Migros.
La youtuber di 22 anni, Julia, ha voluto realizzare una collezione che si basasse sulle sue idee: infatti, da amante di tutto quello che luccica e delle rose, ha pensato di personalizzare al meglio questi prodotti e di inserire al suo interno la fragranza delle rose.
L'assortimento di prodotti Nju ci propone la linea di base dal nome "Sparkle on nju roses" che ha un profumo delizioso alle rose e poi troviamo l'edizione limitata "Inspire with nju cocos" che, come potrete immaginare, ha una fragranza di cocco in tutti i suoi prodotti vegani.
Ecco i prezzi:
Sparkle on nju roses e Inspire with nju cocos:
shampoo 250 ml (5.90 CHF)
balsamo 200 ml (5.90 CHF)
Glitterspray 100 ml (6.60 CHF)
Voi avete già testato i prodotti di Nju by xLaeta?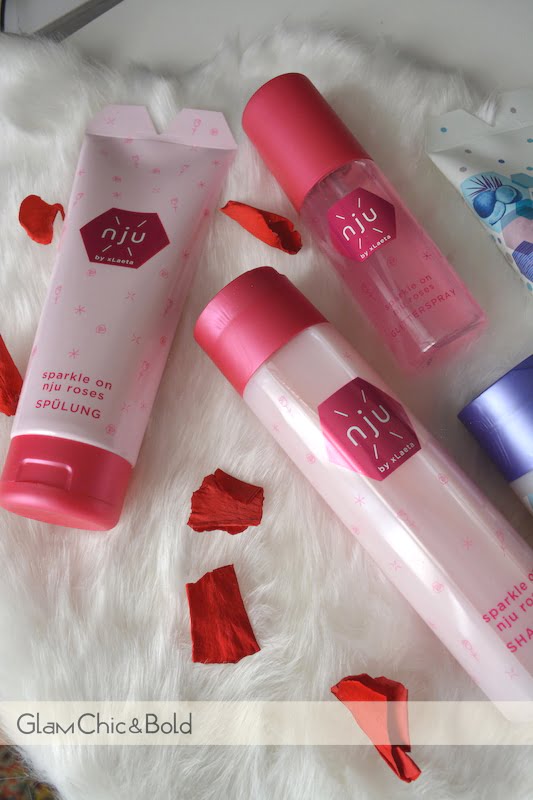 If you like taking care of your hair and want to discover the latest innovations proposed by Migros, then I suggest you try the products of Lee Stafford also the Nju by xLaeta line. The German youtuber xLaeta has collaborated with Mibelle Group for the realization of this line which was first launched in Germany in the summer; now, with the arrival of autumn 2018, we find all the products available from Migros.
The 22-year-old Youtuber, Julia, wanted to create a collection that was based on her ideas: in fact, as a lover of all that glitters and roses, she thought of customizing these products and inserting the fragrance of the roses.
The Nju product range offers us the basic line called "Sparkle on nju roses" which has a delicious fragrance to roses and then we find the limited edition "Inspire with nju cocos" which, as you can imagine, has a fragrance of coconut in all its vegan products.
Here are the prices:
Sparkle on nju roses and Inspire with nju cocos:
shampoo 250 ml (5.90 CHF)

balm 200 ml (5.90 CHF)

Glitterspray 100 ml (6.60 CHF)
Have you already tested Nju by xLaeta products?