Parliamo della linea Formula X Sephora e più precisamente delle proposte in arrivo per questo Natale 2015. Già dal mese di novembre 2015, potrete trovare tutte le novità che vi mostrerò qui di seguito!
It's the right time to show you the line Formula X Sephora and the products for this Christmas 2015. From November 2015 you'll find all the new products that I'm going to show you!
Paint Party – Formula X Sephora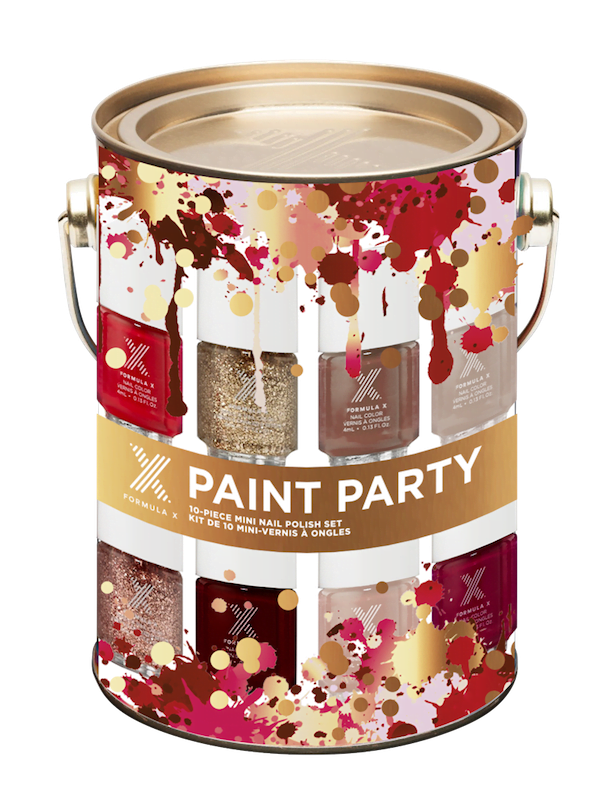 Paint Party di Formula X Sephora si presenta come un kit costituito da 10 mini smalti: si tratta di 6 nuove tonalità in edizione limitata e 4 classici di Formula X. Il cofanetto, però, non passa certamente inosservato dato che sembra un barattolo di vernice. Il kit contiene questi colori:
Paint Party of Formula X by Sephora show us as a kit with 10 mini nail polishes: there are 6 new limited edition shades and 4 classic Formula X. The box, however, looks like a can of paint! The kit contains these colors:
X<3 Rouge (4 ml)
Glitz (4 ml)
Dark Matter (4 ml)
Luxe (4 ml)
Spiked (4 ml)
Ignite (4 ml)
Thrilling (4 ml)
Intensity (4 ml)
Uncorked (4 ml)
On The Rocks (4 ml)
Costo/Price: 24.95 €
Happy Hour Formula X
Questo splendido kit chiamato Happy Hour di Formula X Sephora si compone di 4 mini smalti (3 ml), di cui 2 dalle tonalità nude e prugna e 2 effetti oro e champagne rosé. Questi sono assolutamente perfetti per le feste di natale!
The kit Happy Hour Formula X by Sephora composed by 4 small nail polishes ( 3 ml) with two colors nude and violet and two effect nail polishes gold and champagne. These colors are perfect for Christmas holiday.
Costo/Price: 19.50 €
Formula X – The Look
Questo piccolo kit The Look di Formula X propone due nuance che si possono usare da sole, ma anche mixare tra di loro.
This little kit by Formula X, called The Look, composed by two nuance: 
Obsessed (3 ml) bordeaux
Out of Sight (3 ml) toap coat oro glitterato/

shining gold top coat
Costo/Price: 11.95 €