L'atmosfera natalizia inizia proprio a farsi sentire all'interno delle botteghe di Lush: a Lugano, difatti, tutto è pronto e sono già arrivati i nuovissimi prodotti che potranno accompagnarci durante queste feste! Oggi ve li mostro da vicino, così che pure voi possiate acquistare per stupire qualcuno di speciale!
L'atmosfera natalizia inizia proprio a farsi sentire all'interno delle botteghe di Lush: a Lugano, difatti, tutto è pronto e sono già arrivati i nuovissimi prodotti che potranno accompagnarci durante queste feste! Oggi ve li mostro da vicino, così che pure voi possiate acquistare per stupire qualcuno di speciale!
The Christmas is coming and today I want to show you the new products for Fall and Winter by

 Lush: in Lugano

, in fact

,

 

everything is ready

 and there are a lots of beautiful things for 

holidays

! Today I'm going to show them, so 

that

 

you

 

can

 

buy

 and 

surprise

 

someone

!
Father Christmas – Bomba da bagno/
Bath Bomb

(8.80 CHF)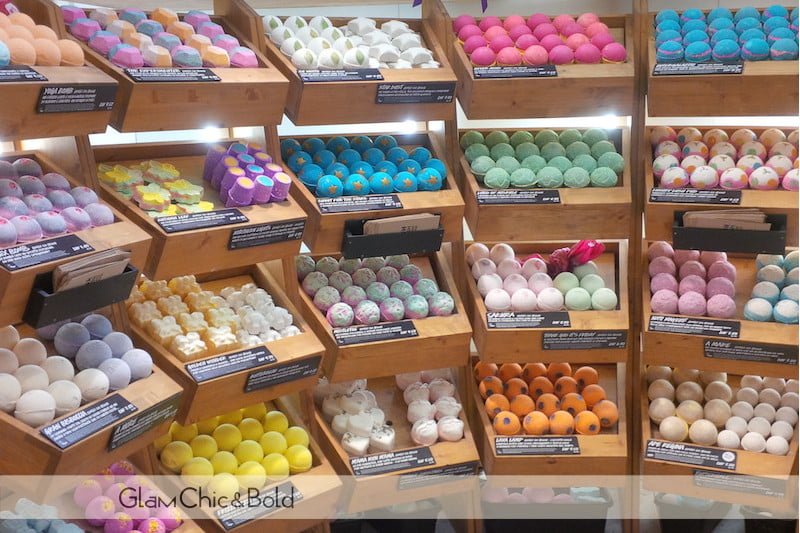 Questa bomba da bagno porterà nella vostra vasca da bagno il sorriso di Babbo Natale e la magia del profumo di queste feste con un tocco di agrlifoglio. Inoltre, questa bomba da bagno prende proprio le sembianze della faccia di Babbo Natale…simpatica vero? (Nella foto la trovate in basso in centro, vicino al sapone cuoricino).
This bath bomb will bring in your bathtub Santa's smile and the magic of the scent of these holidays with a touch of agrlifoglio. Furthermore, this bath bomb takes just the shape of the face of Santa Claus … nice right? (In the picture below you will find in the center, near the little heart soap).
Santa's Belly – Gelatina doccia/
Shower Jelly

(9.50 CHF)
Iniziamo parlando delle gelatine per la doccia e quest'anno troviamo il simpatico pancione di Babbo Natale Santa's Belly (100 g): come potete notare ha un nuovo formato con dettagli e profumi decisamente natalizi. Infatti, negli ingredienti troviamo vin brulé, anice stellato, succo di mela fresco e vino rosso. Come potete vedere, nei negozi Lush troverete anche qualche proposta dell'anno scorso come Snowman!
Let's start talking about the jellies for the shower and this year we find the cute belly Santa Claus Santa's Belly (100 g): as you can see has a new format with details and decidedly Christmas scents. In fact, we find in the ingredients mulled wine, star anise, fresh apple juice and red wine. As you can see, in Lush stores you will also find some proposals of last year as a Snowman!
Papa Noël – Detergente viso/
Face Wash Jelly

(18 CHF)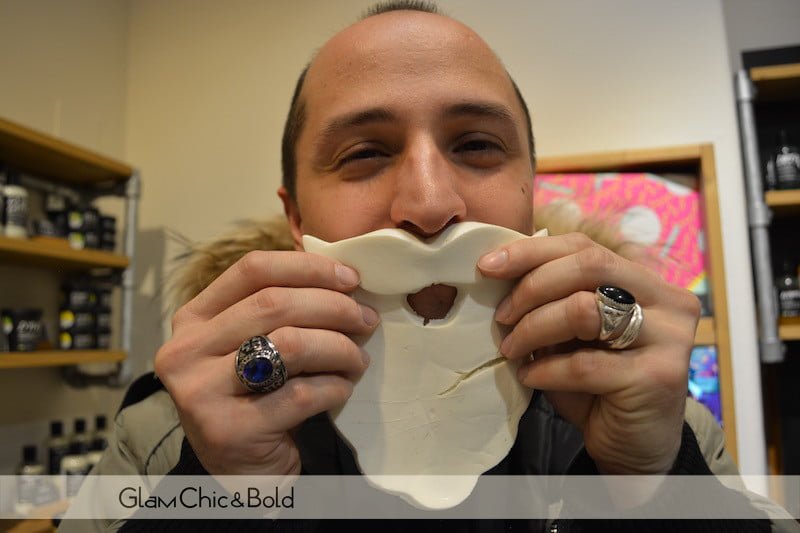 A qualcuno è spuntata la barba bianca! No, scherzo, il mio compagno vi mostra il nuovo detergente per lavare il proprio viso e trasformarsi in Babbo Natale 😀 Questo detergente, perfetto per uomo e donna, contiene un mix di limone, lime e mandarino utili a rinvigorire la pelle e caolino per detergerla in modo delicato. Per utilizzarla sarà necessario bagnare leggermente il viso, massaggiare il sapone tra le mani e formare una schiuma cremosa da massaggiare sulla pelle e risciacquare. Io trovo questa gelatina decisamente simpatica!
Some white beard is checked! No, just kidding, my partner shows you the new face wash jelly that can turn into Santa Claus 😀 This cleanser, perfect for men and women, contains a mix of lemon, lime and tangerine useful to reinvigorate the skin and kaolin to cleanse in gently. To use it you will need to lightly wet the face, massage the soap in your hands and form a creamy lather to massage the skin and rinse. I find this very nice jelly!
Santa's PostBox – Sapone/
Soap

(8.50 CHF/100 g)
Avete spedito le vostre letterine a Babbo Natale? Se ancora non l'avete fatto trovate subito la Santa's PostBox! Questo sapone – disponibile nel formato da 100 g – si contraddistingue per essere un sapone dalle note agrumate con mandarino, bergamotto e fiori di arancio. Assolutamente da provare! Nella foto potete vedere un'altra interessante novità di quest'autunno inverno 2016, il sapone Igloo che racchiude note agrumate di limone siciliano e rosa di damasco…un altro prodotto di cui innamorarsi.
Have you sent your letters to Santa Claus? If you have not already done immediately you find Santa's PostBox! This soap – available in size from 100 g – stands out as a soap by citrus notes with mandarin, bergamot and orange blossom. Must try! In the picture you can see another interesting feature of this fall winter 2016, the Igloo soap that contains citrus notes of Sicilian lemon and pink damask … another product to fall in love.
Snow Castel – Sapone/
Soap

(9.20 CHF/100 g)
Se siete alla ricerca di un altro favoloso sapone per mani e corpo, Snow Castle farà al caso vostro: si tratta di un prodotto realizzato a base di olio di cocco e latte di mandorla che renderà morbida la vostra pelle proprio come la neve d'inverno. Se sarete fortunate e riuscirete a visitare un negozio grande potrete vedere il castello intero, di un meraviglioso bianco candido e glitter.
If you are looking for another fabulous soap for hands and body, Snow Castle will do for you: it is a product made based on coconut oil and almond milk to make soft your skin just like the winter snow . If you will be lucky and be able to visit a large store you can see the entire castle, a beautiful pure white and glitter.
Santasaurus – Spumante da bagno/
Reusable Bubble Bar

(14.50 CHF)
Per gli amanti di dinosauri è in arrivo un simpaticissimo spumante da bagno con le sembiante da dinosauro verde con tanto di cappellino di Natale. Questo prodotto renderà vivace la vostra vasca da bagno con profumo di miele, arancia e bergamotto. La vostra pelle, invece, sarà coccolata e nutrita dal burro di karité della cooperativa delle donne Ojoba nel Ghana.
For dinosaur lovers is coming a very nice bath with sparkling countenance green dinosaur complete with a Christmas hat. This product will make your lively bath with scent of honey, orange and bergamot. Your skin, however, will be petted and fed by shea butter cooperative Ojoba of women in Ghana.
Rudy Red Slippers – Spumante da bagno/
Bubble Bar

 (8.90 CHF)
Questa scarpetta rossa vi trasporterà nel mondo di Oz e trasformerà la vostra vasca da bagno in un meraviglioso bagno scintillante e profumato di fiori di garofano. Non trovate che sia realmente simpatico questo spumante da bagno?
This red shoe will transport you into the world of Oz and will transform your bath into a wonderful sparkling bath and scented with cloves. Do not you think this is really nice bubbly bath?
Snowie – Spumante da bagno/
Bubble Bar

(9.90 CHF)
Durante quest'autunno 2016 Lush ha dato il benvenuto anche ad uno speciale spumante da bagno dedicato ad una rock star leggendaria: sto parlando di David Bowie. Questo prodotto scintillante e con un lampo multicolore colorerà la vostra vasca da bagno e donerà un profumo fresco di pompelmo, neroli e rosa.
During this fall 2016 Lush welcomed also a special bath sparkling wine dedicated to a legendary rock star: I'm talking about David Bowie. This sparkling product with a flash multicolor will color your bath and will donate a fresh scent of grapefruit, neroli and rose.
Shoot For The Stars – Bomba da bagno/
Bath bomb

(9.50 CHF)
La notte si tinge di blu e tante stelle cadranno nella vostra vasca da bagno! Questa fragranza di bergamotto ed arancio va ad unirsi al burro di cacao ed olio di oliva, nutrendo a fondo la pelle.
The night is tinged with blue, and so many stars will fall in your bathtub! This fragrance of bergamot and orange goes to join the cocoa butter and olive oil, nourishing the skin deep down.
Shooting Stars – Sapone/
Soap

(9.20 CHF/100 g)
Greta, la ragazza che mi ha presento questo sapone, mi ha riferito che è splendido vedere l'intera forma di questo sapone. Questo sapone, in grado di nutrire a fondo la pelle con vitamine e sostanze antiossidanti, vi rinfrescherà con il profumo di lime, limone e bergamotto.
Greta, girl that I presented this soap to me, told me that it is wonderful to see the entire shape of this soap. This soap can nourish deeply the skin with vitamins and antioxidants, will refresh you with the scent of lime, lemon and bergamot.
Sugar Plum Fairy – Scrub labbra/
lip scrub

(14 CHF)
Anche durante l'inverno le nostre labbra non devono assolutamente soffrire: proprio per questo vi mostro il nuovissimo scrub per labbra Sugar Plum Fairy, un prodotto ricco di zucchero semolato  e da un profumo assai piacevole che potrete applicare sulle labbra per lasciarle lisce ed esfoliante. Naturalmente, da Lush troverete un grande assortimento di scrub e c'è pure la proposta dell'anno scorso Santa Baby!
During winter, our lips must never suffer: for this reason I show you the new scrubs Sugar Plum Fairy, a rich product of sugar and a very pleasant smell that you can apply on the lips to leave them smooth and exfoliating. Of course, at Lush will find a large assortment of scrubs and there is also the proposal of the last year, Santa Baby!
Sleepy – Crema corpo/
body lotion

(19.50 CHF e 38 CHF)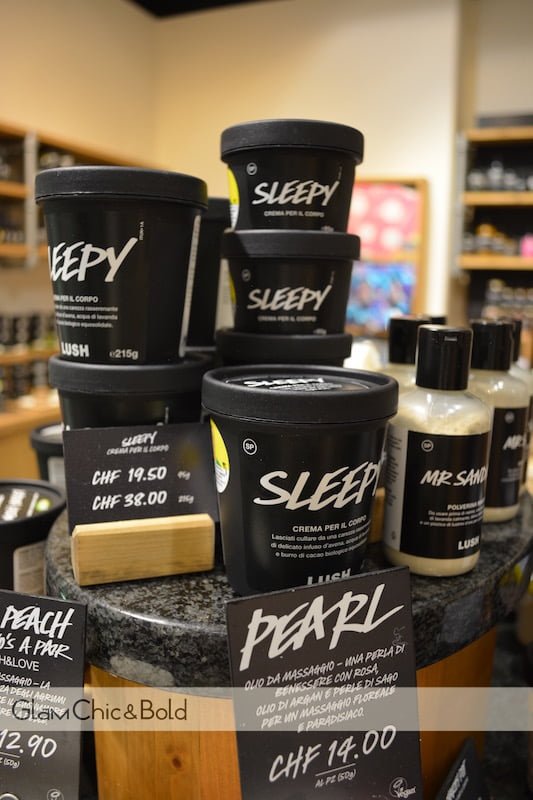 La crema da corpo Sleepy la potrete utilizzare dalla testa ai piedi per rilassarvi. La profumazione di lavanda vi aiuterà ed avrete un effetto calmante su tutto il corpo. il burro di cacao del commercio equosolidale ed il burro di illipe andranno ad idratare la pelle, mentre che l'olio di mandorle e jojoba la lasceranno morbida.
You can use the body cream Sleepy by Lush from head to toe to relax. The lavender fragrance will help you and you will have a calming effect on the body. The trade fair trade cocoa butter and illipe butter will moisturize the skin, while the almond oil and jojoba leave the soft.
Fun Kit – detergente multiuso/
multiuse soap

(15 CHF)
Anche quest'anno non manca l'occasione per divertirsi con i fun kit: nei negozi Lush, difatti, troverete Santa Fun Kit, Reindee & Robin Fun Kit, Rainbow Show Fairy e Elf On the Shelf Fun Kit, tutti da 200 g di prodotto. Con questo prodotto potrete divertirvi insieme ai vostri bambini, modellandolo come fosse del Pongo, lavare i capelli, lavare il corpo o le mani.
Also this year don't miss the opportunity to have fun with Fun Kit: in Lush stores, in fact, you will find Santa Fun Kit, Reindee & Robin Fun Kit, Show Rainbow Fairy and Elf On the Shelf Fun Kit, all of 200 g of product . With this product you can have fun with your children, modeling it like Pongo, wash your hair, wash your body or hands.
Yog Log Roulade  – Vellutata da doccia – Shower Smoothie (14.50 CHF)
Volete la pelle morbida e liscia? Ecco allora il Yog Log Roulade fa proprio al caso vostro: si tratta di un prodotto fatto con latte di mandorla, burro di cacao, olio di cocco che idrateranno a fondo la pelle, mentre che i chiodi di garofano e l'ylang ylang vi lasceranno profumata la pelle.
Do you want your skin soft and smooth? This then is the Yog Log Roulade is right up your alley: it is a product made with almond milk, cocoa butter, coconut oil idrateranno skin thoroughly, while the cloves and ylang ylang will leave scented skin.
Christingle – balsamo corpo/ body balm (24 CHF e 46 CHF)
Questo balsamo corpo è davvero speciale: l'ho provato in negozio e devo dirvi che si sente veramente il mentolo presente al suo interno! Vi basterà applicarlo sul corpo e poi risciacquare sotto l'acqua e potrete subito sentire come la menta piperita ed il mentolo vanno a stimolare la pelle. (da notare che il mio smalto è in tinta con il prodotto 😀 ahahaha)
This body balm is very special: I tried it in the store and I must tell you that you really feel this menthol in it! Simply apply it on the body and then rinse under water and you will immediately feel like peppermint and menthol go to stimulate the skin. (you can see the same color of my nail polish…ahahah 😀 )
Snow Fairy- balsamo corpo/
body balm

(19.50 CHF e 46 CHF)
Naturalmente, dopo aver provato il primo balsamo corpo, non potevo fare a meno di provare anche Snow Fairy, un altro prodotto assai interessante che idraterà la vostra pelle con un profumo assai dolce di amarene, acqua di zucchero filato, burri di cacao biologico, mango ed avocado. Voi l'avete già provato?
Of course, after trying the first body balm, I try also Snow Fairy, another very interesting product that will hydrate your skin with a very sweet aroma of black cherries, cotton candy water, organic cocoa butter, mango and avocado. You have you already tried?
Jester – Spumante da bagno/
Bubble Bar

( 14.50 CHF)
Questo giullare da bagno renderà più allegra la vostra vasca da bagno: all'interno potrete sentire il suo mandarino siciliano che renderà più frizzante l'ambiente e vi metterà di buon umore. Vi basterà sbriciolarne un pezzetto in vasca, aggiungere l'acqua e subito avrete la vostra schiuma!
This Jester for you bath will make more cheerful your bathtub: inside you can feel the Sicilian mandarin that will make it bubbly environment and will put you in a good mood. Simply sbriciolarne a piece in the tank, add water and soon you will have your foam!
Never Mind The Balistics – bomba da bagno/
Bath bomb

(9.50 CHF)
Un'altra novità di questo Natale è questa splendida bomba da bagno bicolore che propone lime ed arancia per rinfrescare i nostri sensi in vasca da bagno. La vostra vasca si riempirà di colori e la pelle sarà più morbida grazie al burro di cacao equosolidale e le banane.
For this Christmas there is this beautiful two-colors bath bomb Never Mind offering lime and orange to refresh our senses in the bathtub. Your tank will be filled with color and the skin will be softer thanks to the fair trade cocoa butter and bananas.
Reindeer Rock – Sapone/Soap (13.50 CHF)
Wow, questo sapone sembra quasi trasportarci indietro nel tempo! Sembra un fossile, ma in realtà si tratta di un sapone sul quale è stato disegnata una renna. Questo prodotto ha una fragranza di mirtilli rossi, rosa e gelsomino e lo potrete utilizzare direttamente sulla pelle per lavarvi.
Wow, this soap seems to transport us back in time! It looks like a fossil, but  it is a soap on which was drawn a reindeer. This product has a fragrance of cranberry, rose and jasmine and can be used directly on the skin to brush.
Magic Wand – Sapone/
Soap  

(9.20 CHF)
Questo sapone, visto intero, sembra una liquirizia ripiena, ma in realtà vuole simulare una bacchetta del mago. All'interno troviamo un cuore di arancia e clementina, carbone di legna e olio di oliva per idratare la pelle e farla splendere. Infine, vi ricordo che è stato eliminato l'olio di palma dalla sua formula!
This soap looks like a stuffed licorice, but  want to simulate a magic wand. Inside there is a heart of orange and clementine, charcoal and olive oil to moisturize the skin and make it shine. Finally, I remind you that you deleted the palm oil from its formula!
Fireside – sapone/
soap

(11.20 CHF)
Parliamo ancora di sapone che, come potete vedere, simula per l'appunto una fiamma accesa. Le note di cedro, vaniglia e bergamotto vi incanteranno e si diffonderanno in tutto il bagno mentre farete la doccia.
Let's talk about the soap that, as you can see, simulates a burning flame. The notes of cedar, vanilla and bergamot will enchant you and will spread around the bathroom while showering do.
The Freeze Furoshiki (9.00 CHF)
Terminiamo il primo articolo dedicato ai prodotti Lush di quest'autunno inverno 2016, parlando del furoshiki, il tipico fazzoletto per fare un regalo originale ai vostri cari. In questo caso, vi mostro questo splendido motivo, ottenuto tramite il riciclo delle bottiglie trasparenti; i disegni di questo paesaggio innevato sono stati realizzati da Arthouse Meath.
Let's end the  first post about Lush products of this fall winter 2016, talking about the furoshiki, the typical handkerchief to make an original gift to your loved ones. In this case, I show you this beautiful reason, obtained through the recycling of clear bottles; the designs of this snowy landscape were made by Arthouse Meath.