Oggi voglio presentarvi due recenti lanci del marchio Nuxe: si tratta di due nuovi prodotti della linea Crème fraîche de beauté, adatta per tutti i tipi di pelle. Come saprete bene, è importante prendersi cura della nostra pelle e, proprio per questo, oltre ad una buona pulizia è fondamentale scegliere i prodotti più idonei per idratare a fondo la pelle.
La linea Crème fraîche de beauté ci consente di fare proprio questo grazie al siero ed alla crema idratante per 48 ore anti-inquinamento. Questa crema idratante è in grado di offrire un'intesa idratazione per ben 48 ore, grazie ai suoi ingredienti, i latti vegetali e l'estratto di alga, e inoltre la protegge dall'inquinamento, lasciandola morbida tutto il giorno. Potrete applicarla la mattina e/o la sera su viso e collo ed usarla in combinazione insieme al siero. Vi ricordo, inoltre, che è perfetta anche come base per il trucco. Potrete acquistare questo prodotto al costo di 32.50 CHF (50 ml) ed è disponibile anche nel tubetto da 30 ml al costo di 22 CHF.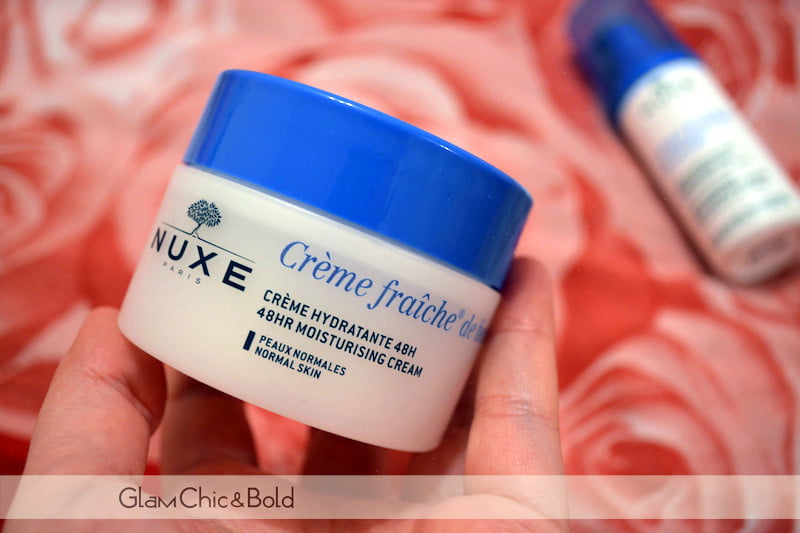 Today I'm going to introduce you two recent launches by Nuxe: these are two new products from the collection Crème fraîche de beauté, suitable for all skin types, even sensitive. As you will know, it is important to take care of our skin, and for this reason, besides good cleansing, it is essential to choose the most suitable products for deep skin moisturizing.
The Crème fraîche de beauté collection allows us to do just that thanks to the serum and cream moisturising for 48 hours anti-pollution. This moisturizer is able to offer an intense hydration for 48 hours, thanks to its ingredients, vegetable milk and seaweed extract, and also protects against pollution, leaving it soft all day. You can apply it in the morning and/or evening on face and neck and use it in combination with the serum. I also remind you that it is also perfect as a basis for makeup. You can buy this product at 32.50 CHF (50 ml) and it is also available in the 30 ml tube at a cost of CHF 22.
Passiamo ora al siero idratante per il viso: anche questo è ultra fresco ed esegue un'azione di idratazione per 48 ore, proteggendola allo stesso tempo dall'aria inquinata. La formula del siero idratante Crème fraîche de beauté  è stata arricchita con latti vegetali ed acido ialuronico ed è contraddistinta per il 96.4% da ingredienti di origine naturale. Potrete usare il siero sia la mattina che la sera! Il prezzo di questo prodotto è di 34.50 CHF (30 ml)!
Now let's go to 48 HR Moisture skin-quenching serum: this is ultra cool and performs product for moisturizing action in 48 hours while protecting it from polluted air. The cream by creme fraîche de beauté collection has been enriched with vegetable milk and hyaluronic acid and is characterized by 96.4% by ingredients of natural origin. You can use serum in the morning and in the evening! The price of this product is 34.50 CHF (30 ml)!
Sono disponibili della stessa linea anche i seguenti prodotti/You'll find also other products by Crème fraîche de beauté  collection:
Crème fraîche de beauté Fluide matifiant hydratation 48H (50 ml – 32.50 CHF)
Crème fraîche de beauté – Crème riche hydratante 48 H (30 ml – 22 CHF, 50 ml – 32.50 CHF)
Crème fraîche de beauté – Masque sos hydratant 48 H ( 50 ml – 25 CHF)